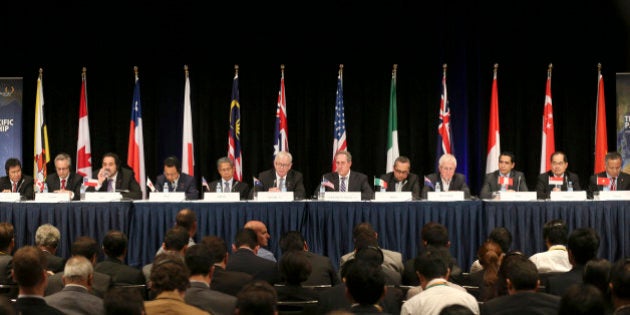 The Trans-Pacific Partnership trade negotiations began under President George W. Bush in 2008 but gained steam with the inauguration of President Barack Obama in 2009. Canada became an observer to the talks in 2010 and, along with Mexico, officially joined in 2012; Japan followed suit in 2013.
According to the Department of Foreign Affairs, the 12 countries negotiating have a combined GDP of $28.5 trillion, representing nearly 40 per cent of global GDP and are a market of nearly 800 million consumers. The negotiations involve two of world's three largest economies (the United States and Japan) as well as some of the fastest-growing markets in the world. Canada's average annual merchandise exports to TPP markets (2012-2014) was valued at over $366 billion, and two-way investment in 2014 was valued at more than $782 billion.
Multilateral trade negotiations have been effectively stalled since the conclusion of the Uruguay Round of Trade World Trade Organization negotiations were concluded in 1994. Canada, like all of our trading partners, has sought refuge in various bilateral agreements, the most significant of which are the Canada-Korea Free Trade Agreement and the Canada-EU Trade Agreement, both negotiated under Prime Minister Stephen Harper.
Trade negotiations are growing in importance as developed and developing countries alike increasingly realize that protectionism is not a path to prosperity. At the same time, negotiations have become more complex because countries are not haggling exclusively over border tariffs and trade quotas. The subject of trade negotiations has moved from "at the border" concerns to "behind the border" concerns.
This shift presents unique challenges for Canada. It is clear that while the Constitution Act of 1867 gives the federal government authority to negotiate trade treaties, the subject of those treaties increasingly implicates powers that the Constitution gives to the provinces. Over time, the two levels of government have managed to work out informal models of cooperation in trade negotiations and trade dispute settlement. (When it comes to NAFTA investor-state challenges, however, the provinces appear only too content to let the federal government lead when it comes to paying remedies.)
This informal cooperation has not always given great comfort to our trading partners. In the CETA negotiations, provinces were allowed in the room in some cases -- but relegated to the second row. In the ongoing negotiations with India, the provinces are less present.
Federalism poses challenges for our trade negotiations that are exacerbated by elections at both levels of government in Canada, and among our trading partners. The electoral clock is also ticking on Japanese Diet elections next summer and on U.S. presidential and congressional elections next fall. If the machinery of trade talks ground to a halt every time an election approached, there would be no trade agreements at all -- which is, perhaps, what some people desire.
Which is why, during the 2005-06 federal campaign, then-Liberal trade minister Jim Peterson and agriculture minister Andy Mitchell participated in crucial World Trade Organization Doha Round talks in Hong Kong.
Now, some have stepped forward to argue that the Harper government should not negotiate -- or not sign -- the TPP during the current election campaign. In support of this position they cite a 2008 government policy -- not legislation, nor the Constitution itself -- in favour of ministerial restraint during an election. However, even the 2008 version of that policy recognized that governments should act in policy matters that are "urgent and in the public interest" or that are "reversible by a new Government without undue cost or disruption".
In fact, that 2008 policy statement specifically recognized the continuing duties of ministers during an election for "Continuing Government Business", while urging "restraint" "to the extent possible" when "signing treaties and agreements".
I would argue that the practice of the Martin government in the 2005-2006 election indicates that a proper reading of the 2008 policy would be consistent with negotiating and signing the TPP during the election campaign. Canada's interest in being part of the TPP would be adversely affected by delaying either negotiation or signature. In fact, the risks to Canada posed by a delay are greater than the risk posed by seeking to renegotiate some terms of the agreement after the election. Remember -- this is not a case of a new trade negotiation initiated during an election -- it's the continuation of negotiations already approved by cabinet.
More importantly, though, signing the TPP would not be binding on Canada -- and would not an irreversible act. Signing a treaty remains the authority of the executive branch -- of cabinet -- while implementing a treaty may require legislative action. A government led by Tom Mulcair or Justin Trudeau would have the option to not ratify or to implement the TPP through legislation, or to seek to renegotiate the terms of the agreement. In fact, a 2008 Harper government policy statement would oblige a new government to table the TPP in the House of Commons before ratification to enhance parliamentary involvement in the approval process.
In December 1992, Prime Minister Brian Mulroney signed the North American Free Trade Agreement with his U.S. counterpart, George H.W. Bush, and Mexican President Carlos Salinas. After Bill Clinton took office in January 1993, NAFTA was supplemented with side agreements on labour and environmental cooperation, which were signed in August 1993 while Kim Campbell was prime minister. NAFTA was passed by the U.S. Congress in November 1993 and ultimately came into effect in January 1994 -- when Jean Chretien was prime minister.
In case there was any doubt, on August 2 -- the day the 2015 election writ was drawn -- the federal government revised the 2008 policy to include a paragraph specifying that:
For greater clarity, there may be compelling reasons for continued participation by Ministers and/or officials in specific activities such as treaty negotiations. For example, when negotiations are at a critical juncture with timelines beyond Canada's control, the failure to participate in ongoing negotiations during the caretaker period could negatively impact Canada's interests. Under such conditions, a compelling case may be made for ongoing efforts to protect Canada's interests. Irreversible steps such as ratification should be avoided during this caretaker period.
This clarification is welcome because it aligns policy with existing practice -- and in doing so it gives clear authority to the government to negotiate and sign the TPP during the election, if necessary. Equally important, the policy makes it clear that a government should not ratify or implement the TPP during an election.
Of course, people familiar with the CETA negotiations or the earlier NAFTA negotiations would know that ratification during the election was never in the cards. Any text signed by TPP leaders would have to be translated and undergo legal scrubbing long before the text was ready for ratification or implementation.
At this stage, it is not clear when or whether TPP trade talks will actually resume during the Canadian election, but if they do, Canada should be at the table and ready to deal. In the end, opponents of the TPP should not hide behind obscure bureaucratic and legal non-arguments. Let them have the courage of their convictions to voice their substantive concerns during the election, rather than pretending to be for free trade while hiding behind procedural myths.
Mark Warner is an Ontario and New York attorney specializing in trade, competition and investment law.
An earlier version of this blog was published by iPolitics.ca and is republished here with permission.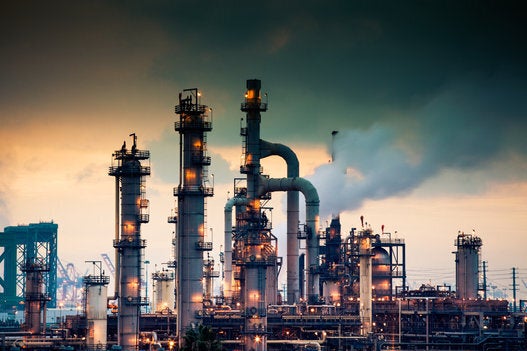 Biggest Risks To Canada's Economy 2015
Popular in the Community