Hardisty, Alta. — I'm a transgender man living in a central Alberta town of about 600 people. Hardisty is so small, I heard about my partner's car trouble last winter before they got home from the store. Everyone knows what's going on with everyone else — unless, of course, you're silent about it because you don't think anyone else could ever possibly feel the way you do.
I hid in plain sight, feeling like the worst imitation of a girl, until I came out and was suddenly the voice of queer Alberta — at least, that's how it felt. I had to answer everyone's questions constantly. It's not that everyone's dumb, either. They just literally don't know! I, too, didn't know anything about the gender binary until I was almost 30 years old, and my partner suggested that my feelings about gender might mean that I should look into transitioning. Growing up here, I had no idea that it was even an option.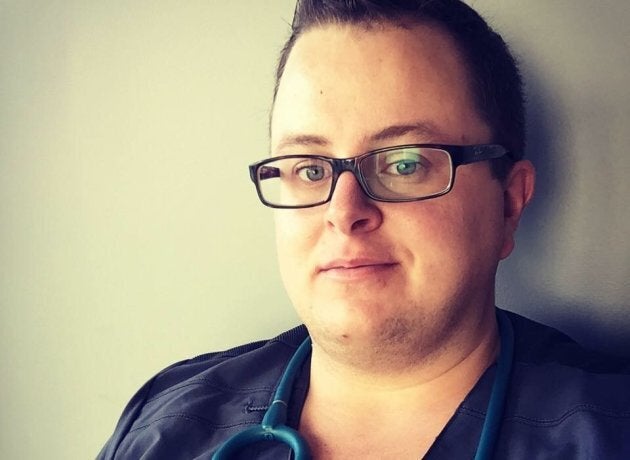 Something people just didn't talk about
No one talked about gender roles. Girls played with dolls and boys played with trucks. A masculine girl might turn out to be gay, but you didn't talk about it, and you certainly didn't deconstruct the way that gender and sexuality get twisted together like that. Men would be adamant that their sons couldn't play with dolls, and that they had to play contact sports instead.
Homophobia and toxic masculinity were things I experienced every day, and although I knew that it bothered me, I didn't really understand the extent of it.
I was certain that coming out in this town would mean I'd lose everything.
The area I grew up in is conservative. It's mostly oilfield workers and farmers, and many people around here are also very religious. I was certain that coming out in this town would mean I'd lose everything. My job. My family. My friends. Everything. I had a couple of friends come out as gay in high school, and they were all but chased out of town. It felt like anyone who was different had to just "hang in there" until they finished high school and could get the heck out.
Queer education in the middle of nowhere
I'm dating myself here a bit, but the internet was a very new thing around these rural areas when I was finishing school (think: dial up) and there was just no information available for kids questioning things as frightening as gender and sexuality. There were no commercials on TV with gay couples, no Facebook to find queer support groups, and there were no out-and-proud people around to act as mentors.
It took me a long time to become comfortable with myself. I went through periods where I isolated myself from friends and family rather than risk them disowning me or cutting me out of their lives.
I did lose some friends, and there are family members that I'm no longer in touch with. It feels awful, but I know that it's for the best. For the most part, however, people have been extremely supportive. It's taken a little while, but I think they mostly kept their distance out of fear of offending me. I've had many friends tell me that they simply didn't know how to talk about it, or what they should and shouldn't say.
I've found that it's mostly just a serious lack of queer education out here that makes me feel like we're 50 years behind the times.
Out here in the middle of nowhere, it's not common for people to be outwardly transphobic. Sure, I'm certain there are folks that just avoid me, but I've only experienced a few situations where something offensive was said intentionally. I've found that it's mostly just a serious lack of queer education out here that makes me feel like we're 50 years behind the times. I find myself having "Queer 101" conversations or explaining the difference between sexuality and gender, multiple times each week.
So far, I've had some really amazing conversations with people who genuinely want to learn. Sometimes I have to explain why I needed to transition to male. Sometimes it's as simple as answering a couple of questions about the difference between asexuality and pansexuality.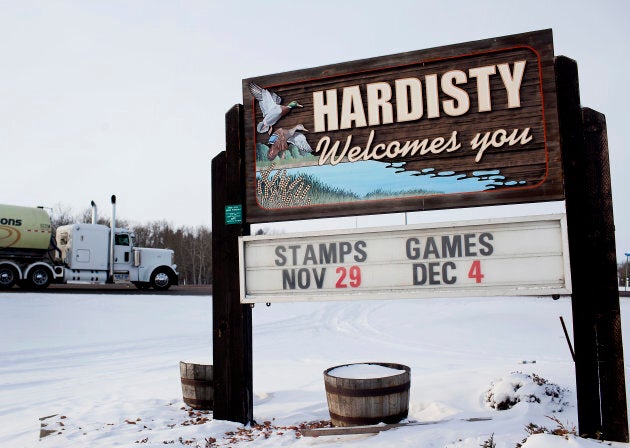 In fact, I found myself having so many conversations about queer identities that I started getting texts from strangers: parents whose kids were using gender-neutral pronouns, people who wanted to know why unisex bathrooms were such a big deal, people who'd only seen my comments on Facebook but wanted to send me a thumbs-up in support. I'm very public with my social media accounts: If I can make life easier for one little rural queerio, then my hard work will have been worth it.
Ending the isolation
There really are LGBTQIA+ people living in central Alberta, but they don't tend to know anyone else like them. So many of them think that they're the only one who feels the way they do or struggles with these issues. If they do finally find resources, they're a long car ride away or online-only. In a small town where everyone knows your business, it's still possible to live a very isolated life.
By making queer resources accessible to families, kids and adults, I can help make their lives easier.
My partner and I started making plans to meet some of these people and their families. After a some excellent conversations and very tasty homemade dinners, we decided we should probably arrange some sort of group where everyone could meet up before we exploded from eating too many homemade pasta dishes.
Everyone needs a fun, safe space to be their authentic selves. Events like barbecues, potlucks, game nights — the kinds of activities that bring communities together. A network of queer mentors that kids can message if they ever have questions or that parents can get in touch with when they need advice.
That's why I want to be the person I never had growing up: someone to answer questions and help find queer resources.
My rural Alberta queer support group, Spectrum Alliance, is one way of ensuring that people around here have someone to lean on when they feel alone. I'm hoping that by making queer resources accessible to families, kids and adults, I can help make their lives easier so that no one has to worry that they're "doing gender wrong" or aren't "straight enough."
Representation is everything. There have always been queer people in Central Alberta, it's just that now, we're able to stand up and proudly welcome others to join us in requesting more resources for small towns.
Hometown is an ongoing blog series and conversation led by people who know there's more to Canada beyond city limits. If you live or have lived in a small or rural community, and have a perspective or opinion you would like to share, take a look at our Blogger FAQ to see how to get started and reach out to hometown@huffpost.com.