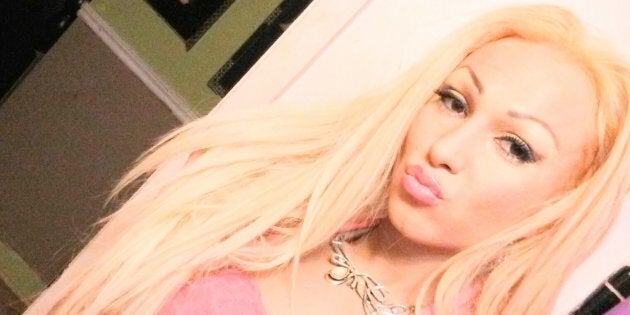 Sisi Thibert was 26-years-old when she was stabbed to death in the lobby of her Montreal apartment building.
Thibert was a transgender sex worker. She will be mourned at vigils on Monday, the annual Transgender Day of Remembrance that honours trans people who have been killed.
Thibert is the sole Canadian listed on a map tracking murders of trans people this year. The Trans Murder Monitoring Project reports 325 killings in 2017. The total worldwide number is probably much higher, because data isn't available in many countries.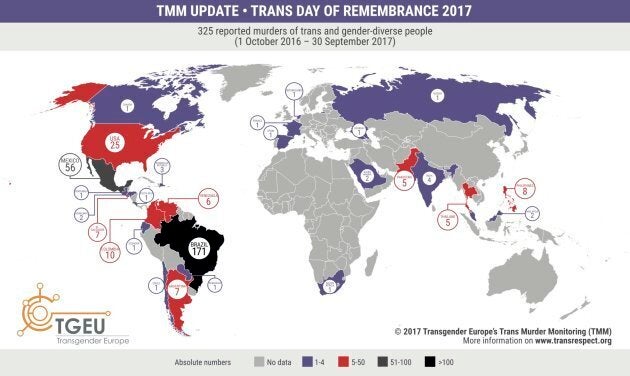 Statistics Canada has no information about the rates of murder, violence, poverty, or homelessness faced by trans Canadians.
Gender identity is not mentioned in the Criminal Code of Canada, so acts of violence targeting trans people aren't officially considered hate crimes. However, changes are coming after the Liberal government passed Bill C-16, which will amend the Criminal Code and Human Rights Act to extend protection to trans people.
Despite the lack of government statistics, advocates believe trans Canadians face higher rates of violence than other groups.
"We know trans people are one of the most targeted groups," Ryan Dyck, director of research, policy, and development at advocacy group Egale, told Global News in 2016. "And they experience violence at a much higher rate than other people."
Advocacy groups and academics have attempted to fill the gaping hole of research on trans people's lives in Canada. Their studies find very high rates of violence and harassment, which in turn contribute to high rates of depression and suicidal thoughts.
'Constant' threat of violence
"Most of the trans women with whom we spoke had their own stories of life-long violence, as well as stories they had accumulated from friends. The incidents ran the spectrum from verbal harassment to extreme violence," said the study, published by Critical Criminology.
One woman told the researchers she'd been threatened and chased by men brandishing knives near Fairview Park Mall in Kitchener, Ont. Another said her teen years were marked by daily violence: she had been stabbed and beaten, her teeth knocked out and ribs broken.
I slept with my doors barricaded. I didn't even feel safe in my own home.
One of the other subjects said she feared for her safety in her own apartment.
"I've overheard my neighbours at one point in a drunken rage yell that the freak upstairs ought to be knifed ... I slept with my doors barricaded. I didn't even feel safe in my own home," she said.
Other studies have found similarly high rates of violence.
The Trans Pulse Project, which surveyed 433 transgender Ontarians, found that 20 per cent had been physically or sexually assaulted for being trans. Sixty-seven per cent worried they would die young.
And the Canadian Trans Youth Health Survey found that 70 per cent of respondents said they had been sexually harassed. More than a third of teenage participants aged 14 to 18 said they were physically threatened or injured in the past year. That survey had 923 trans youth respondents from all 10 provinces and one territory.
The Transgender Day of Remembrance was started in 1999 to honour Rita Hester, a black trans woman who was murdered in Massachusetts the year before.