I've been out as transgender and non-binary for almost two years. Before I came out, I'd never been harassed, sexually or otherwise. In the two years since I came out, I've been harassed on a weekly, and often daily, basis.
I've had slurs hurled at me, been grabbed by strangers and received dozens of messages from strangers on the internet calling me all kinds of obscenities, and even threatening my life on occasions. I've had more nights than I care to remember when I curled up on my balcony in tears, trying to process the hurt that takes root when you feel like your existence is rejected by the world around you.
I went out a few days ago in the middle of the afternoon with one of my closest friends. I was all done up, wearing a lot of makeup and a fancy outfit. Within the span of 10 minutes walking down one of the major streets in Ottawa's downtown core, I was called disgusting to my face by two separate strangers on the street.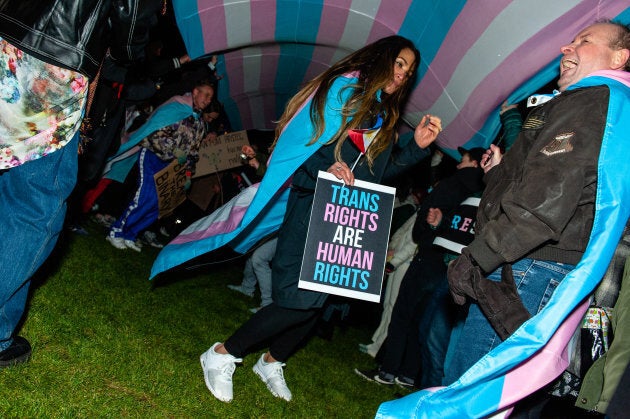 Words cannot adequately capture the impact on your health and well-being when you're denied the most basic sense of safety; when you can't leave your own house without fearing intimidation, threats and violence. This world is not safe for trans people, and that lack of safety has a direct and vicious impact on our health, safety and survival.
While national data on the state of trans communities is all-but nonexistent, provincial data paints a painful picture.
Estimates point that anywhere between 20 to 40 per cent of homeless youth in Canada are LGBTQ identified.
According to the Trans Pulse Project 2010, the best available data on trans communities in Ontario, 50 per cent of trans people in Ontario earn less than $15,000 a year.
Seventy-seven per cent of trans people seriously considered suicide at least once in their lives, and 57 per cent had attempted suicide at least once. Of even greater concern, 47 per cent of trans people between the ages of 16 to 24 seriously considered suicide in the past year, while 19 per cent attempted suicide.
The realities of rural and remote trans communities are worse than an urban-based trans person like me could ever imagine.
Twenty per cent of trans people have experienced physical or sexual harassment, and 34 per cent have experienced verbal harassment and threats.
Provincial governments, which are responsible for the overwhelming majority of funding for healthcare, social services and public health, remain silent and inactive. No province in Canada has a trans health strategy, action plan or equivalent policy document. No province in Canada has dedicated, ongoing province-wide initiatives to improve health and financial outcomes for trans communities.
Instead, we have a patchwork of services. Some cities have ongoing dedicated funding for trans health through their local health authorities. Others, such as Ottawa, are almost entirely devoid of trans health services, or funding for local organizations seeking to improve the health of trans communities. In a city of almost 1 million people, Ottawa's only LGBTQ community centre has two employees. The realities of rural and remote trans communities are worse than an urban-based trans person like me could ever imagine.
More from HuffPost Canada:

Non-Binary Author And Prof Lee Airton Wants To Talk About Gender

As A Trans Nova Scotia Teen, I Want Acceptance — Not Conversion
While many provinces have made significant gains in access to transition-related services — such as hormone replacement therapy, and surgeries such as phalloplasty and vaginoplasty — real action on trans inclusion and health isn't just about transition-related healthcare.
We also need initiatives to target employment discrimination, homelessness, poverty reduction and so much more. We need initiatives to ensure trans people have access to affirming and inclusive health and social services. We need funding for local trans community organizations that do so much of the work currently, with strapped budgets, if any budgets at all.
In truth, the problem of transphobia isn't going away anytime soon. But we have an opportunity now, with growing public approval of trans identities, to make real change in the lives of trans people.
It will not be easy. But trans communities deserve equal access to health and wellbeing. Legislated rights are not enough. The bar has been set far too low for far too long.
Have you been affected personally by this or another issue? Share your story on HuffPost Canada blogs. We feature the best of Canadian opinion and perspectives. Find out how to contribute here.
Popular in the Community