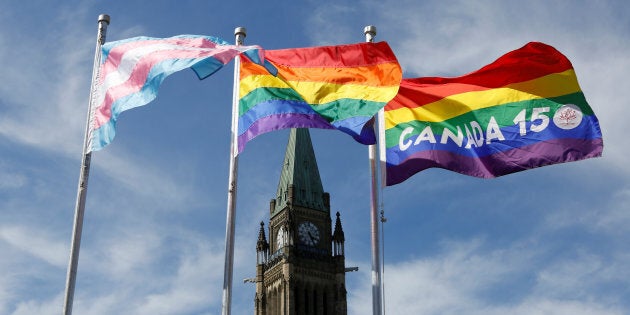 As Pride events continue across Canada this summer and fall, the passage of Bill C-16, extending long overdue protections to transgender Canadians, gives us much to celebrate.
This bill, having now received Royal Assent, enshrines transgender rights, specifically gender identity and gender expression, in the Canadian Human Rights Act alongside other rights such as those based on sex, race, marital status, age, disability, or religious belief. Its passagecomes after months of delay in the Senate.
Along with changes to expand human rights to transgender people, C-16 also amended the Criminal Code to extend protections against hate based on gender identity or expression. This is an important step forward.
It is worth celebrating because it marks a significant step in the recognition of trans rights, something longtime advocates have noted.
"When the country says, 'We have your back and you are included,' it has a profound impact and it changes the narrative," Marni Panas told Global News. "It starts changing the narrative to talking about transgender people as part of the normal participation in society as we should be."
Stephanie Shostak, a board member with the Trans Equality Society of Alberta, called passage of the bill "a historic moment for equality and human rights for all Canadians."
The fact that the bill finally made its way through the Senate in the midst of Pride celebrations across Canada, and days before Canada Day, is symbolic of what Pride means to me.
This year marks the fourth year in a row that I will take part in Pride Parades as the National President of Unifor. For me, these events are both a celebration, and a political space. The two are inseparable, I feel, and the passage of C-16 is a good example of why.
We need to recognize the fact that getting this far has been a long and difficult fight for trans communities
Even as we celebrate passage of the bill, and mark all that we hope it says about Canada as an open and evolving society (the work left to be done on many fronts notwithstanding), getting to this point has been highly political.
It took years and years of lobby work to see this bill passed and its principles accepted by most Canadians. It took on the ground activism by grassroots organizations, activists and equity champions who pushed long and hard for change. It took brave people to put their names forward and to tell their stories publicly, whatever the costs to them personally.
We need to recognize the fact that getting this far has been a long and difficult fight for trans communities. Many in that community put much at risk to speak up, stand up and demand their equal rights alongside other Canadians.
Transgender women face high rates of physical, sexual and fatal violence. For activists to put their names and faces forward to fight for this cause put them at even greater risk.
Take the case of Montreal-based activist and author Sophie Labelle, who was subjected to a violent cyber-attack, including death threats and hate speech, over her work. She was forced into hiding after attackers published her personal details, including her home address.
Tragically, she was not to only one to face such personal attacks for standing up for principles and equality. She won't be the last.
It takes incredible courage to be the one to stick your head above the crowd and speak out for the rights and needs of your community or to be an ally who holds privilege to support other communities in demanding inclusion. We in the labour movement certainly understand that impulse, that drive to help others -- which is why struggles such as this are an integral part of the of the work done by unions and other worker organizations.
It is for that reason that when I march in Pride this year, I do so both in celebration of the advances we have made toward being a more open and accepting society, including passage of Bill C-16, but also in recognition of the incredible political work and sacrifice requiredto get us here.
Follow HuffPost Canada Blogs on Facebook