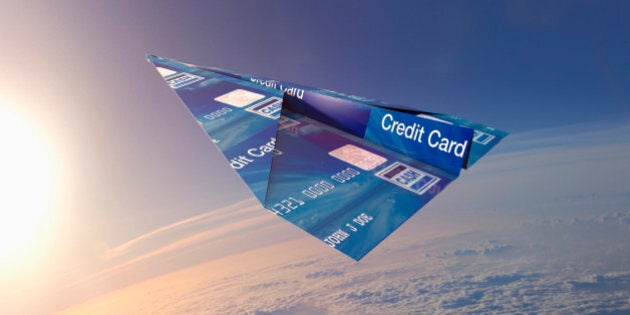 Growing up, my dad was a big points collector and as a result my family was able to book many flights and hotel stays free of charge. We used to always joke that a hotel was twice as nice if you didn't have to pay the bill. From a young age, I discovered that with the right credit card you could be rewarded for your spending.
Those lessons have remained with me to this day and have inspired my passion for credit card rewards and even drove me to build a business around them at RateHub.
The best and simplest way to hack your travel points is to choose the credit card that will give you the most back in return.
In my 20s I've been able to take advantage of points I've earned on my credit card: I've taken at least five free flights and I was able to cover a week-long honeymoon with my husband staying at several great hotels in Hawaii using Aeroplan and Starwood preferred guest points.
More recently I've become interested in the extra perks offered by credit cards: insurance products. In the last three years I've made three insurance claims on my cards: I covered my hotel and dinner when the flight back from my honeymoon was cancelled, I covered a hotel in Philadelphia when my flight back from a conference was cancelled; and on a recent vacation to Miami, I declined collision and damage insurance on a rental car, saving me close to $15 per day.
Here are five tips you can use to transform yourself into a master travel point hacker:
The best and simplest way to hack your travel points is to choose the credit card that will give you the most back in return. You should never change your spending habits to earn the most points, but rather make sure you're collecting the most valuable rewards where you're already spending money.
The best credit cards on the market will earn you a two per cent return on your spending in travel points or cash back. It's important not to dismiss cash back cards as an option when looking for a solid travel credit card because you can you the cash on travel expenses. The card I use that hits this benchmark is the BMO World Elite Mastercard.
2. Always think in net return
Many people are deterred from applying for a credit card when they notice it has an annual fee. However, you might find given your personal spending habits that your annual net return (spending rewards minus the annual fee) is actually much higher than a no-annual fee card. In many cases, premium travel cards have much higher earning multipliers than no-fee cards, and that will more than make up for your annual fee.
In addition to not shying away from an annual fee, it's important to note that many premium travel credit cards can offer very enticing sign up bonuses. These promotions are a great way to let you hit the ground running and start collecting points right away.
3. Travel on your own terms
The best cards give you the most flexibility to travel on your own terms: with any airline or any hotel. The Capital One Aspire Travel World Elite Mastercard allows you to purchase travel on your credit card and simple erase the charges with your accumulated rewards. This is much more flexible than a points program that can only be used for specific flights or airlines.
4. Don't forget the perks
Remember to be aware of all the perks that come with your credit card and make use of them when you can. For instance, the BMO World Air Miles World Elite MasterCard comes with a free annual Priority Pass membership, which grants you exclusive access to VIP Airport Lounges around the world. Plenty of travel credit cards also get you discounts of up to 25 per cent when you rent a car from a particular agency.
What I've learned from my life as a travel hacker is that the small things add up.
Many people get a travel credit card with the express aim of collecting and redeeming travel points. But there's a lot to be said about the travel and medical benefits that come with these cards. Like I mentioned, you could save up to $15 a day renting a car if your card covers collision and damage insurance on car rentals.
If you flight is delayed or cancelled past a certain length of time you may be able to claim hotel and meal expenses. If the airline loses your baggage, you'll be reimbursed for the cash value of your lost personal property. Make sure to take note of the extent of your coverage and what exclusions and limitations apply so that you aren't surprised while on your trip.
We often hear of people traveling the world for free on points. Those are amazing and inspiring stories, but are they accessible for everyone? What I've learned from my life as a travel hacker is that the small things add up. If you choose the right card for you, know your perks and benefits and maximize your point collection, you'll be able to amplify your travel plans in incredible ways. While you may not be able to travel the world on points tomorrow, start with the goal of a free flight in the next year.
Follow HuffPost Canada Blogs on Facebook