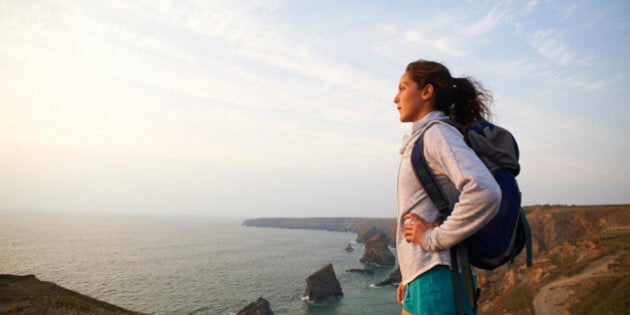 The word 'travel' is too often associated with unproductive time off from what you 'should' be doing. But UniversityHub has another perspective for you. We sat down with Katie Idle from the Study and Go Abroad Fair to highlight 5 ways that travel can boost someone's résumé. The fair is kicking off this weekend in Vancouver and Edmonton, and travelling to four other cities across Canada. Pre-register for free online.
There's no need to put your education on hold to go travel -- you can do both! Why not consider taking a whole degree abroad? Some undergraduate programs, such as in the UK, Australia and South Africa, are only three years as opposed to the traditional four-year degree program in Canada -- and Master's programs/ MBAs are often one year only! One year of earlier graduation means one year more of earning full-time employment salary.
Or, if you're not ready for a whole degree program abroad, consider taking a semester or international exchange. "Speak to your university to find out about credit transfers and grades - don't worry, they can help you with all of that. You just need to choose where you want to study, pack your bags, and get ready for the adventure of a lifetime," says Idle.
"The Study and Go Abroad Fair is a great opportunity to meet face-to-face with universities from around the world. Be brave - check out universities from the non-English speaking countries as well."
Canadian businesses are more international than ever. Applying to a job out of university or college with international work experience on your résumé will separate you from the crowd. You'll learn a ton about how an industry works in a different part of the world, get to work with teams from a different culture, and get to enjoy non-work time in a place you'd normally vacation to.
Companies operate seamlessly across borders, and people need to do the same, which is why working or studying abroad is so important. Students who work abroad come home with new perspectives on the world, and an invaluable understanding of how it works.
3. Accomplish Something Unique
If you think travel is all about eating banana pancakes and lying by the beach, then you're very mistaken. Travel is all about stretching yourself in ways you wouldn't each day. What's an adventure you've always had on your bucket list? Maybe it's summiting Mt. Kilimanjaro or sailing across the Caspian Sea -- whatever it is, it will be sure to add some 'oomph' to the 'additional interests' section of your résumé.
Idle tells us to "Check out Australian Working Holidays to experience the true Australian 'outback'. You never really know what you are capable of, until you get out of your comfort zone."
Voluntourism is the new hot topic in travel. There's no better way to supplement your own holiday with giving back to others who need it most. This might be volunteering at an elephant sanctuary in Thailand or a school in Peru -- whatever you choose, it will definitely be a life changing experience.
"A couple of years ago, Adrianna, from a small town in Alberta, won the Study and Go Abroad Grand Prize Draw - a volunteer trip to Africa. She came back saying that it was a life-changing experience for her, and as a result she totally changed her career plans. There's something about taking a set period of time and devoting it almost entirely to other people -- you get so much back from an experience like that, it lasts a lifetime." tells Idle.
"Visit Uniterra at the fair to find out about short and long-term volunteering opportunities."
Learning a language is one of the smartest moves you can do to become an employable young professional. But it's incredibly difficult to truly grasp a language -- particularly in a short period of time -- when you aren't fully immersed. What if when you hopped on the bus, turned on the TV, tried to read a restaurant menu, or ordered a train ticket, you had to read, listen, think and speak in a different language. You'll be forced to learn it merely to make everyday life easier for you!
"Language is the biggest thing that separates cultures" says Idle "so when you learn a language, you can experience a culture and connect with people like you never would have otherwise. It's a truly special thing. Check out Languages Abroad and EF Language Centres at the fairs. Both teach many different languages in some really interesting destinations."
Follow HuffPost Canada Blogs on Facebook
Popular in the Community