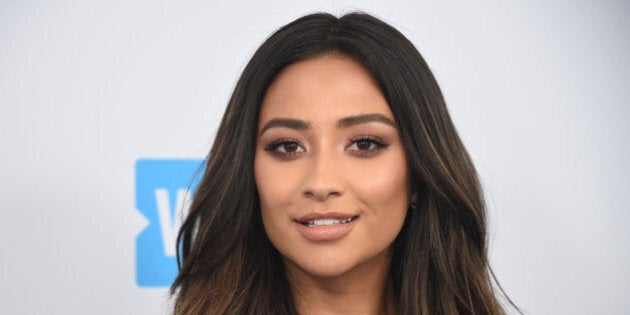 I had an identity crisis in high school. A lot of young girls do.
I was surrounded by girls who all looked the same: straight blonde hair, blue eyes, fair skin. And then there was me. Around this time, girls who'd been my friends for years, all the sudden dropped me.
It was a really difficult period. Walking into the cafeteria I felt like all eyes were on me so I began to eat my lunch alone in the bathroom where I felt safe. I wanted, more than anything, to look like everyone else. I wanted it to be easy. So I dyed my wavy dark hair blonde and wore colour contacts. Blue, grey, green, whatever, just to fit in.
Thinking back, the self-doubt started even before that. We're trained to judge people, to put them in boxes. I remember people in my neighborhood assuming my mom was my nanny just because she's Filipina.
And it wasn't until I travelled, until I had the chance to meet people from different backgrounds with different experiences, hopes and dreams that I began to see through this and embrace who I am.
I have been lucky enough to spend time in different countries, to learn from peoples' culture and to see the world through their eyes. And they have taught me to be proud of who I am and to celebrate my uniqueness. That is the message I want all young girls and boys to hear.
I dream of a world where every child, no matter where they're from, has an opportunity for education. And if I had a super power, it would be teleportation, so I could share the lessons of travel and exploration with everyone. There is so much to learn about the world, each other and ourselves -- and travel is the best way to do it.
When I was in Kenya, sitting in a circle with Maasai mamas as they beaded bracelets and taught their daughters about their craft, I saw the pride they took in remaining true to their culture. They taught me that the things that make us different are the same things that make us powerful.
My mom used to tell me that if you think small things can't make a big difference, put a mosquito in a room. Everything we do, no matter how big or small, has a ripple effect and can impact others. That lesson has always stayed with me. It's been my north star, guiding me through life. It's helped me deal with some of the bad things I've experienced and empowered me to create some good.
I am so lucky my fans have invited me into their lives and entertaining people is a privilege -- but everything I do is to make a positive impact on people's lives.
Follow HuffPost Canada Blogs on Facebook