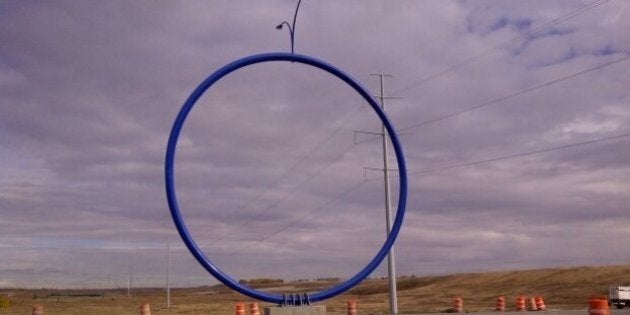 What's a hated, detested and maligned piece of public art to do when it can find no love?
Get a Twitter account of course.
Twitter, Facebook, Reddit, news outlets and politicians this week have all come out against Travelling Light, Calgary's latest public art piece. Finding inspiration in that most pedestrian source of items - the wheel - the five-storey-tall, blue hoop, balanced on the side of a bridge along 96 Avenue near the airport, cost tax-payers nearly half-a-million dollars.
But much of the ire towards the massive ring - with two street lights affixed to the top of it - has now turned to humour after the beleaguered structure got its own Twitter account on Wednesday, complete with a bio that reads, "It's Not Easy Being Blue In A Purple City!"
Public art-loving Calgary Mayor Naheed Nenshi called the structure, "awful," readers attacked the city's policy of allotting one per cent of Calgary's public project money to public art and critics ridiculed the size, shape and location of geometric incarnation.
Amidst that hate, emerged Travelling Light's fake Twitter account @GiantBlueRing, which surpassed 500 followers the first 24 hours in existence, and which lent the inanimate object an air of artsy angst.
Equal parts commentary and reflection, @GiantBlueRing tackles all manners of subjects from avian excrement to feeling blue and from self-discovery to its search for like-minded objects.
Click through the gallery below for some of Travelling Light's best tweets so far.