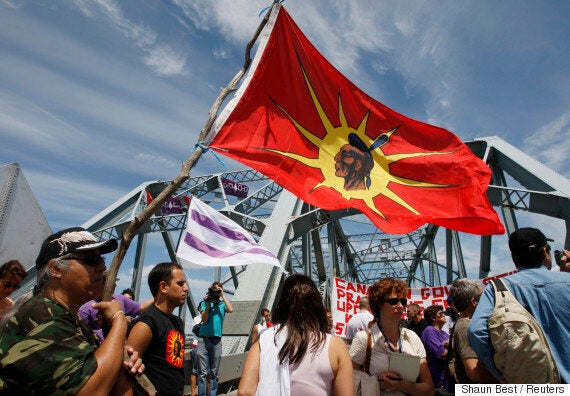 Mohawk protesters block the Mercer bridge leading into Montreal during "National Day of Action," June 29, 2007. (Photo: REUTERS/Shaun Best)
It had all the makings of a story fit for The Onion: a self-proclaimed "chief" who sells band memberships at $80 a pop and allows anyone with an aboriginal ancestor somewhere in their lineage to join. She even sports a headband purchased from an Asian craft store and has status cards to make things official. The article states that the Mikinak IDs even declare that the holder is "an aboriginal within the meaning of the article 35 of the Constitution Act of Canada," and as such they are entitled to aboriginal hunting, fishing, trapping and trade rights.
Then there was the part where Costco refused to honour the tax exemption, and Mikinak Chief Lise Brisebois threatened to set up a blockade at Costco with 200 members of her tribe to protest the "injustice," claiming to take a page out of the Mohawk's protest tactics. She insisted: "I just want to be respected. I'm not a savage. I'm an Indian."
By this time I recognized it was not satire. Does this woman not realize that when the Mohawks blocked highways and actually stood up to defend what was rightfully theirs, they were ready to go to war with police and the Canadian military and that they were ready to die? The absolute insult and lack of understanding to compare a Mohawk resistance to Costco not honouring a bull**** card from some people who want to save a couple bucks is probably the best demonstration of what this so-called tribe is about.
There are children literally starving to death in third-world living conditions, and your "tribe" is concerned about saving taxes?
The craziest part is Costco is actually willing to meet with this group over their threat! Is Costco actually intimidated by this "tribe" to the point they will meet with this woman? Maybe the Costco management is just showing respect to another group that sells memberships and won't let you through the door until you've paid.
But taxes? A tribe created to save taxes?
There are children literally starving to death in third-world living conditions, and your "tribe" is concerned about saving taxes? There are communities that cannot even drink the water from their taps (if they have the luxury of having a sink or running water in their house), and you're concerned about saving taxes at Costco?
But that seems to be the point. This group thinks Aboriginal Peoples are getting a free ride with status cards and tax exemptions (limited, and specific) and they want in on it. Do these people not realize that Aboriginal Peoples do pay taxes? If not, it is unlikely they have thought further about the history of cards and tax exemptions; why they are there; and the price paid by aboriginal people for them. But to this group, the card is just like a marketing points program or coupon.
If the group was genuine and understood that heritage means something, why would they not be talking about aboriginal issues and ways to help? How about donating food for some starving kids in the remote north? How about calling band offices and community groups asking how to help? How about going to actually visit a First Nation community and ask someone in a rundown shack how all the "benefits" of being a status Indian are working for them? Go ask the families of all the missing and murdered women to tell you all about the benefits of being aboriginal and ask them if their loved ones' lives were made up for by some saved taxes.
How about at minimum showing some respect to the people that you claim to be. For the thousands of children such as my father and his mother who were taken from their homes, sexually abused, beaten and watched other kids killed and die from disease. And if this taking away of children and lives couldn't happen to any of the Mikinaks today, they have the sacrifice, courage and resiliency of aboriginal people to thank. Their carports, slingshot motorcycles and shopping are safe for another day.
I also have another suggestion for the group that doesn't require the courage of face-to-face outreach of the ideas above. At minimum, read the report of the Truth and Reconciliation Commission. If the chief of the Mikinaks or any member of the group can do that and still set their priorities as protesting Costco, seeking an entitlement to bargains and paying their $80 membership, then they are revealed for the phony, self-centred, opportunistic, predatory people they are.
Follow HuffPost Canada Blogs on Facebook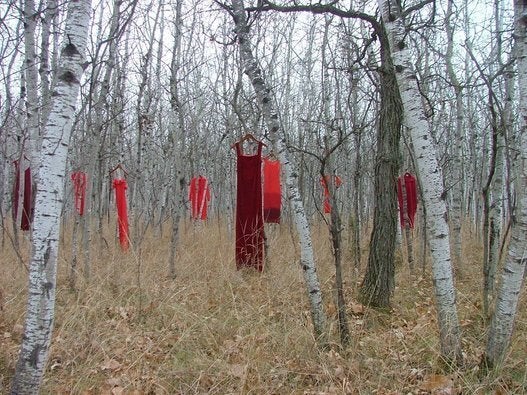 REDress Project For Missing, Murdered Indigenous Women