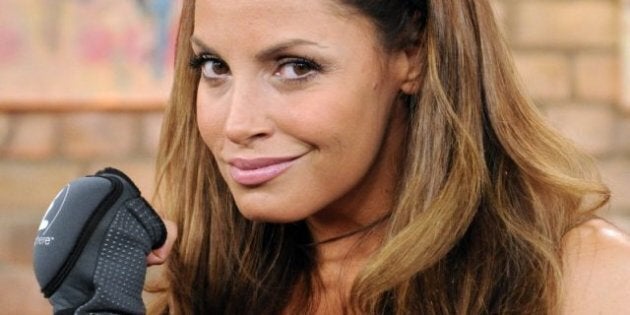 Quick Study [kwik stuhd-ee]: The Huffington Post Canada's tips to make your life a little sweeter, five minutes at a time. Think of it as a cheatsheet for your general well-being.

For the next 30 days, we're checking out how to take a break from your busy holiday schedule and relax -- in unexpected ways.
The Huffington Post Canada talked to Canadian fitness and yoga expert and former WWE Women's Champion Trish Stratus, on how yoga helps her zone out.
HuffPost: How do you suggest taking a break from the stresses of the holidays?
Trish Stratus: During a stressful or busy day, I take five minutes out of my day to do a yoga pose. Legs to the Sky pose is a favourite. Lay down with on the ground with your legs up a wall so you are in an L-shape. Relax your arms, shoulders and back gently into the ground. Stay in this pose for at least five minutes. This is a calming pose that can be done anytime and anywhere.
I also ensure I take five minutes between meals to eat a whole-grain snack and keep my energy levels up. Whole-grain snacks help your body produce increased levels of serotonin, which improves your mood and produces a calming feeling. It also controls the production of the stress hormone cortisol. Now you can see why we call carbs comfort foods!
Huffington Post blogger Sadie Nardini says 'old' yoga poses offer her a new perspective into getting healthy and fit.
There is a common misconception that stubbornly remains, which is that the yoga poses are thousands of years old, and that they have existed as one static teaching since the beginning of yoga time. This could not be farther from the truth. Though a very few poses have been recorded in the ancient texts, they were all variations on seated or supine meditation postures. There was no Triangle, no Downward-Dog. Nope... not even a headstand. In fact, there is no evidence of a traditional practice of yoga postures handed down intact over millennia. Click to read the rest of her post.
If you're a beginner and aren't quite ready to downward dog, you want to start with something simple. Check out this yoga pose for your face.
Do you have a favourite yoga pose? Let us know on Twitter at @HuffPostCaLiv or in the comments below.
Popular in the Community