ST. JOHN'S, N.L. - Tropical storm Leslie pelted Newfoundland on Tuesday, unleashing hurricane-force winds on a large swath of the province's east coast and drenching rains in the west.
Officials with the Canadian Hurricane Centre in Halifax said the centre of the storm made landfall at around 8:30 a.m. local time in Fortune, N.L., following its anticipated track to the Burin Peninsula.
Meteorologist Bob Robichaud said the potent storm was buffeting areas around St. John's with winds that gusted up to 131 km/h, causing damage to roofs, roads and power lines and triggering widespread outages.
THE STORM, IN PHOTOS (Story continues below)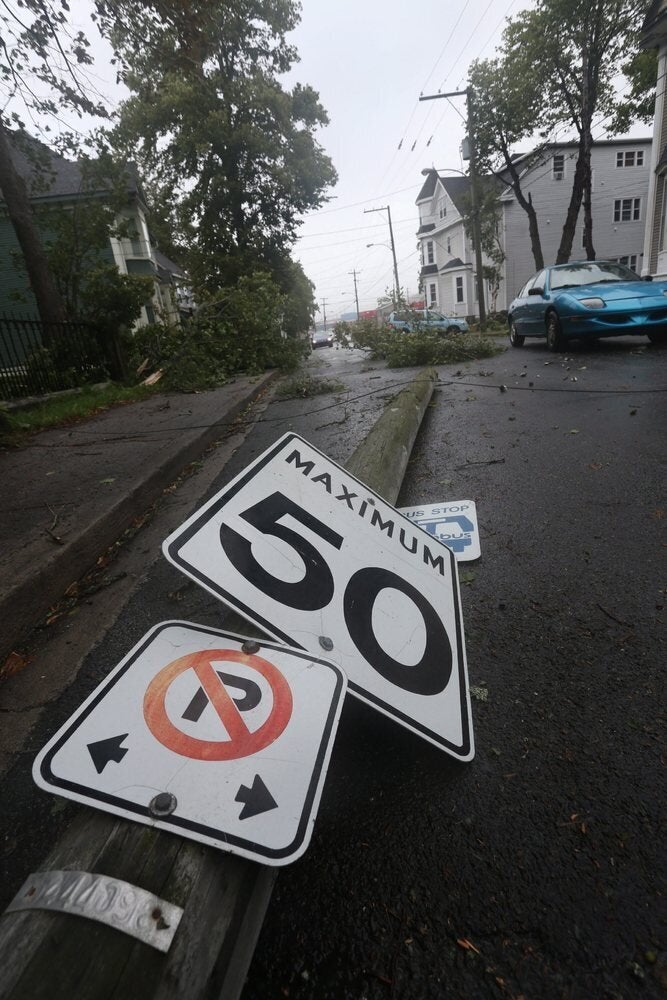 Tropical Storm Leslie Hits Canada
"There are very strong winds to the right hand side of the track," he said. "We've seen some fairly heavy, intense rainfall as the storm was approaching and one of the things we're looking closely at are the winds."
The St. John's airport recorded hurricane-force gusts of up to 131 km/h, while a buoy in Placentia Bay recorded waves exceeding 12 metres.
Robichaud said hurricane watches were still in effect for areas to the right of the track, largely on the Avalon Peninsula.
Power was knocked out throughout St. John's and communities along the southeastern coast of the Avalon, and all flights at the airport were cancelled.
Striking airport workers who briefly picketed outside braved powerful wind gusts that picked up a port-a-potty tied down by a rope.
"This is my first time taking strike action and I guess the weather just makes it a little more interesting," said Steve Piercey, a building maintenance worker originally from Fortune, N.L.
"We're used to weather like this. At least a couple of times a year we get big storms. This is par for the course, being a Newfoundlander. We're tough."
Piercey was working at the airport almost two years ago when hurricane Igor hit on Sept. 21, 2010.
Igor seemed much worse, he said.
Inside the airport, stranded passengers gazed up at electronic boards red with cancellations before the power cut out and they went black.
"On the Trans-Canada (Highway) it's windy. It's almost like the wind's going to push you off the road," said Christopher Cumby, who drove into St. John's from the Trinity Bay region. "It's not really bad rain-wise but the wind is really bad."
Cumby was trying to make his way back to Fort McMurray, Alta., for work, but his chartered flight was delayed.
"Nah," he said when asked if the weather scares him. "I might get to stay home an extra day."
The RCMP tweeted a photo of a truck blown over onto its side on the Trans-Canada Highway, west of St. John's.
The City of St. John's issued a notice early Tuesday that all municipal buildings, except City Hall, were closing for the morning due to extensive power outages. Schools and some health clinics in the area were also shut down.
On the west coast of Newfoundland, there were concerns about flooding as the storm's heaviest rainfall — about 100 millimetres or more were forecast for some areas — drenched the region.
The centre cautioned that tree damage, power outages and property damage would likely result from the strong winds.
Bands of rain were extending out ahead of Leslie, dousing some areas on the Burin and Avalon Peninsulas with 25 mm of rain an hour.
Much-smaller hurricane Michael is well to the east of Leslie and is expected to dissipate east of the Grand Banks over the next day or two.
Many Newfoundlanders hunkering down ahead of the storm were hit hard by hurricane Igor two years ago.
One of them, Patricia Devine of Clarenville in southeastern Newfoundland, said Monday that she is "very nervous" and "saying a lot of prayers."
Devine was among many residents who spent Monday stocking up on food and water and ensuring they had flashlights, batteries and emergency numbers at hand.
Read it on Global News: Global Edmonton | Leslie makes landfall in Fortune, N.L., brings lashing rains, stiff winds