CALGARY — Liberal Leader Justin Trudeau used his last day on the election campaign to make a final pitch to Western Canadians — and Quebecers — urging them all to unite and vote out Stephen Harper's Conservative government.
Speaking in Edmonton and in Calgary, where the Liberals hope to pick up several seats, Trudeau reminded the crowd he had made Alberta a priority, coming to the province on the first day of the election campaign and now again on the last day.
"This place is important to me… this place matters, deeply," Trudeau said. "It's a message that I'm proud to deliver here with a big smile, as a Liberal, as a Trudeau, and as a Quebecer."
People in Quebec need to know that the country needs Alberta to succeed, Trudeau said. "But so too, do Quebecers need to be reminded that our country needs them to engage too."
In French, the Liberal leader said Albertans need Quebecers to re-engage to give Canada a better government. "We must all choose a better government. It's the time for us to unite, Quebecers, Albertans, Canadians to defeat Harper!"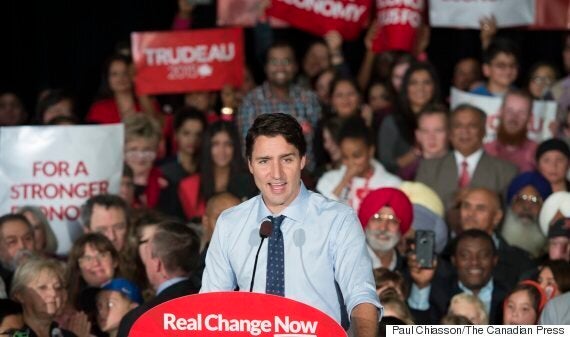 Justin Trudeau addresses supporters during a rally, Sunday, October 18, 2015 in Edmonton. (Photo: Paul Chiasson/CP)
Polls suggest much volatility in Quebec, where the Liberals need stronger support if they hope to win a majority government.
A jubilant crowd of about 1,500 in Edmonton greeted the Liberal leader with chants of "Trudeau, Trudeau" and "Justin, Justin." In Calgary, organizers say 2,000 people showed up to hear Trudeau speak. The crowd outside the hall was as large if not larger than the one inside. People chanted. People danced.
Trudeau reminded them everywhere the race isn't over. He urged them to go knock on doors, make phone calls, offer people ride to the polls, and even to babysit so supporters could go out and cast a ballot.
"This government is out of touch and if we stay focused and keep working hard, tomorrow they will be out of time," Trudeau said.
Calgary Skyview candidate Darshan Kang told The Huffington Post Canada that Albertans, and Canadians, were responding to the Liberals' platform of increased government spending and middle-class tax cuts.
"We need that stimulus," he said of the Liberals' plan to run three years of deficits in order to pay for its promises.
"Here, we want to put bread and butter on the table for Albertans. We lost 55,000 jobs in Alberta and people are worried about their jobs," Khan said.
Several Liberal supporters said they were surprised to see so many people out to cheer the Liberal leader.
The Liberals haven't won a seat in Alberta since Anne McLellan, the former justice minister and deputy leader, captured Edmonton Centre in 2004.
The federal party hasn't won a seat in Calgary since 1968. But Trudeau and his candidates are hoping Monday's election will mean a breakthrough in Conservative heartland.
"I just can't believe the excitement in Edmonton. At 7 o'clock I just couldn't believe the lineups and there was no parking," Arif Khan told HuffPost. When Trudeau launched his leadership bid in Alberta, Khan said, there were 20 people in the room.
Former Liberal candidate Amarjit Grewal said he thinks the Grits will win Edmonton-Mill Woods because of the strength of the local candidate, popular city councilor Amarjeet Sohi.
Tim Uppal, the Conservative candidate and a junior minister in Harper's government, chose to run in this riding after the incumbent MP Mike Lake decided to run in what's considered a safer seat in Edmonton—Wetaskiwin.
"He should not have come," Grewal told HuffPost about Uppal. "When the [Conservative] party was high, he thought 'Oh this is my area I can get in but he never listened to anybody, never talked to any people,'" Grewal said of the riding which has a large South Asian population. "He should have stayed outside in the white system, it's true."
Uppal previously represented the riding of Edmonton—Sherwood Park.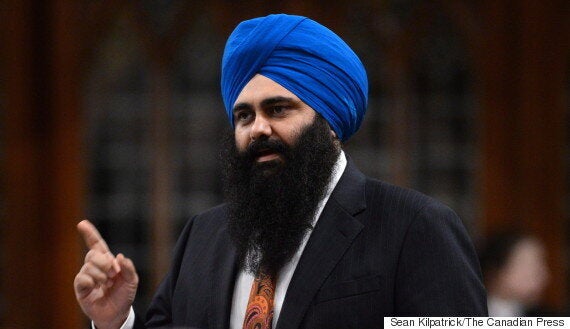 Tim Uppal responds to a question during question period in the House of Commons(Photo: Sean Kilpatrick/CP)
Grewal said people are upset Uppal has been used as a "prop" by the Conservative government to announce things like the opposition to the niqab during citizenship ceremonies.
'His own beard is like a niqab'
"His own beard is like a niqab. You cannot see his own face, it is true!" said Grewal, who, like Tuppal, wears a turban. "He should have been a much stronger voice for the immigrants."
Fatia Wais, who is originally from Africa and wears a bright yellow hijab, told HuffPost she voted Conservative in the past but not this time.
Immigration Minister Chris Alexander's open musing that perhaps the government might also seek to ban the hijab convinced her to vote for Trudeau.
"This is why I am going back to the Liberals now, so I will be safe. So I can feel that I am a Canadian, and not a second-class citizen. I've been here 20 years," she said.
"Trudeau makes me comfortable. I speak French, I speak English. I am well educated. I don't want to feel like I am a second class because of my religion. Religion is inside, right, but we are all human beings to start off.
"This is the reason I came here this morning. I came here to make a change."
Trudeau flew to B.C.'s Lower Mainland on Sunday afternoon with rallies in Surrey and North Vancouver.
In Surrey, Trudeau stressed his B.C. roots calling himself a "grandson of British Columbia" and noting how much time he spent in the province. His maternal grandfather is James Sinclair, a former Liberal cabinet minister in the '40s from Vancouver.
Trudeau told the crowd of about 2,000 that he needed everyone to vote in this close election.
"We know that Stephen Harper still has a lot of tricks up his sleeve," Trudeau said. "So... be sure to vote tomorrow. Help us defeat Stephen Harper."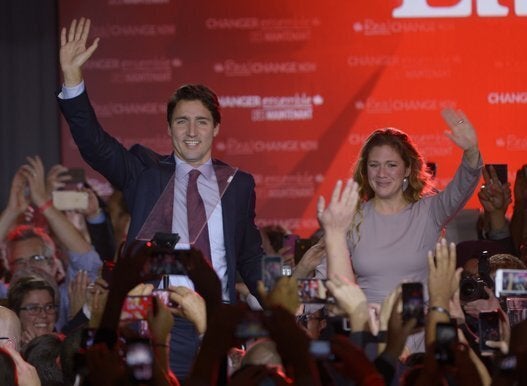 In Photos: Canada Election 2015