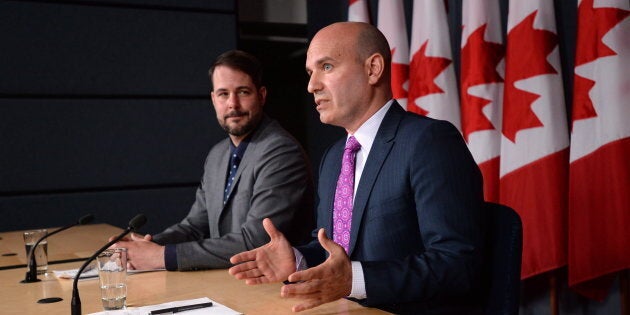 New Democrats are once again calling out the prime minister's broken promise to reform Canada's electoral system.
The NDP released a statement Thursday, attributed to democratic reform critics Nathan Cullen and Alexandre Boulerice, responding to Justin Trudeau's comments on CBC Radio's "Information Morning" this week.
On Tuesday, the CBC's Don Connolly pressed Trudeau to explain why he backed off his pledge that the 2015 election would be the last under the first-past-the-post system.
Trudeau said that a proportional representation system — as recommended by the all-party electoral reform committee, so long as it had the support of Canadians in a national referendum — would hurt the country.
"Moving towards proportional representation, as a few people wanted, would have been damaging to our stability, to our electoral system," Trudeau said. "When it was obvious that was really something that was a potential threat to the country, I decided that instead of ticking off an electoral box, I was going to stay focused on the things that actually mattered."
Perhaps unsurprisingly, the quip did not sit well with New Democrats who have branded Trudeau a "liar" for abandoning a signature Liberal election pledge.
The statement from Cullen and Boulerice noted that Trudeau repeated a clear promise "hundreds of times" and that two-thirds of Canadians voted for parties — the Liberals, NDP, and Greens — promising to scrap FPTP. Canadians have every right to feel betrayed, they said.
"The old argument about a proportional system being 'dangerous' is disingenuous and has been refuted several times," the statement reads. "Trying to make Canadians believe that proportional representation is a threat to our country and our democracy is absurd.
"Justin Trudeau's statements are arrogant and intentionally misleading: the Liberals decided to maintain the current system because it benefits them, period."
HuffPost Canada reached out to Trudeau's office to clarify what threats to the country he was referencing. A spokesperson pointed to comments the PM made last year warning against changes that would "augment extremist voices and activist voices."
Also: Trudeau says he will clear vacations with ethics commissioner
Under a proportional system, a party's share of the vote produces a roughly equivalent share of the seats in the legislature. Proponents say the system is more democratic because majority governments are not formed by parties who do not win a majority of the vote. In the 2015 election, Liberals won a majority with 39.5 per cent of the vote.
In the interview Tuesday, the CBC's Connolly said a "great many" young people were disappointed by the government's reversal. He asked why Trudeau, who also serves as the government's youth minister, promised electoral reform in the first place.
The prime minister responded that he has "always been very open" that he preferred a ranked ballot system.
"When it was obvious that there was a very strongly vocal but very much a minority of Canadians who were going to accept nothing else but proportional representation, which I think would be bad for the country and I've always said that, it was obvious that there was no path forward," Trudeau said.
Under ranked ballots, voters mark first, second, and subsequent choices. If no candidate clears 50 per cent of the vote, the contender with the fewest votes is dropped from the ballot and the second choices of their supporters are counted. This continues until someone wins a majority.
Trying to make Canadians believe that proportional representation is a threat to our country and our democracy is absurd. NDP's Nathan Cullen and Alexandre Boulerice
Liberals did not say in their 2015 platform that they wanted to switch to a ranked system. After forming government, Trudeau and former democratic institutions minister Maryam Monsef repeatedly maintained they were open to all ideas on how to reform the way Canadians vote.
New Democrats and Tories warned all along that Liberals would try to bring in ranked ballots, a system they believed would most benefit Trudeau's team. As more of a centrist party, Trudeau's Liberals may be better placed to scoop up second-place support from the left and right of the political spectrum.
During a visit to Canada's north last February, Trudeau argued that PR systems give too much parliamentary power to fringe or extremist parties.
In one memorable exchange with a woman in Iqaluit, Trudeau suggested Kellie Leitch — at the time running for Tory leader with a call to screen newcomers for "anti-Canadian values" — could form a party that might hold the balance of power in a PR system.
At a town hall in Yellowknife that month, Trudeau suggested a switch to a PR system would mean an era of uncertainty and division.
"We'd be putting at risk the very thing that makes us luckier than anyone else on the planet: the fact that we look at our differences as something to draw on and discover and build on, as opposed to emphasize and highlight," he said at the time.
Trudeau is currently hosting a series of town hall meetings at different cities across Canada this month.
With files from The Canadian Press