Conservatives have slammed Prime Minister Justin Trudeau for spending taxpayer money to visit a "summer camp for billionaires."
But a spokesperson for the prime minister says Trudeau is doing his job.
In a statement released Wednesday, Tories criticized the prime minster for heading to a secretive, invite-only conference at a Sun Valley, Idaho ski resort.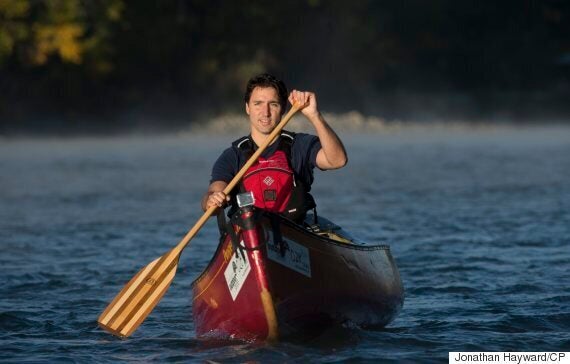 Justin Trudeau paddles a canoe down the Bow River in Calgary, Alta. in September 2015. (Photo: Jonathan Hayward/The Canadian Press)
The annual closed-door meeting, organized by New York-based private investment firm Allen & Company, brings together about 300 business moguls and tech titans, generating meetings that sometimes result in major deals.
Though the guest list won't be made public, The Canadian Press reported that expected attendees this year include Facebook's Mark Zuckerberg, Microsoft's Bill Gates, and billionaire investor Warren Buffett.
The Tories' statement, however, said Trudeau was off to rub shoulders with "the world's richest billionaires and elites."
"Trudeau has already spent taxpayer money to go boxing in New York, so why not spend more taxpayer money to go white water rafting in Idaho?" the statement reads, referencing an April photo-op of Trudeau working out in a Brooklyn gym while on official business in New York City.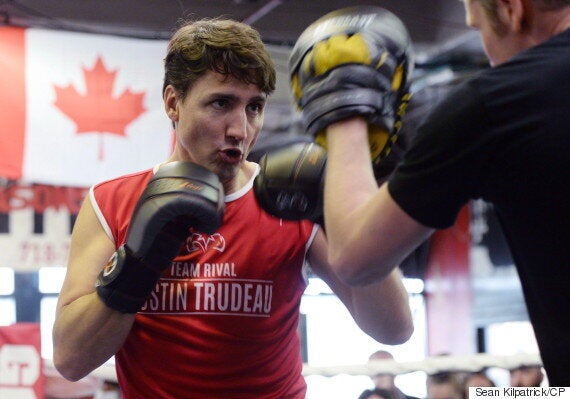 Prime Minister Justin Trudeau spars with professional boxer Yuri Foreman at the Gleason's Boxing Gym in Brooklyn, New York on April 21, 2016. (Photo: Sean Kilpatrick/The Canadian Press)
"While Justin Trudeau attends summer camp for billionaires, he continues to betray Canada's middle class here at home."
The statement criticizes Liberals for moving to phase out the children's fitness tax credit and children's art credits when there is "apparently enough taxpayer money" for the prime minister's fun.
Tories also released a mock graphic online showing the prime minister paddling a canoe and "checking in" at camp on Facebook.
But Trudeau isn't hiding his attendance at the event. The prime minister stated clearly in his itinerary, updated online each day, that he was off to Sun Valley and that the event was closed to media.
Cameron Ahmad, the prime minister's press secretary, told The Huffington Post Canada in an email that Trudeau "is attending the conference with the goal of attracting investment to Canada."
Trudeau did much the same at the World Economic Forum in Davos, Switzerland last January, where he met with a number of corporate bigwigs, including leaders from General Motors and pharmaceutical giant Novartis.
In his keynote address in Davos, Trudeau pitched Canada as a smart place to invest and suggested his focus would be different than former prime minister Stephen Harper, who addressed the group in 2012.
"My predecessor wanted you to know Canada for its resources," he said. "I want you to know Canadians for our resourcefulness."
"If his presence in another country is generating interest in the government of Canada, interest in what Canada is doing, then, at the end of the day, it is beneficial for the Canadian economy because it gets people talking about Canada and it maintains — or increases — interest where there may not have been that much interest before," he said.
Variety says Trudeau got 'high marks'
And some anonymous Sun Valley conference-goers told Variety magazine that Trudeau left a positive impression Wednesday during a discussion about Canada-U.S. trade, moderated by former U.S. Senator Bill Bradley.
In fact, the magazine reports that the prime minister was described as "hyper-articulate," "visionary," and charming.
With a file from The Canadian Press