OTTAWA — "That new suave Canadian leader dude," reads the front of this month's GQ magazine. Justin Trudeau's face is splattered on a special online cover with the header: "The Most Stylish Men Alive 2016."
Ever since his election win last October, Trudeau has been racking up enviable international coverage: the cover of Paris Match with his family, a write-up in Vanity Fair, a sultry photo-shoot with his photogenic wife in Vogue, memes with Vox with tag lines such as "Hey girl, I didn't put you in my cabinet, because your place is in my heart."
The foreign media haven't stopped asking for a piece of him, and the prime minister is happy to oblige, if not encourage, the attention.
During his most recent trip to New York, to sign the UN Framework Convention on Climate Change's Paris Agreement, Trudeau invited the media to watch him box in Brooklyn's famed Gleason's Gym, where Muhammad Ali once trained.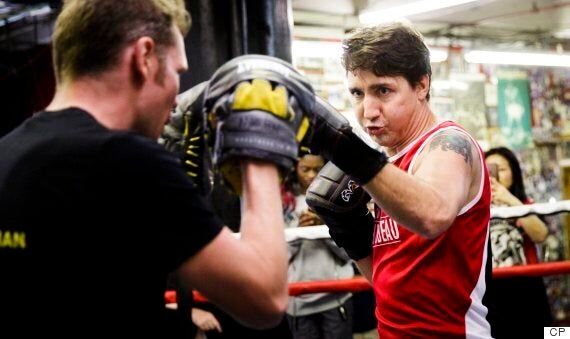 Justin Trudeau spars with Yuri Foreman during a work out at Gleason's Gym in Brooklyn, New York, April, 21 2016. (Photo: Justin Lane/EPA)
Time magazine — which recently listed him as one of the 100 most influential people in the world along with U.S. President Barack Obama, Republican presidential contender Donald Trump and North Korea's Kim Jong-un — sent reporters to broadcast, live to Facebook, Trudeau sparring with young boxers. Britain's Daily Mail also attended, and its photo-heavy write-up screamed: "He's a KNOCKOUT! Canadian Prime Minister Justin Trudeau shows off his biceps to spar at famous Brooklyn gym (so let's hope nothing happens to that pretty face)."
At home, however, Trudeau's political opponents suggest that the prime minister is using taxpayers' resources to promote himself on vanity trips abroad. The Conservatives noted on Friday that Trudeau took an entourage of 44 people — including his mother, his in-laws, the president of the Liberal party and the party's chief fundraiser to Washington, D.C., in March. Those five individuals got seats at the coveted state dinner with Obama, but Trudeau left most of his cabinet at home, ostensibly because the Canadian delegation was given only 22 seats.
"The prime minister's celebrity-sized entourage apparently did not have room for ministers with actual responsibilities," Conservative House Leader Andrew Scheer told the Commons. "With so many important bilateral issues at stake, can the prime minister explain why he had room for his in-laws but not the minister of natural resources?"
Treasury Board President Scott Brison responded that Trudeau was simply following former Progressive Conservative prime minister Brian Mulroney's advice. The "most important foreign policy priority for a Canadian prime minister is to have a personal relationship with the president of the United States," Brison said.
His strategy can't hurt: experts
This week, Trudeau told reporters that all the attention he's getting in the United States and overseas has a purpose.
"One of the things some of you may have picked up on is I've been fairly engaged internationally over the past six months to try and ensure that Canada is seen as a strong and active and valuable trading partner on the world stage, for drawing in investments, for highlighting Canadian products and produce around the world," the prime minister said.
Trudeau's press secretary, Cameron Ahmad, told The Huffington Post Canada that Trudeau is trying to demonstrate that "Canada is open to the world and willing to engage with other countries."
"If his presence in another country is generating interest in the government of Canada, interest in what Canada is doing, then, at the end of the day, it is beneficial for the Canadian economy because it gets people talking about Canada and it maintains — or increases — interest where there may not have been that much interest before," he said.
The consensus, it seems, among Liberals and Canadian political scientists who study branding, marketing and political communications, is that Trudeau's current strategy can't hurt.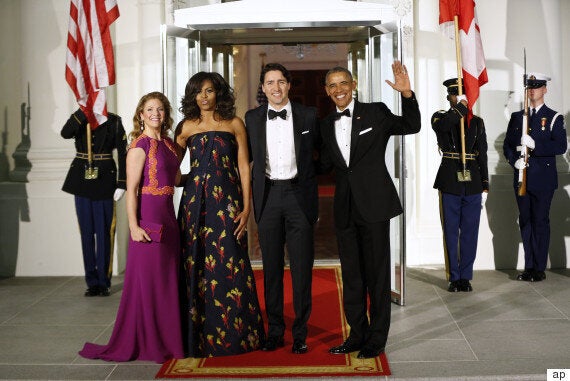 President Barack Obama and first lady Michelle Obama pose for a photo with Trudeau and Sophie Gregoire Trudeau at the White House in Washington, March 10, 2016, as they arrive for a state dinner. (Photo: AP)
Memorial University political scientist Alex Marland, the author of the recently released Brand Command: Canadian Politics and Democracy in the Age of Message Control, told HuffPost that the first goal in marketing is to ensure that consumers have an awareness of your product.
"If you don't have awareness, you are not a factor in anybody's conversations," Marland said. "If I say to you, go to a store and pick something up, if you've never heard of it before, you're not even going to consider buying it."
One of Canada's challenges is that it is often difficult to get people to pay attention on the world stage and that often, when it does occur, it's for the wrong reasons, Marland said, pointing to the seal hunt as an example.
"I think it's a fair comment that generating awareness is what they are trying to do. I think, equally fair, is what are they generating awareness about?"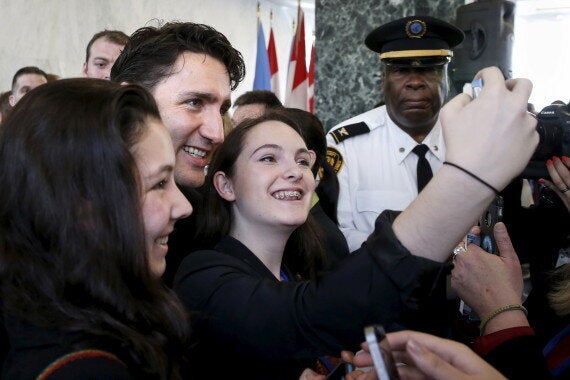 Trudeau poses for a selfie as he greets people in the lobby of the United Nations Headquarters March 16, 2016. (Photo: Reuters)
If Trudeau is really intent on increasing trade, spurring international investments and growing the Canadian economy, he should move away from constantly talking to university students and carefully crafted photo-ops, Marland said.
"What are the images saying?," he asked of Trudeau's foreign coverage. "The images we are getting are of one-armed push-ups and boxing, or of celebrities. We are not getting the image sent back to us of Justin Trudeau standing around with a bunch of business people."
"He is ringing a bell at a boxing ring, he is not ringing a bell at the New York Stock Exchange."
Ahmad stresses that his boss spends a lot of his time during his foreign trips selling Canada.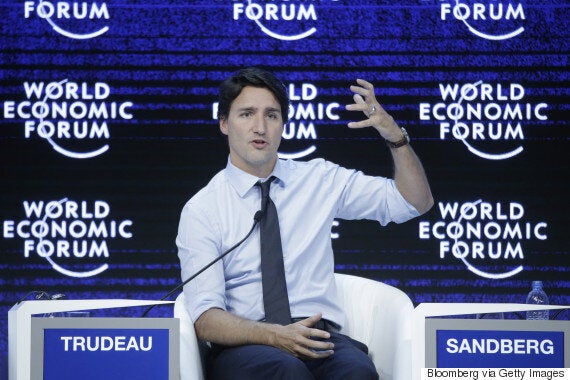 Justin Trudeau gestures as he speaks during a panel session at the World Economic Forum (WEF) in Davos, Switzerland, Jan. 22, 2016. (Photo: Bloomberg via Getty Images)
"If more people are aware of what Canada is doing, and he is spending time talking to business groups and others about Canada being a good place to invest, then it could have a positive impact on the economy. It's not a bad thing," he said.
The Prime Minister's Office notes that while in Davos, Switzerland, for the World Economic Forum in January, Trudeau met business leaders from Royal Dutch Shell, Facebook, Microsoft, General Motors, pharmaceutical giant Novartis, Indian multinational conglomerate Tata, French automobile manufacturer Renault and steel manufacturer Arcelor. (The picture that made the rounds on the internet from the trip, however, was of Trudeau smiling and posing for a selfie with "House of Cards" actor Kevin Spacey and U2 rocker Bono.)
Trudeau also met with Laurence Fink, the chairman and CEO of BlackRock, the world's largest asset manager, Ursula Burns, the chairwoman and CEO of Xerox, Michael Bloomberg, the president and CEO of Thomson Reuters, and a group of Canadian businesswomen while on a trip to New York City in March to collect an award.
The accessible, approachable leader
On his more than half a dozen foreign trips, so far, Trudeau has also met with 28 foreign leaders or heads of international organizations such as NATO or the European Parliament.
"There is always a business component in any form of diplomatic or international visit that a leader does, and Justin Trudeau is doing that right now," said Thierry Giasson, a political scientist at Laval University.
"He is the first trade representative of the country. That is his job. His job … is to make sure that the economy of the country … is better. It's one of the most important tasks of a world leader."
Justin Trudeau's Foreign Visits

Nov. 15-16, 2015 - Antalya, Turkey: G20 Summit

Nov. 18-19, 2015 - Manila, Philippines: Asia-Pacific Economic Cooperation (APEC) leaders' meeting

Nov. 25, 2015 - London: Meeting with Queen Elizabeth II at Buckingham Palace and with Prime Minister David Cameron

Nov. 27-29, 2015 - Valletta, Malta: Commonwealth Heads of Government meeting

Nov. 29-30, 2015 - Paris: United Nations Framework Convention on Climate Change, meeting with President François Hollande

Jan. 20-23 - Davos, Switzerland: World Economic Forum

March 9-11 — Washington D.C.: Meeting with U.S. President Barack Obama, lunch with Secretary of State John Kerry, state dinner.

March 16-17 - New York: Announcement at the UN, Catalyst Awards dinner, meeting with business leaders, interview with Bloomberg.

March 31 - April 1 - Washington, D.C.: Nuclear Security Summit

April 21-22 - New York: Signing ceremony for the Paris Agreement at the United Nations, Q & A with students at New York University, boxing photo-op.
Trudeau is fulfilling this role differently than former Conservative prime minister Stephen Harper, Giasson said, by presenting a different type of brand — one of an accessible and approachable leader.
In the Philippines, Trudeau was almost mauled by screaming teenage girls. The selfies might appear "ridiculous," Giasson said, but they are a visual reflection of the prime minister's brand, one that also sends a message to world leaders telling them he is open and ready to sit down and chat.
Omar Alghabra, the parliamentary secretary specializing in consular affairs, said the diplomatic community has taken notice.
"He is certainly drawing a lot of attention to Canada, and I hear it from a lot of diplomats who I have been meeting with, how curious they are about the Prime Minister, about their desire to work with him, to interact with him … to [have him] come visit their countries."
Alghabra said he thinks the prime minister's efforts will pay off because other leaders want to be associated with him.
Trudeau is a "walking billboard" for Canada, said Amanda Alvaro, a Liberal strategist, marketing expert and the co-founder of the public relations firm Pomp & Circumstance.
The prime minister's advisers have done a very good job of making people feel like they want to buy what the prime minister is selling, she said.
"We try to do that with brands all the time, to make [people] identify [with the product] ... that's me, that's what I want to feel like," she explained.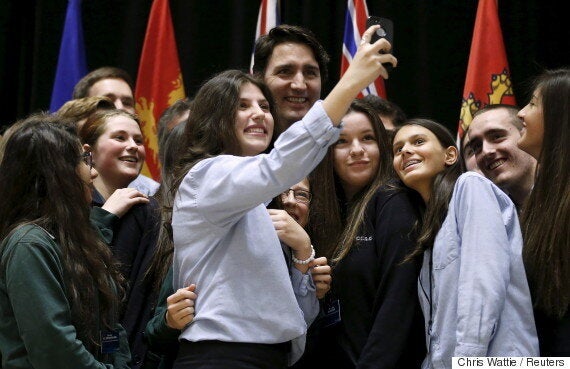 Trudeau poses for a selfie with students Nov. 23, 2015. (Photo: Reuters)
"He's making Canada look and feel like the best place in the world to live, and work and do business."
Trudeau presents Canada as a positive and welcoming place with progressive policies, she added, noting his warm embrace of the first wave of Syrian refugees last December, which garnered extremely positive coverage domestically and internationally.
"For the most part, I think people are just opening their eyes again to Canada,, and that has to have residual effects in policy, as well as promotion."
For Alvaro, however, the foreign coverage is part of a bigger play domestically – with an eye towards the 2019 election – to make Canadians feel pride in their prime minister and proud that citizens of other nations want a piece of him too.
"Pride leads to trust. You trust the direction that they are leading in, [and] you're kind of laying the groundwork for next time around," she said.
"He's making Canadians feel proud of being Canadian."
'Over-exposure can be a problem'
Communications professor Mireille Lalancette said Trudeau's youth, glamour and smarts showcase Canada as a different and dynamic place.
"Everybody, on the international scene, seems to be in love with Justin Trudeau — and why not?" she said.
The positive images can certainly have an impact, the professor at the University of Quebec in Trois-Rivières added, but for now, she thinks it's too early to tell what impact Trudeau's branding abroad will have.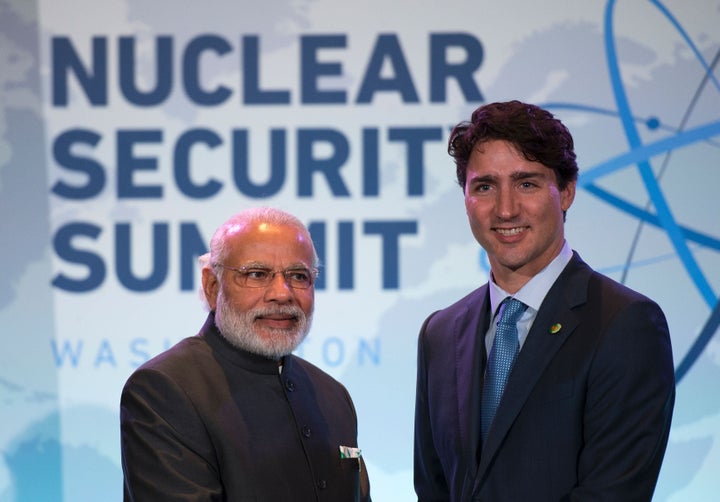 Indian Prime Minister Narendra Modi poses for a picture with Trudeau during the 2016 Nuclear Security Summit in Washington, DC, April 1, 2016. (Photo: AFP/Getty Images)
Indian Prime Minister Narendra Modi, who has been criticized in some domestic circles for his extensive travels, informed his Parliament this week that his 40 trips in two years had boosted overall trade and generated a 40 per cent increase in foreign direct investment inflows.
Marland agrees that time will tell whether Trudeau's strategy pays off.
But he also cautions that Trudeau's continuous media exposure might backfire.
"When Trudeaumania occurred in 1968, the media and all sorts of people were really gaga over Pierre Trudeau," he said, "but by 1970, 1971, it had really become tiresome, and the media, in particular turned on Trudeau and a lot of Canadians were kind of fed up, to the point that in 1972, the next election they were reduced down to a minority government.
"I can't say that is going to happen here, but the point is, you do have to be careful, over-exposure can be a problem."
Who has Trudeau met with?
Indonesian President Joko Widodo
President Enrique Peña Nieto of Mexico
President Xi Jinping of China
Prime Minister Matteo Renzi of Italy
Chancellor Angela Merkel of Germany
French Foreign Minister Laurent Fabius
President Recep Tayyip Erdoğan of Turkey
South Korea President Park Geun-Hye
Prime Minister Shinzo Abe of Japan
Philippines President Benigno Aquino III
U.S. President Barack Obama of the United States
Queen Elizabeth II
British Prime Minister David Cameron
Prime Minister Joseph Muscat of the Republic of Malta
President Maithripala Sirisena of the Republic of Sri Lanka
President John Mahama of the Republic of Ghana
Prime Minister Malcolm Turnbull of Australia
French President François Hollande
European Council President Donald Tusk
European Commission President Jean-Claude Juncker
NATO Secretary General Jens Stoltenberg
Switzerland President Johann Schneider-Ammann
President of the European Parliament Martin Schulz
Prime Minister of Lebanon Tammam Salam
Prime Minister of the Republic of Tunisia Habib Essid
UN Secretary General Ban Ki-moon
U.S. Senate Majority Whip John Cornyn
U.S. Senate Minority Leader, Harry Reid
U.S. House Minority Leader Nancy Pelosi
U.S. Secretary of State John Kerry
Indian Prime Minister Narendra Modi
Argentinian President Mauricio Macri
Colombia President Juan Manuel Santos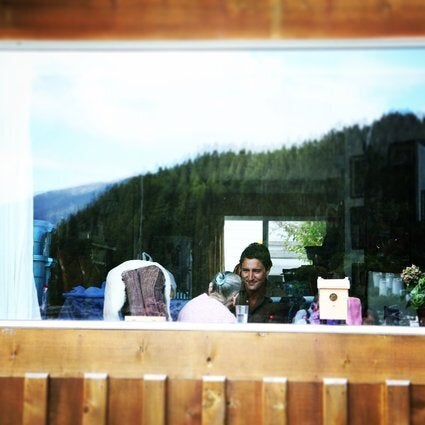 Trudeau's Photographer Explains Favourite Shots
Popular in the Community