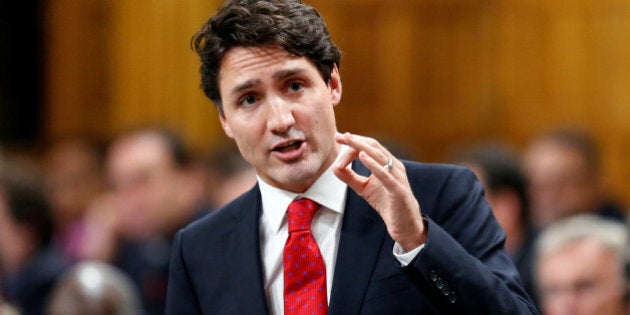 Prime Minister Justin Trudeau recently expressed frustration around the current cannabis landscape, explaining, "Until we have brought in the proposed system... the current prohibition stands," and encouraging police to enforce the law, particularly as it pertains to the continued expansion of medical cannabis dispensaries in major cities across Canada.
The response has been one of uniform frustration from many angles, but I don't believe Justin Trudeau actually lied about the Liberal party's intentions on the cannabis file.
From the very beginning, the emphasis has always been on restricting and regulating access to cannabis. In September 2015, Trudeau said he would not like to see cannabis sold at corner stores. In 2014, Trudeau said his government would legalize and make it more difficult -- not easier -- for children to get their hands on marijuana (which implies more regulation).
As early as 2013, he was quoted saying, "Our government has no interest in seeing any of these drugs legalized or made more easily available to youth," and more recently he has been reaffirming the intention that, "our approach on legalizing marijuana is not about creating a boutique industry or bringing in tax revenues." The budget did not even include any mention of marijuana.
The biggest mistake of the Liberal party in the lead up to legalization has certainly been the continued enforcement of cannabis laws.
To claim now that Trudeau lied seems confusing -- no government could really get away with a legalization 'free for all,' but more importantly, a majority of Canadians don't want that. While there is certainly more room to have an open conversation about job creation, tax revenue, and stimulating our economy, often many of these objectives, whether we want to admit it or not, can be at odds with a public health approach to legalization.
When he says the government is not trying to "appease recreational users," it's in reference to a system that needs to work for both cannabis users and a majority of the population who are not actually regular cannabis users.
I will agree that there has been a marked shift in how Justin Trudeau seemed to acknowledge the role of medical cannabis dispensaries early on -- hinting that there may be room for them in an eventual legalized regime. However, it's important to point out the dispensary landscape has changed drastically over the last two years. Now that seems a bit hazier, where dispensaries, in most cases outside Victoria and Vancouver, have been pushed further away from participation in impending legalization.
However, it's likely that municipalities and provinces will be given some discretion to implement distribution models that make sense in their jurisdictions. Victoria, as probably the best example of how it could work, offers a lot of knowledge and experience in the case of making on site dispensing work under a recreational model.
The biggest mistake of the Liberal party in the lead up to legalization has certainly been the continued enforcement of cannabis laws. While Canadians have many opinions on how legalization should roll out, most would likely agree that the most pressing issue is the ongoing criminalization of cannabis.
People simply don't deserve to be punished under a law that is widely regarded as doing more harm than good to Canadian citizens. This didn't have to mean "decriminalization" in the typical sense, it could have been simply an order to stop prosecuting possession charges and offer pardons.
While there is an argument to be made about the difficulty of transitioning from a decriminalization-type system to legalization, models such as Portugal show decriminalization doesn't have to be an all or nothing approach -- in their case, they've decriminalize the possession and use of a substance, and yet continue to enforce laws around trafficking and production of drugs. The possession of small quantities of those drugs was shifted to a public-health rather than criminal issue. When the possession of cannabis accounts for such a large majority of drug offenses in Canada, there is a very common sense argument to be made from many angles about immediately halting arrests.
But the plan has always been to "legalize, regulate, and restrict access to marijuana" -- while this brings up many questions about the right or best way to legalize cannabis in Canada (and we should be critical of what these plans mean)-- it's what the Liberals have always represented in their approach to cannabis legalization.
This article originally appeared on Lift.
Follow HuffPost Canada Blogs on Facebook