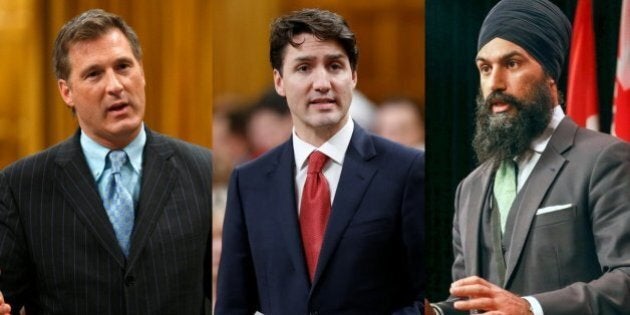 So, Jagmeet Singh is in. The Brampton, Ont. MPP held a raucous, well-attended rally last night to announce his intention to run for the federal NDP leadership.
Singh will now give the Dippers' leadership contest what it has entirely lacked: sizzle. Interest. Charisma. Media attention.
So, how will both stack up against Trudeau? If we were to do some polling -- and if we were to conduct focus groups, from sea to sea to sea, as it were -- what would voters say are the key attributes of (a) Trudeau and then (b) Bernier and (c) Jagmeet?
See the problem? In politics, as in commerce, you need a "unique selling proposition." That is, you need to have something -- a brand, an ingredient, a magic healing power -- that your opponents do not. You need to have something, anything, that is uniquely and indisputably yours.
Trudeau better get going on all three fronts.
I hereby and herewith, ipso facto, predict Trudeau is going to be facing off in 2018 with two guys who have the very positives that propelled Trudeau himself to power in 2015. The two angry old guys he defeated in that contest are gone, baby, gone. It's a new day, etc.
Sure, Mad Max can be a nutty libertarian -- but the prospect of power will smooth out those rough edges, I expect. (It usually does -- Agent Orange, i.e. Donald Trump, notwithstanding.) And, sure, Jagmeet wears a turban and that may be a problem in Quebec (as some ex-Layton folks have been shamefully whispering here and there) -- but, then again, progressives never do particularly well when pandering to prejudice. Didn't Trudeau, after all, have the same position on the hijab that Tom Mulcair did?
What does this all mean? Well, it means this: when leadership attributes are a wash, all that you have are (a) ideas (b) achievements and (c) ground game.
Trudeau better get going on all three fronts. There's two youthful, unconventional, handsome, bilingual, passionate and idealistic guys in his rear-view mirror.
And they're getting closer.
Follow HuffPost Canada Blogs on Facebook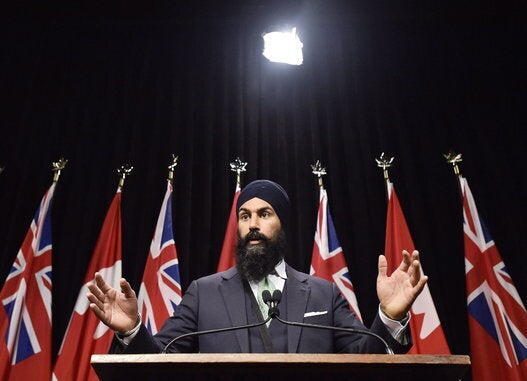 NDP Leadership Race 2017: Candidates