The Conservative Party is ramping up its election rhetoric by leaning on the wit of Canadians to caption a cartoon of Justin Trudeau shaking Vladimir Putin's hand.
A caption contest launched Thursday centres on an caricatures of the Liberal leader and Russian president. The cartoonist portrays a smiley Trudeau with longer, messy hair and gloomy-looking Putin.
Titled "If Trudeau met Putin," the campaign makes reference to Stephen Harper telling Putin to "get out of Ukraine" during a G20 summit meeting in November. Readers are then asked, "What do you think Trudeau would say?"
One of the handful of responses selected and shared by the Tories on their Facebook page takes a familiar swipe at a quip Trudeau made in 2013 about admiring aspects of China's "basic dictatorship."
"Hey, got time for a selfie?" read another shortlisted by the party. The cartoons have collectively received hundreds of comments on Facebook.
The party is also using the contest to grow its mailing lists: those who want to submit their captions through its website are asked to enter their names, email and postal code.
However, not everyone is enthused about the party's latest pre-election engagement tactic.
"I'm all conservative, vote that way every year. But even I think this is super childish," wrote Facebook user Cara Ginter.
Both the Conservatives and NDP have repeatedly questioned Trudeau's aptitude on foreign policy issues. Last year, the Liberal leader made headlines after he was forced to apologize for a tongue-in-cheek remark linking the crisis in Ukraine to Russia's Olympic hockey woes.
But more cartoon caption contests may be in store if Harper wants to reclaim his lead over Trudeau in polls.
An Abacus poll released last week suggests the Liberals and Conservatives are now in a dead heat when it comes to voting intentions among Canadians. The two parties have been holding steady, trading slight leads over each over in recent months.
Among the 1,005 people surveyed, 34 per cent predict the Liberals will win the election whereas 33 per cent think the Conservatives will take it.
Only eight per cent of the respondents predict a NDP election win.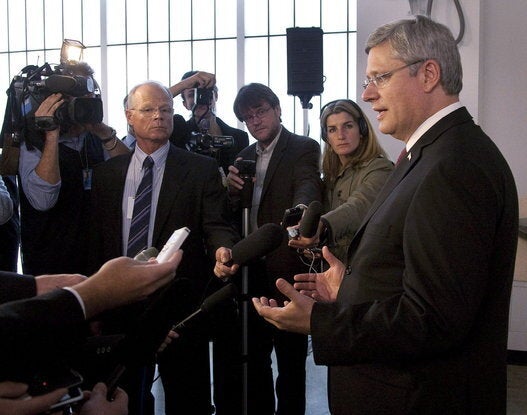 Harper's 9 Communication Directors
Popular in the Community