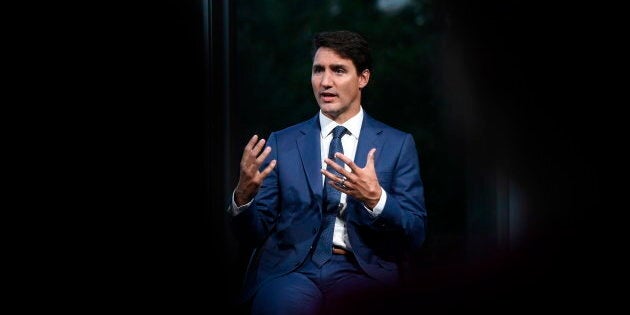 OTTAWA — People who pollute should pay for it, Prime Minister Justin Trudeau said Monday, as he demonstrated his willingness to fight the 2019 election campaign defending the upcoming carbon tax.
Asked by Maclean's journalist Paul Wells about going to the voters with the proposition of a new and increasing yearly tax, the prime minister said: "The alternative is people who want to make pollution free.
"I don't think it should be free to pollute."
When companies pump raw sewage or chemicals into waterways and don't bother to pay to clean it up, the costs, Trudeau noted, get borne by the towns downstream, by the citizens who can no longer swim, or bathe, or drink their tap water. "That is irresponsible," he said.
"We should — and we do — make companies that pollute limit their pollution or pay for the clean-up of their pollution. That's exactly the principle we are moving with. It's about basic fairness."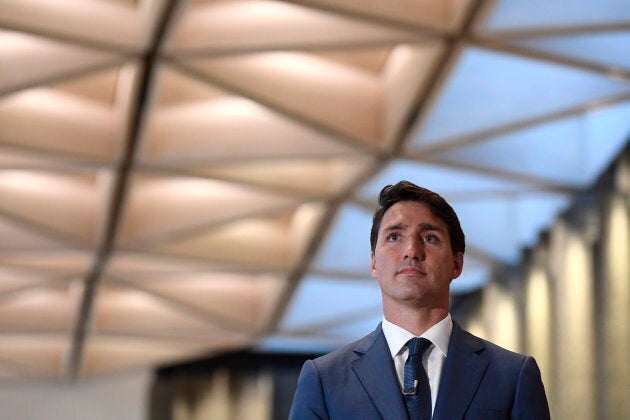 The prime minister said putting a price on carbon — as his government campaigned to do in 2015, and developed a plan in 2017 with the support of nearly all provinces, is a way of to bring in government revenue, but also to promote good behaviour.
If it's free to pollute, he asked, why would companies try to prevent pollution?
"If it costs you something to pollute, well maybe it is cheaper to actually clean it up at the source instead of polluting in the first place," he said. "It's a basic small 'c' conservative economic principle around internalizing externalities that is something that big "C' conservatives don't seem to get.
"I'm still waiting for Andrew Scheer's promised comprehensive detailed plan to fight climate change that won't include a price on carbon. I think we are all waiting for that, but I think none of us should hold our breath," Trudeau added, taking a swing at his Tory opponent.
In Halifax last month, Scheer told Conservatives at his party's convention that his first act in government would be to scrap the carbon tax.
The federal government was scheduled to begin taxing polluters last January, but the Trudeau plan is nearly a year behind schedule, and provincial elections, a court decision and electoral considerations have thrown wrenches into the Liberals' plans.
Nevertheless, Trudeau told Wells that the carbon plan would be in place in the new year.
If a province doesn't go along with Ottawa's plan, the prime minister said, the federal government would not hesitate to impose on a tax on emitters and return the money directly into the pockets of the people of the province in which it was collected.
"So we think it is a fair, reasonable, approach. It is certainly within the federal powers to do it," Trudeau said.
But what if Trudeau has to face off, Wells asked, against four, five or six unwilling provincial participants?
"I think that is a bit of a question that we will see the answer to, but I very much doubt it will rise beyond two or perhaps three."
Not everyone's on board
So far, there are more than three unwilling participants.
Environment Minister Catherine McKenna's office told HuffPost Canada last week that most, though not all, of the provinces and territories have submitted plans on how they propose to meet the federal benchmark on carbon pricing. Ottawa plans to release the result of its review later this fall.
In Alberta, NDP Premier Rachel Notley recently announced that she's ending her province's support for the federal government's more stringent tax schedule. She's upset about a federal court of appeal decision that recommended Ottawa go back to the negotiating table if it wants the Kinder Morgan pipeline expansion built.
Despite Ottawa's purchase of the $4.5-billion pipeline, the project is unlikely to break ground before Albertans head to the polls next spring. Notley faces off against United Conservative Leader Jason Kenney, a fierce opponent of the carbon tax who has vowed to battle Ottawa in court.
In Saskatchewan, Premier Scott Moe is also opposed to the tax and has asked his province's court of appeal to weigh in. In Manitoba, Premier Brian Pallister has placed a price on carbon, but it's less than Ottawa's requirements.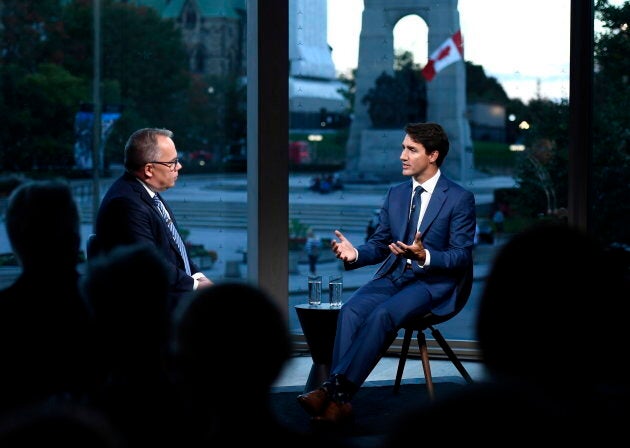 In Ontario, Canada's most populous province, where the Liberals were badly defeated at the polls in June, Premier Doug Ford is pulling out of the cap-and-trade plan with Quebec and California and is now also challenging the federal government's jurisdiction to impose a carbon tax.
Quebec is currently in the midst of a provincial campaign, as is New Brunswick, where the carbon tax is front and centre. Progressive Conservative Leader Blaine Higgs promises to join his Tory counterparts in their judicial battle with Ottawa, while Liberal Leader Brian Gallant has said his Grits would use a portion of the excise tax on gasoline and dedicate it to a climate change fund. McKenna already said that plan wouldn't be enough.
Prince Edward Island submitted a plan to the federal government, but the province's environment minister said it doesn't include a price on carbon or a cap-and-trade system.
Nova Scotia's Premier Stephen McNeil has submitted a cap-and-trade plan to Ottawa for approval but hasn't shown it to the province's residents. Newfoundland and Labrador Premier Dwight Ball has also submitted a plan he hasn't made public, though he has said he's prepared to follow Alberta's lead.
PM: Treat voters like 'intelligent, thoughtful, value-driven citizens'
Trudeau told Wells earlier Monday that he thinks voters don't always cast a ballot with their self-interest in mind.
"I think that is a challenge out there, but I can give you plenty of examples, particularly here in Canada, where people aren't voting on what is the very best for 'me' and instead [for] what is going to benefit my community, what is going to benefit my region, what is going to benefit my whole country," he said.
If you treat voters like all that is in it for them is who is going to "buy them off better" in the election, Trudeau said, then that's how people will respond.
"But if you make a compelling case for the direction that we are going in and how we can be better if we all succeed together, then they will rise to that, but it really depends on how you choose to speak to your voters and how you choose to treat them like intelligent, thoughtful, value-driven citizens instead of just short-term consumers of whatever it is a political party is selling," he said.
Climate change, he later said, is something everyone must address.
"Very little matters as much as this right now," he said.