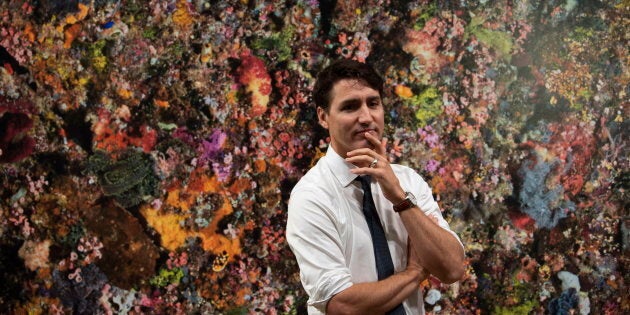 Prime Minister Justin Trudeau appears to be trying on a new slogan to paint Conservative opponents of his carbon pricing plan in a more Trumpian light.
"They look only to our past, rallying Canadians to 'Make Pollution Free Again,'" Trudeau said emphatically at an event in Ottawa Monday. "Well, I know and you know, that there's no future in that."
The quip — a clear allusion to Donald Trump's "Make America Great Again" rallying cry —came in a campaign-style speech at the National Gallery of Canada before a question and answer session with local students.
Earlier: Trudeau explains how carbon tax rebates will work
Trudeau told the teenagers that climate change is the biggest issue governments must confront. He touted his plan to price carbon emissions as something that will lay the foundation for a decades-long shift to "clean growth."
He also called out Conservative leaders in both Ottawa and Queen's Park by name.
"Despite what you might have heard from Andrew Scheer or Doug Ford, you simply cannot have a serious climate plan without a price on pollution," he said.
And as he did at a press conference last week in the heart of the so-called Ford Nation, Trudeau touted how Nobel Prize winner Paul Romer has argued that a carbon tax is the most effective way to cut emissions.
"Well, when it comes to our plan for the Canadian economy, we think it's wise to take the word of a Nobel Prize-winning economist over that of idealogues and politicians who deny there is a problem in the first place," he said.
Trudeau told the group that his critics believe it's fine to have no real climate plan at all.
"As we stride forward, they're trying to keep us in the past. The truth is, they don't believe Canadians are up to this challenge. That means they don't understand the strength of Canadians," he said.
But his inflection Monday left little doubt that he was referencing the Trump "MAGA" slogan.
Scheer has pledged to repeal Trudeau's carbon plan, something he has called a "tax on everything." The Tory leader has also scoffed at the rebate cheques Trudeau is promising this spring for Canadians in four provinces — Saskatchewan, Manitoba, Ontario and New Brunswick — that will have a federal carbon tax of $20 per tonne foisted upon them.
Ford, Jason Kenney take bromance to next level
Ford won a majority government in June promising to scrap Ontario's cap-and-trade program and fight a federal carbon tax. In many ways, he is now leading the provincial opposition to Trudeau's carbon plan.
On Monday, Ford met with Saskatchewan Premier Scott Moe at the Ontario legislature where they reaffirmed that they won't back down in their legal fight over the federal carbon tax.