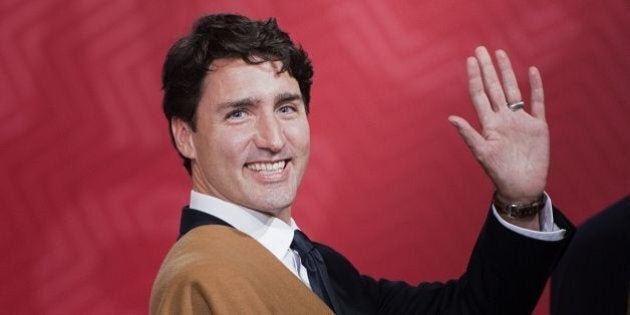 The case against new tar sands pipelines has always been a strong one.
Between the millions of tonnes of greenhouse gas emissions they would unlock, the threats to communities, water, and, land they would pose, and the unshaken opposition from more than 86 First Nations and tribes, the reasons to turn down new pipelines are pretty substantial.
Despite the laundry list of concerns though the Trudeau government has continued to push forward with a broken National Energy Board process, and to maintain the line that new pipelines and Canada's climate commitments can somehow magically co-exist.
With the recent election of Donald Trump the global climate landscape has changed 'bigly' and Canada needs to change for the good if we are to save the planet.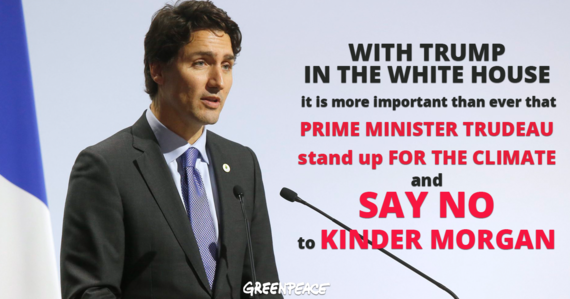 Donald Trump has consistently rejected the science of climate change and the growing demands to keep fossil fuels in the ground. As President of a nation with a massive emissions profile, the damage he can do unopposed can't be understated.
In charge of Trump's environmental file is Myron Ebell. Ebell is a Washington fixture and climate skeptic who has long argued that global warming is a fake pretext for expanding government. Ebell has pushed for opening up more federal lands for logging, oil, gas and coal exploration and for gutting regulatory oversight. Ebel also urged the Senate to reject the Paris climate accord.
Trump's transition team recently released its energy agenda and it is as bad as we thought.
The agenda includes opening up onshore and offshore fossil fuel leasing on federal lands, ending the moratorium on new coal leases, conducting a top-down review of all anti-coal regulations with a goal to gutting them, scrapping the Obama-Clinton Climate Action Plan and the Clean Power Plan, pulling out of the Paris climate accord, and speeding the approval of new pipelines including the highly controversial Keystone XL. Trump has already asked TransCanada to reapply.
To put it bluntly, Trump may be planning an all out war on the environment and the climate and we need to be prepared for the worst.
While that agenda is going to meet a fierce public resistance south of the border, and everywhere that Trump goes, what is undeniable is that with decreased climate ambition coming from the United States we need increased leadership from the rest of the world, especially Canada.
The globe needs Prime Minister Trudeau to join that wall of resistance and be the climate leader we all so desperately need to see right now. Trudeau has the ability to show the world that not all climate leadership in North America is dead and while losses may take place south of the border, gains will be made north of it.
That leadership begins by saying no to the Kinder Morgan tar sands pipeline, a decision Trudeau will make in the next few days or weeks. The pipeline isn't compatible with Canada's climate commitments, or with Canada's commitments to First Nations people, but it's especially not compatible in a President Trump world or a climate-safe future.
Canada needs to show the world that its values aren't in-line with a climate-denying President elect and join the rest of the world already moving forward with a clean energy revolution. Just two days ago, 47 countries pledged to go 100% renewable. It's time Canada pledged to be the 48th.
This is Prime Minister Trudeau's chance to show that there is a light out at the end of the climate tunnel; that while Trump will try to stymie national climate efforts in the U.S., other jurisdictions are prepared to act and do what is necessary to protect our present and to preserve our collective future.
In doing so Trudeau will not only show that Canada is a true climate leader but that it is a country that respects Indigenous rights and lives up to it's commitments as well.
Trudeau's test is here. The question is how will the Prime Minister answer. What side of history will the Prime Minister choose to be - on the side of Trump and the oil industry or on the side of people, science and a healthy inhabitable planet.
Follow HuffPost Canada Blogs on Facebook