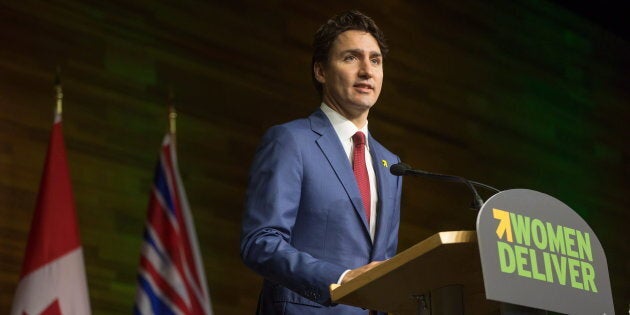 OTTAWA — As the federal cabinet meets Tuesday to chart a path forward for the Kinder Morgan pipeline, a Toronto lawyer is urging the prime minister to temporarily suspend the normal rules of order and invoke theEmergencies Act.
If Prime Minister Justin Trudeau is serious about getting the Kinder Morgan expansion built, Ian Blue, a counsel at Gardiner Roberts LLP and expert on constitutional law and energy matters, told HuffPost Canada, he should stand up in the House of Commons, declare the construction of the pipeline a national policy, and use the act to ensure its completion.
"Nobody takes the prime minister or this cabinet seriously about the Kinder Morgan pipeline — including Kinder Morgan," Blue said.
Using the Emergencies Act would put pressure on Alberta and British Columbia to drop their posturing, he added, and signal to Kinder Morgan that the federal government is firmly behind the project.
Like the War Measures Act, the Emergencies Act authorizes the use of temporary measures in the name of national security during public emergencies. But it differs from the War Measures Act by requiring parliamentary review and ensuring compliance with the Charter of Rights and Freedoms.
"I don't think the prime minister or the cabinet will have to go as far as disallowing any [provincial] legislation," Blue said, "but that should be a visible threat to the provincial governments. It's not the nuclear option; it's the legal option."
Trudeau has called his cabinet ministers back to Ottawa to respond to Kinder Morgan's potential threat to pull out of the project.
The company said Sunday it is suspending all non-essential spending on the pipeline. Its CEO, Steve Kean, blamed opposition from B.C.'s NDP government for creating an uncertain investment environment and issued an ultimatum: If no agreement is reached by May 31 on building through B.C., Kinder Morgan will likely pull the plug.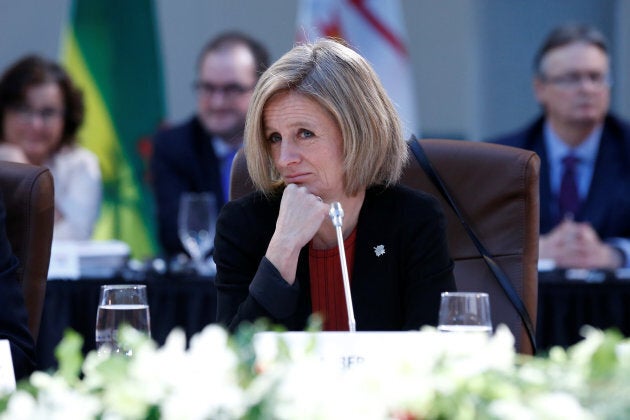 With construction costs reaching $200 to $300 million a month, Kean said the company needs certainty. "That level is unsupportable unless we are confident we can finish what we started," he said Monday in a call with investors.
Alberta Premier Rachel Notley — whose NDP faces a tough election battle next year against United Conservative Party Leader Jason Kenney — responded by saying her government is ready to take an equity stake in the $7.4 billion project.
She urged Ottawa to step up, noting that it had intervened to help other parts of the country, such as Ontario's auto sector and Quebec's aerospace industry.
"There are those out there, who are at this point calling this moment that we are in a constitutional crisis, for the country, and I don't know, really, that that is too far off," she said.
Notley also threatened aggressive retaliation, telling reporters she made it clear to B.C.'s NDP premier John Horgan that she plans to introduce legislation allowing Alberta to throttle gas shipments to B.C. and that she is ready to impose "serious economic consequences" on the province's neighbour.
Pipeline 'will get built': Trudeau
Trudeau said his government is "considering a broad range of options" to ensure the pipeline gets built.
"Our government has been unequivocal — this pipeline, is in the national interest, and will get built," the prime minister said Monday in Montreal.
While Natural Resources Minister Jim Carr told CBC's "Power & Politics" program that now is "not a time to issue threats," he said the government would "look at legal, regulatory, and financial options available.
"At this stage in the game, we are not ruling anything out," Carr said. "We will look for ways in which we can provide the level of certainty that is necessary for the project to proceed."
The federal government has several options.
"The question is whether the prime minister has the determination and the willingness to pay with political coin to get it done," said Kenneth Green, a senior director with the Fraser Institute's Centre for Natural Resource Studies.
"It may come to the point where the prime minister has to say, 'If we have to, we will put a military escort around the construction sites to get the thing built and then we will prosecute anyone who tries to sabotage it to the maximum extent of the law.'"
Trudeau could do everything from deploying the military or the Mounties to rejigging the equalization formula so as to penalize B.C., threatening to pull out of planned infrastructure spending in the province, or declining approval of new resource projects, Green said.
The federal government could take other legislative action in the Commons. Ottawa could take the position that if B.C. doesn't change its stance, federal funding could be withheld — although several legal experts noted that this would certainly engender legal action.
So far the federal Liberals have issued "fighting words" in blaming Horgan's actions for harming the entire Canadian economy, Green said, "but words are not going to get shovels in the ground."
Sending the Mounties to clear off protesters, as was done in Clayoquot Sound, or deploying the Canadian Forces, as was done the request of the government of Quebec during the Oka crisis, are not options the federal government is currently contemplating, sources told HuffPost.
Ian Lee, an associate professor at the Sprott School of Business, thinks the federal government's best option is investing in the Kinder Morgan pipeline, as Notley suggested.
"It's one thing for a provincial government to challenge a private company... . It's another thing for that government to say that the provincial government has a stronger moral claim to represent the greater good against the government of Canada," he told HuffPost.
"If there is any one government in all of Canada that can claim it is truly representing the greater good of the country, it would be the Government of Canada," Lee said.
'A political issue at this point'
This would make it harder for B.C. to put up roadblocks against the project, he said. "This has become very much an argument in the court of public opinion, [the feds] already have legal authority."
Robin Junger, a former deputy minister of energy in B.C. and a partner at McMillan, agrees.
"It's very much a political issue at this point, more than a legal one."
There is a pretty settled body of case law in Canada that makes clear the province can't stop an interprovincial pipeline, he told HuffPost.
But, if the federal government wants further certainty, it should ask the Supreme Court for an advisory opinion on the extent and limits of provincial authority.
"It doesn't need to," Junger said, but if Kinder Morgan wants assurances that any B.C. laws would be inapplicable — they haven't passed any yet — this would be one way to do it.
"It's not obvious to me that the federal government needs to do anything, but if they wanted to settle this once and for all, and more precisely determine the limits of any provincial authority... than the Supreme Court reference would be one option."
A legal route, however, would take time, and a senior government source told HuffPost that Ottawa's preferred course right now is persuading Horgan to back down.
"The best option forward is that B.C. backs away from what they are doing, and understands that this is going to undermine investor confidence in their province and hurt thousands of jobs in their province," he said.
"If they come to that realization, or if there is some sort of negotiations that can be had to make them come to that realization, then that obviously is the easiest way forward, where we don't have find some other alternative."
The federal government is prepared to blame Horgan for jeopardizing the pan-Canadian climate framework, the senior source added, because the NDP government will be particularly "sensitive" to the argument.
"Right now, what [the B.C. NDP government is] managing to do is pit an entire group of people in the Prairies and in Alberta against a broad-base consensus on climate change and carbon pricing," the source said. "They are strengthening an anti-climate-change movement and an anti-carbon-pricing movement and showing themselves to be the outliers in the sort-of national consensus."
The federal cabinet meets Tuesday afternoon.