New Democrats believe Justin Trudeau could lose his own seat — in part because of a controversial poll they commissioned.
It's one of two surveys released this week that present very different snapshots of the Liberal leader's shot at re-election in the Montreal riding of Papineau.
Hours before The Globe and Mail's leaders' debate Thursday, results from a leaked CROP survey showed Trudeau trailing NDP candidate Anne Legacé Dowson, a former journalist, by a whopping 11 percentage points.
Trudeau, who has held the working-class riding since 2008, was pegged at 35 per cent support, with Dowson at 46 per cent. The Bloc was at 10 per cent in the survey. The poll was ordered by the NDP.
The Liberal leader won the riding with more than 38 per cent of the vote just four years ago.
CROP polled 375 residents by phone between Sept. 11 and 14. The survey has a margin of error of 5.06 per cent.
The poll made a splash after CTV News and many Montreal newspapers picked up the story, and gleeful NDP supporters took to Twitter to paint Trudeau as vulnerable.
However, CBC News poll analyst Eric Grenier pointed out Friday that while CROP is a widely-respected firm, there were some discrepancies.
Grenier wrote that while the riding has almost an even split of women and men, women made up 69 per cent of the respondents (though results were weighted to match the census.)
Also, just 14 per cent of respondents told the firm they voted Liberal in 2011, despite Trudeau's victory.
Five reputable pollsters told The Canadian Press the survey did indeed seem flawed in a number of ways, skewing the results.
Another poll, another story
Mainstreet Research released a poll on behalf of Postmedia Friday showing Trudeau leading Dowson by five percentage points among decided and leading voters — 41 per cent to 36 per cent. The Bloc is at 12 per cent.
While the tight Liberal-NDP race is consistent with others in battleground Quebec, Mainstreet president Quito Maggi said in the release that a key difference in that riding is the strength of the vote.
"82 per cent of Liberal voters indicated they are strong supporters of Trudeau with just 8 per cent saying they might change their mind," he said. "When compared to Legacé Dowson, only 61 per cent of NDP supporters indicated they were strong supporters of and 28 per cent said they might change their mind.
"That is not surprising in Trudeau's home riding."
The Mainstreet poll was conducted among 783 residents via interactive voice response on Sept. 17. Results were weighted "by geography, age and gender based on the 2011 Canadian Census." It has a margin of error of 3.72 per cent, 19 times out of 20.
Mulcair: NDP can take Papineau
NDP Leader Thomas Mulcair was asked Friday if his candidate could actually be pulling ahead of Trudeau.
"I firmly believe that poll reflects what we're seeing on the ground," Mulcair said of the CROP results.
The NDP leader lauded Dowson as a "phenomenal" candidate and an award-winning journalist.
"We really do have the intention of winning Papineau," he said.
Unsurprisingly, Trudeau disagrees. He told reporters earlier in the campaign that he's not losing his seat.
"I'm not losing Papineau, no matter what," he said.
New Democrats have also started fundraising on the prospects of Trudeau being shown the door.
NDP president Rebecca Blaikie sent an email to supporters Friday — titled "11 points" — asking for donations.
"According to the polls, that's how much Justin Trudeau is down by — in his own riding. Papineau, Quebec used to be a safe Liberal seat, but the tides are turning," she wrote.
The email also proposes if Trudeau is at risk of losing his seat, "how can he possibly defeat Stephen Harper on October 19th?"
With files from The Canadian Press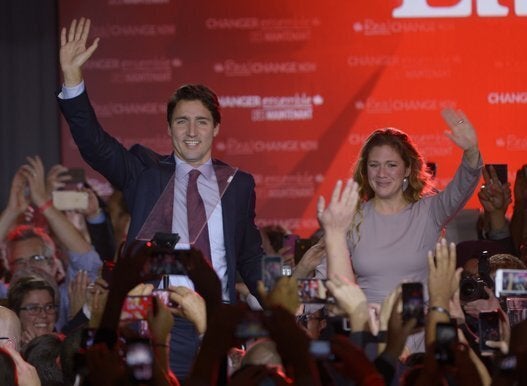 In Photos: Canada Election 2015

The questions asked in the polls mentioned in this article:

CROP: No question provided.

Mainstreet: "Who would you vote for if a federal election were held today?"
Popular in the Community