Prime Minister Justin Trudeau is famous. But it seems he's still not "Family Feud" famous.
Canadian actor Alan Thicke, best known as the dad on "Growing Pains," used the prime minister's name this week during the fast money round of "Celebrity Family Feud."
"Name a famous Justin," host Steve Harvey asked.
Thicke went with Bieber — a name already chosen.
"Trudeau!" Thicke tried again.
A few people chuckled when the PM's name popped up on the screen a little later.
"That's the prime minister of Canada," Thicke said to some applause.
Sadly, none of the 100 American men surveyed thought of the leader of Canada when asked to name a famous Justin. Bieber was the top answer.
Bieber one of Canada's 'most popular exports': PM
Trudeau himself has acknowledged he has a way to go to match the popularity of the Stratford, Ont.-raised pop star.
"One of our most popular exports to the United States has been another Justin — Justin Bieber," Trudeau said. "That kid's had a great year. And of course, leave it to a Canadian to reach international fame with a song called 'Sorry.'"
But when Trudeau was asked by Maclean's last December to name his "second-favourite Justin" as part of the magazine's 60-second challenge, he didn't select the singer.
"Timberlake," Trudeau said. "He's a real JT."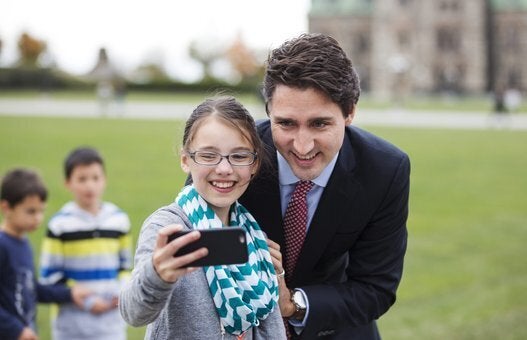 PM Trudeau Posing For Selfies