A new poll suggests that while Prime Minister Justin Trudeau's decision to name a gender-balanced cabinet is popular among Canadians, there's one group that remains resistant to the idea — Conservative men.
The numbers from Abacus Data, released to The Huffington Post Canada Friday, show 75 per cent of respondents support Trudeau's much-discussed move to name an equal number of men and women to his inner circle.
Fifty-one per cent think a 50/50 gender split in cabinet sends a positive message about politics, while 10 per cent say the impact is negative. Thirty-nine per cent believe the split makes little difference.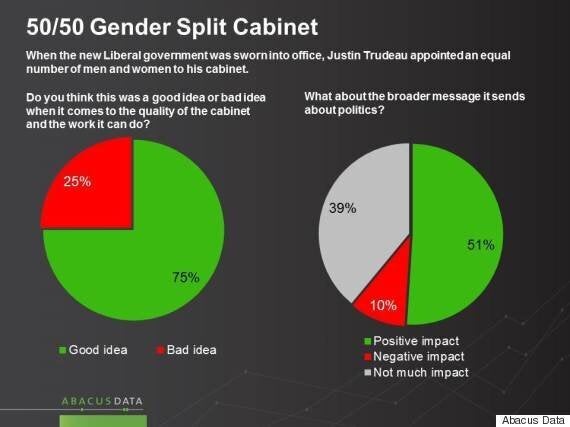 Trudeau's appointment of 15 women to cabinet in November fulfilled a campaign pledge, but the quota also sparked debate after several pundits argued that merit, not gender, should be the only consideration when doling out ministerial portfolios.
Shortly after he was sworn in as prime minister, a reporter asked Trudeau why it was so important to have a gender-balanced cabinet. His quick response — "because it's 2015" — made international headlines.
And it seems most men and women agree with the PM. Eighty-two per cent of women and 68 per cent of men say the policy is good for the quality of the cabinet and work it can accomplish.
Young people are the most enthusiastic, with 85 per cent of women and 83 per cent of men in the 18 to 29 age demographic backing the policy.
But while women of every age group are broadly in favour, men in older demographics are less so.
Seventy-five per cent of men aged 30 to 44 think Trudeau had the right idea, while 65 per cent of men aged 45 to 59 and 59 per cent of men aged 60 or over feel the same.
Conservative supporters split
And it appears the move has divided Tory supporters. A majority of Conservative women — 65 per cent — think the idea for a gender-balanced cabinet was a good one, while 35 per cent say it was a misstep. Sixty per cent of Tory men, however, say it was a bad idea, compared to 40 per cent who are in favour.
Liberals are — unsurprisingly — supportive. Men and women who voted NDP also like the policy.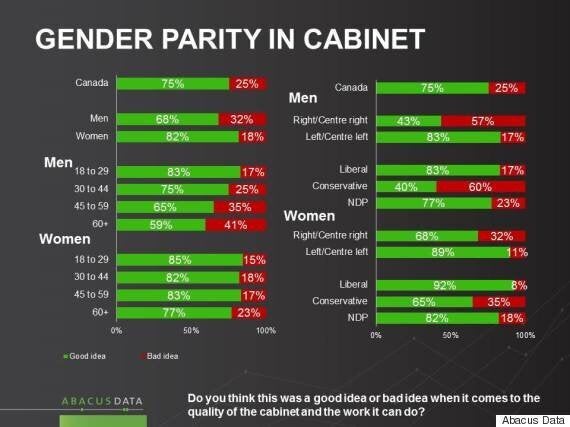 The poll was conducted online among 1,500 Canadians aged 18 and over between Jan. 8 to 12. Abacus says a random sample of panelists were invited to complete the survey from a larger pool of more than 400,000 Canadians. The margin of error for a similar poll is 2.6 per cent, 19 times out of 20.
Abacus chair: No upside for Tory politician to challenge precedent
Abacus chairman Bruce Anderson told HuffPost that older, male, and conservative voters have long tended to show more resistance on a variety of gender issues. But in time, those voters often shift toward the opinions of younger, female, and centrist voters.
"It would surprise me if that isn't what happens in this instance," Anderson wrote in an email.
"Clearly a Conservative politician would be taking a risk, with no evident upside, in campaigning against the precedent that Mr. Trudeau has established."
And because male and female Conservatives don't see eye-to-eye on this issue, Anderson predicts there won't be any Tory leadership aspirants pledging to "turn back the clock."
"That's not to suggest that explicit commitments to gender parity will become the new normal," he said. "But clearly a Conservative politician would be taking a risk, with no evident upside, in campaigning against the precedent that Mr. Trudeau has established."
Ambrose: Trudeau's stance offended some women
Ambrose said while she thinks it's "important" to have gender parity in cabinet, she did not like how Trudeau announced the move in advance.
"It makes some of the women feel like that's the only reason they got the job," she said. "Because it's 2015, you should just get the job because you're good. And, you're a woman."
Ambrose, a cabinet minister under former prime minister Stephen Harper, said Trudeau's position offended some women who want to compete to land jobs they deserve.
"We don't want to be told: the reason, the No. 1 reason you're there is because Justin Trudeau needs parity in his cabinet," she said.
"When you create an environment where women can succeed, then you don't need quotas," she said.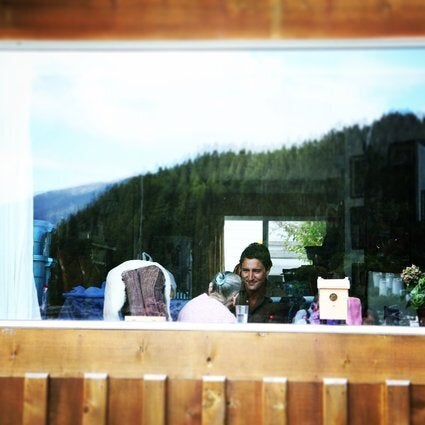 Trudeau's Photographer Explains Favourite Shots