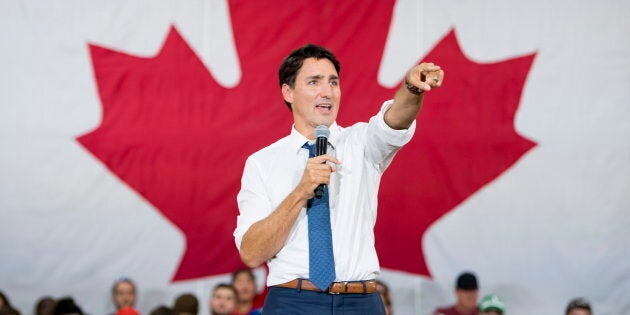 OTTAWA — The federal government spent the summer making $43 billion worth of funding announcements — aimed primarily at Liberal ridings in Eastern Canada.
The size of funding announcements ranged from relatively minor — $4,000 for renovations to a Quebec town's recreation centre, for example — to major, such as the unveiling of Canada's Poverty Reduction Strategy, $22 billion in spending already committed to federal programs since 2015 with no new money attached.
HuffPost Canada tabulated funding announcements made by federal departments and regional development agencies from June 20 — after the House of Commons rose for the summer — until Labour Day, on Sept. 3.
Not all the money flowed into infrastructure projects or social programs. Some went to companies to innovate their food-related ventures or to support community events, such as $40,000 that went to a festival in Skinners Pond, P.E.I. celebrating Stompin' Tom Connors; and $50,000 in financial assistance for a Quebec meat processor to infuse a new line of sausages with a native microflora for a "distinctive" taste.
Municipalities were also among the list of recipients for federal funds. The Halifax Regional Municipality received $950,000 for projects commemorating the 100th anniversary of the Halifax Explosion — which was marked last year.
The summer spending blitz came just before Quebec and New Brunswick — both headed by incumbent Liberal governments — officially kicked off provincial elections in late August.
Before the writs dropped, federal ministers and MPs frequently joined their provincial counterparts to make pre-election spending announcements.
On July 10, for example, Infrastructure Minister Amarjeet Sohi and Quebec's Consumer Protection and Housing Minister Lise Thériault announced $86,000 in federal-provincial funding for the renovation of an outdoor rink in Saint-Michel-des-Saints.
On July 12, Liberal MP Brenda Shanahan made a $22.7-million joint announcement with Stéphane Billette, Quebec's minister for small and medium enterprises and regional development, to build a Mini Babybel cheese plant in Sorel-Tracy, solid Parti Québécois and Bloc Québécois territory.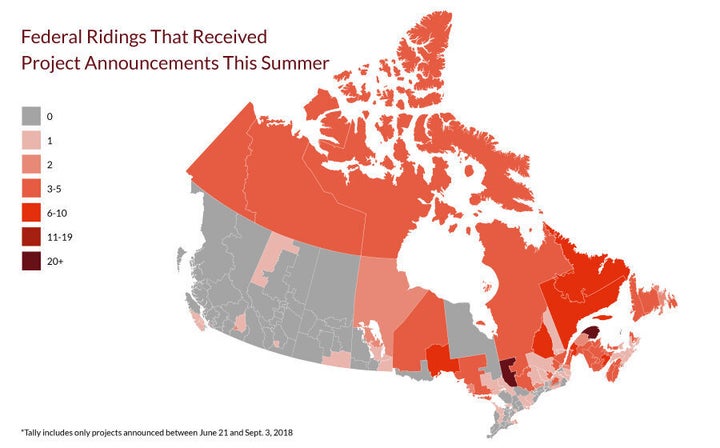 The map above shows riding-specific announcements made during the summer. It does not include spending announcements with nationwide implications such as the $22-billion anti-poverty announcement or the $9-million promise made by Canadian Heritage to invest in projects to "support the needs of Black Canadian Youth."
Beth Hatt is the chair of a Saint John, N.B.-based organization that received a $475,000 federal grant from the Atlantic Canada Opportunities Agency in June to develop one of the region's earliest French settlements into a tourist hotspot.
Looking at it today, it's an open grassy area along the waterfront.
"This is a really significant historic site," Hatt told HuffPost Canada. "It's a national historic site with no site."
Hatt's group, Fort La Tour Development Authority, successfully pitched building replicas evoking the former fur-trading post. Modern elements were drafted into the design to include walking paths and an amphitheatre large enough to host events, "plays or little concerts."
The original funding request for Place Fort La Tour, submitted a year ago, was for up to $900,000, Hatt said.The rest of the cash will have to be raised from private and corporate donors.
Though the government announcement was made, there's still a ways to go before the organization actually receives Ottawa's promised funds.
"We have to wait until we have paid the suppliers or the design work, and we send them the invoices and they give us the percentage they said they would give us," she said. "The government just doesn't it give it out to us — that would be nice."
Top 3 Spenders:

Employment and Social Development Canada - $29.5 billion

Infrastructure Canada - $8.6 billion

Transport Canada - $719.2 million

Bottom 3 Spenders:

Veteran Affairs - $0

Justice - $0

Federal Economic Development Agency for Southern Ontario - $0
Employment and Social Development Canada ranked No. 1 as the federal department that pledged the highest dollar value in spending while the House was adjourned. Ministers and MPs announced $29.5 billion in funding on the department's behalf in a nearly three-month period.
But $22 billion of that amount was previously committed to by the Liberals since 2015. Social Development Minister Jean-Yves Duclos re-announced it on Aug. 21 as the government's funding commitment to a Poverty Reduction Strategy.
The multi-billion dollar figure gave the department an opportunity to highlight spending promises made in the federal budgets of 2016, 2017, and 2018, such as the child benefit, workers benefit, and increasing the Guaranteed Income Supplement. (It is not visually represented in the graphic because it is among several nationwide projects that were not broken down by region.)
Density of riding-specific project announcements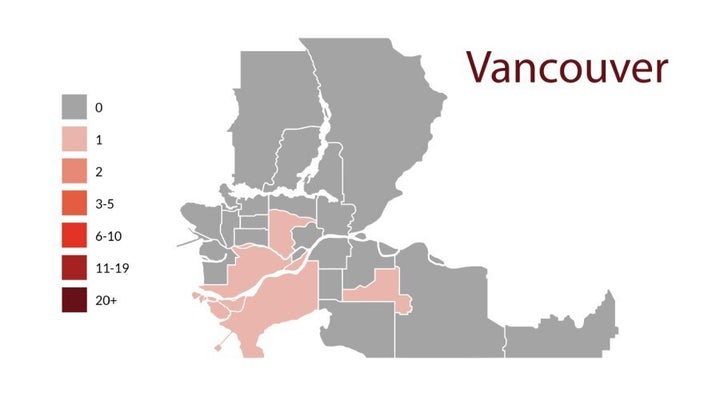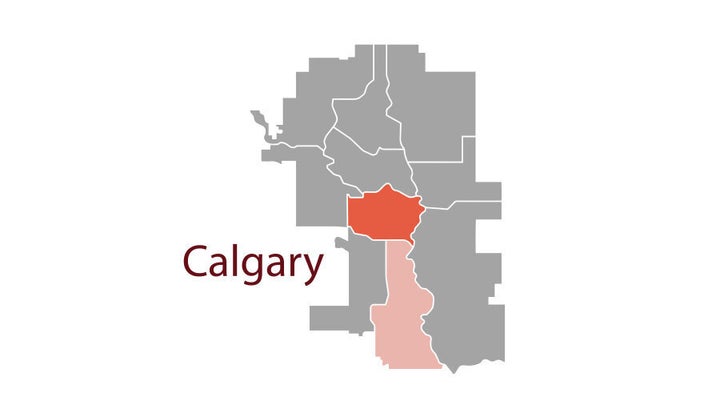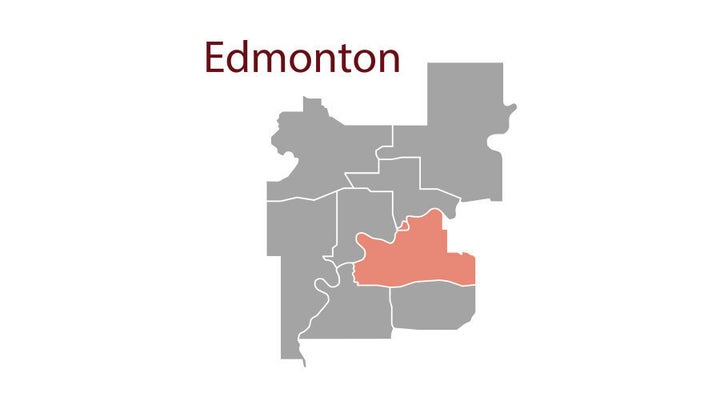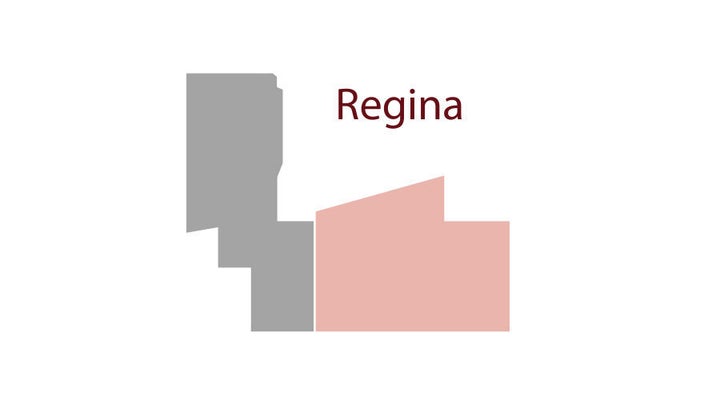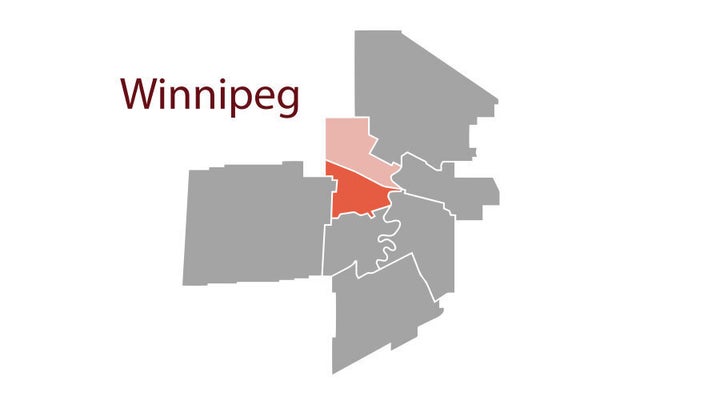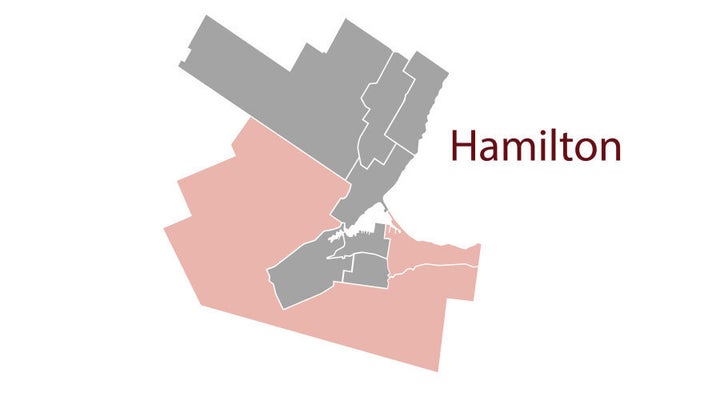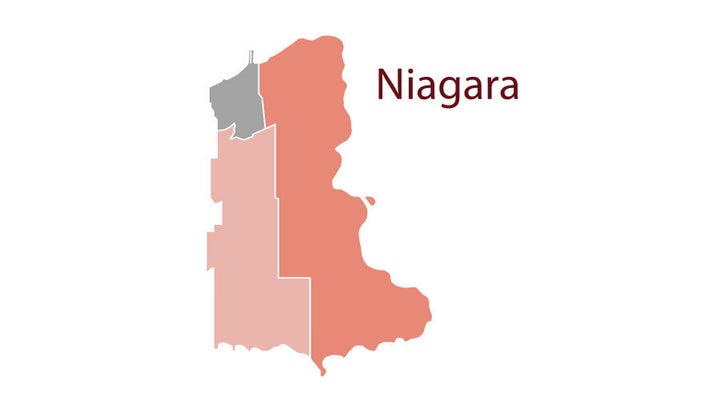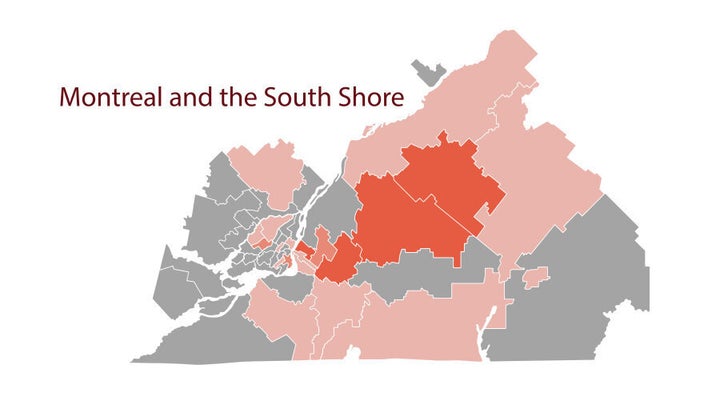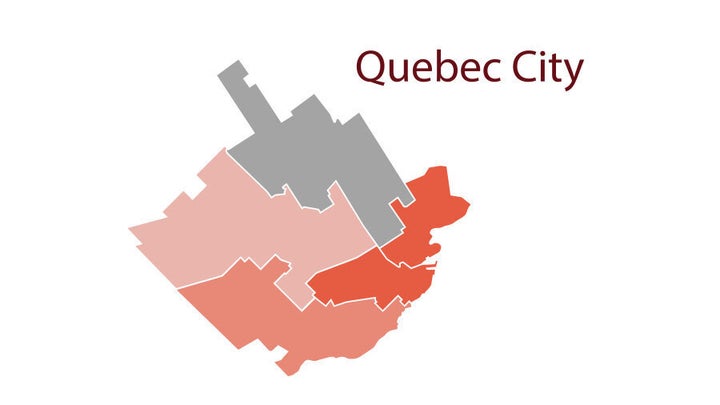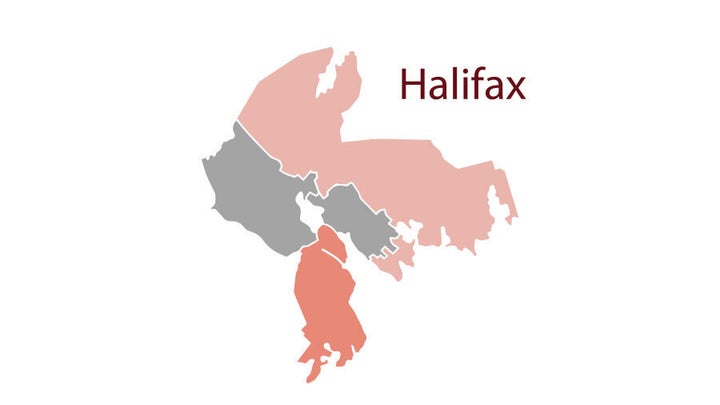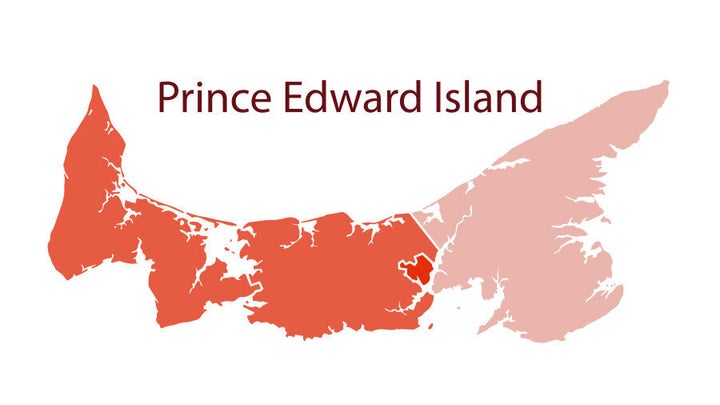 Members at the Royal Canadian Legion Branch 171 in Ladysmith, B.C. told HuffPost new funding is flowing from the department — it was the only legion to receive federal cash this summer.
David Whitter, executive director of The Royal Canadian Legion's BC Yukon Command, said the $22,644 they received came from the New Horizons for Seniors Program.
The average age of its members is 68, Whitter said. Federal funds helped pay for maintenance work to the Legion's building to increase safety and comfort for the seniors who show up for cribbage games, dancing, and art group programs.
"Maintenance took care of some leakage. They replaced some windows that were rotting out due to wood rot," he said.
Aaron Wudrick, federal director of the Canadian Taxpayers Federation, doesn't like government funding re-announcements, such as Duclos' Vancouver event to promote a poverty reduction strategy that pledged no new money.
The government can send a release if it wants. I take issue with them flying ministers around the country.Aaron Wudrick, Canadian Taxpayers Federation
He said he just doesn't see the point. "They're spending taxpayer money to re-announce things that have already been done."
"The government can send a release if it wants. I take issue with them flying ministers around the country," Wudrick said.
In Bay Roberts, N.L., Sean Casey, parliamentary secretary to the minister of Canadian heritage, and Avalon MP Ken McDonald held an event to highlight the government's "$15,892,533 in funding to organizations in Newfoundland and Labrador since 2016." No new funding was announced.
On the other side of the coin, Justice and Veterans Affairs didn't dispatch any ministers or MPs out on its behalf to announce any funding — $0 in anything new or previously spent, according to the departments' press releases.
When asked about this observation, Veteran Affairs offered a statement outlining the $3.6-billion increase in supports announced in Budget 2018, highlighting the 40 town halls and meetings the minister has hosted. It also pointed to the launch of a new Veteran's Service Card.
Spokeswoman Emily Gauthier stated in an email: "The Government of Canada places the highest priority on making sure veterans and their families have the support and services they need, when they need them."
'We wouldn't be in the position we're in without the funding'
For Carpenters Local 1669 in Thunder Bay, Ont., the ask was for funding to help the union buy state-of-the-art welding equipment. The application process took approximately six months with Employment and Social Development Canada, said the union's local coordinator Evan Reid.
The union got $166,000 in federal funds in August to buy up-to-date equipment for apprenticeship training. Reid said without the money, Carpenters Local 1669 would be hard-pressed to provide technical training on new equipment for its members.
"We wouldn't be in the position we're in without the funding," he said.
Pardeep Singh Nagra, executive director of the Sikh Heritage Museum, said the same is true for the $380,000 it secured from Canadian Heritage for its "Becoming Canadians Eh! The Sikhs" project.
He said certain components of its Sikh Heritage Trail virtual reality project wouldn't be possible without federal money.
"That is something right now that we wouldn't, as an organization, be able to take on as a project. To be able to travel across [the country], develop the app and website, and do research on it just on our own."
Nagra said the museum hasn't always been successful in its applications. The last time they applied for government funding, they were rejected for Canada 150 support.
He described the criteria as a moving goal post because the government changes it priorities. "Different years, different themes," he said.
Innovation Minister Navdeep Bains appeared at an event at the Mississauga, Ont., museum to mark the funding pledge. Though the government release notes Bains made the announcement, it didn't list four other Liberal MPs who also appeared by his side.
In a video of the event, Bains introduces his colleagues as people "who have really committed to the community and have really committed to promoting diversity." The Grit MPs represent neighbouring ridings: Omar Alghabra, Ruby Sahota, Sonia Sidhu, and Kamal Khera — all in seats the Tories lost in 2015.
Not all government MPs have the privilege of their name attached to a press release announcing federal spending in their home ridings.
For example, five separate funding promises totalling over $9 million were announced for Kent Hehr's riding of Calgary Centre throughout the summer. But his name didn't appear on any of the official announcements.
Three ministers and a parliamentary secretary from an Ontario riding travelled to the Alberta constituency to make the announcements on July 5, 8, 10, and Aug. 28.
Hehr's office confirmed with HuffPost that despite his name being absent from the government's July 5 release, he was very much in attendance at the YW Hub construction site.
The timing of the July announcements coincide with the Calgary Stampede which is an "highly event-focused" time of the year for scheduling, explained Hehr's outreach officer Vincent St. Pierre.
Hehr couldn't attend the July 8 and 10 events because of scheduling conflicts, St. Pierre said, adding his boss "makes it a priority to engage with as many of his constituents as possible during the season, particularly by attending community BBQs."
"As for the August 28th announcement, MP Hehr was not in attendance."
Hehr's reputation was marred by sexual misconduct allegations stemming from his days as an Alberta MLA. An investigation forced Hehr to step down from his role as minister of sports and persons with disabilities. Hehr did not return to cabinet, but remained a member of the Liberal caucus when the probe wrapped in June.
-With files from Althia Raj
This is the first story in a HuffPost series digging into government spending.
CORRECTION: An earlier version of this story stated $4.6 million in funding announcements were made for projects in Calgary Centre. That number is actually at least $9 million. This version has been updated.