OTTAWA — Prime Minister Justin Trudeau's first months in office were the least productive of any government in the House of Commons in more than two decades, data compiled by the Library of Parliament shows.
Parliament passed 10 bills during Trudeau's first nine months, the public database reveals. In their first nine months after winning a majority mandate in 2011, the Conservatives enacted 18 pieces of legislation — including nine bills moved in their first 23 days.
"For a government that really talks about real change, and high ambition ... there hasn't been much change. They haven't done a heck of a lot," said Conservative MP Erin O'Toole, who flagged the trend to The Huffington Post Canada.
The Liberals' "grandiose" electoral promises regarding climate change, health care, and the national security bill, C-51, have been delayed or sent off for further consultations, the Ontario MP noted. Decisions on Canada Post home delivery, defence spending, and the National Energy Board have also been put off.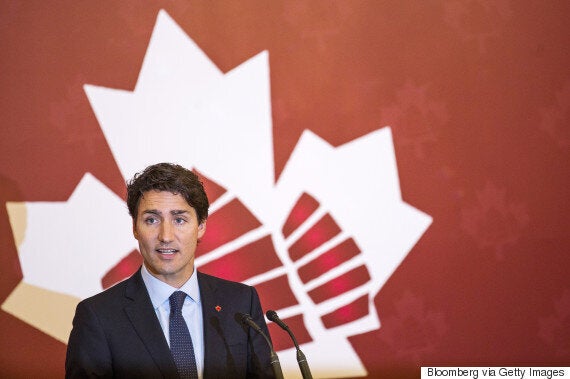 Trudeau speaks during an event hosted by the Canadian Chamber of Commerce in China on Sept. 6, 2016. (Photo: Justin Chin/Bloomberg via Getty Images)
"We have a prime minister who is almost obsessed with constant engagement with media but very disinterested with the nitty gritty of governing," said O'Toole, a probable Conservative leadership contender.
Even with a minority government, Harper proved to be more prolific in the Commons than the current Liberal government. He passed 14 bills in 2006 and 26 bills in 2009 — after he prorogued Parliament to avoid a confidence vote.
Former Liberal prime minister Paul Martin, a man who received an international reputation as a ditherer, also managed to pass far more bills as he tried to keep his troubled minority government afloat. Thirty-six pieces of legislation became law during his first nine months.
Fellow Liberal Jean Chrétien's first nine months in office resulted in 34 bills being given royal assent in 1994 and 38 bills after the 1997 election, according to documents O'Toole provided from the Library. The electronic record shows Chrétien slowed down somewhat in his third majority mandate, passing only 28 bills in 2001.
"We have a prime minister who is almost obsessed with constant engagement with media but very disinterested with the nitty gritty of governing."
In comparison, Trudeau's 10 bills, nine emanating from the House of Commons and one coming from the Senate, are a meagre offering, O'Toole suggested.
Not so, said the new minister in charge of passing the Liberals' legislation.
"We had quite the ambitious agenda in the first session," Government House Leader Bardish Chagger told The Huffington Post Canada Friday.
The Liberals' brought in a new Canada child benefit and negotiated an expansion of the Canada Pension Plan with the provinces, she said.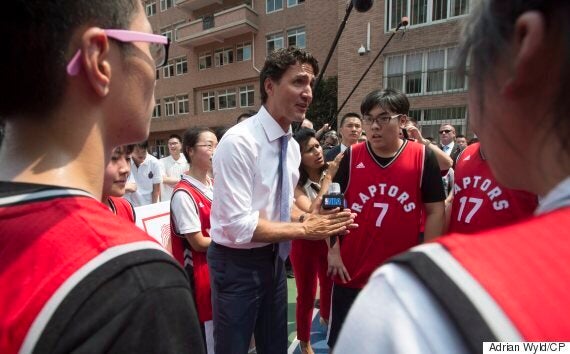 Trudeau coaches a "Raptors" basketball game in China during a visit earlier this year. (Photo: Adrian Wyld/CP)
"I feel that we had quite a good session, and I'm actually looking forward to building off of it."
The minister didn't note it, but the Liberals are expected to bring forward a climate change and clean growth agreement to the Commons this fall that will take into account pipeline expansions — and the likely approval of the Kinder Morgan Trans Mountain pipeline. The government is also expected to move forward on the second phase of its infrastructure plan and push its innovation agenda as it continues to court global investments from major firms to create Canadian employment.
The Conservatives' new House leader, Candice Bergen, said the government's current draft agenda in the Commons is "very, very light," and she suggested the Liberals were far more interested in "trips, hanging out with celebrities, and getting good photo opportunities" than growing the economy.
"I think there are a lot of Canadians that are worried about things of substance, and they are wondering if the government is as concerned with substantive things like jobs," she said.
"I think there are a lot of Canadians that are worried about things of substance."
On Saturday, Trudeau was in Montreal re-announcing a huge boost to Canada's contribution to the Global Fund aimed at eliminating AIDS, tuberculosis and malaria. He was flanked by U2 frontman Bono, who had nothing but praise for Canada.
Noting the Trudeau government's incredible popularity, O'Toole said Canadians might be surprised to discover that the image of the Liberals hard at work is not matched by reality.
The cabinet has had three taxpayer-paid retreats — in Saint Andrews, N.B.; Kananaskis, Alta., and Sudbury, Ont. — " a retreat for every three bills they pass" he said, suggesting that the meetings were intended solely to give the Liberals' positive local press.
"I was a minister for about a year, and we never did a cabinet retreat. But I passed legislation," said O'Toole, who served as Canada's previous veterans affairs minister. "Three new benefits for people. We had debates, but they weren't manufactured for photos."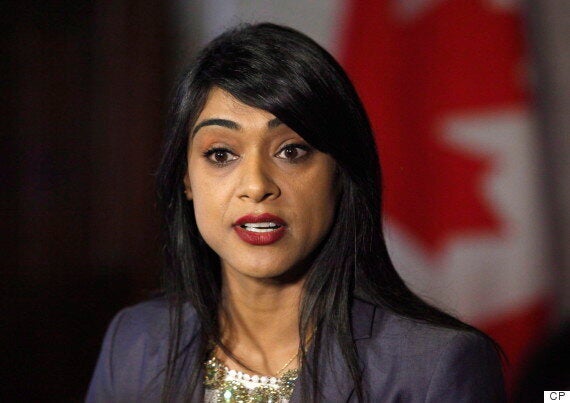 Government House Leader Bardish Chagger defended Trudeau, saying the prime minister has taken engagement to a "whole new level." (Photo: CP)
Chagger defended the retreats as an opportunity for Trudeau and the cabinet to engage with everyday Canadians.
"We do have a responsibility to represent the people of this nation, and we have to make ourselves more available and approachable … and that is something the prime minister has done at a whole new level," she said.
"I can tell you that in ridings that I've been to, people have not only been able to take a selfie with the prime minister, they have been able to directly tell him what is on their mind and what is important to them, and that is the piece that people are not seeing within those pictures."
'Longer than usual honeymoon'
The economy, she said, is very important to the Liberal government. "Growing the economy and strengthening the middle class is the mandate Canadians gave us, and that is the mandate that we are advancing," she said.
"Maybe they are having a longer than usual honeymoon," O'Toole said. "Maybe I am just a bitter puppy. Who knows?" But right now, he said, it's hard for the opposition to "pin" down the government when there isn't much legislation to grab hold of.
Broken Liberal promises — on enacting all the recommendations of the Truth and Reconciliation Commission, adopting the UN Declaration on the Rights of Indigenous Peoples, or offering the families of missing and murdered indigenous women and girls the closure they were seeking — are going unnoticed, he said.
"Canadians aren't really seeing that up close," he said. "In Parliament, it is not quite as sunny as you might think."
With files from Ryan Maloney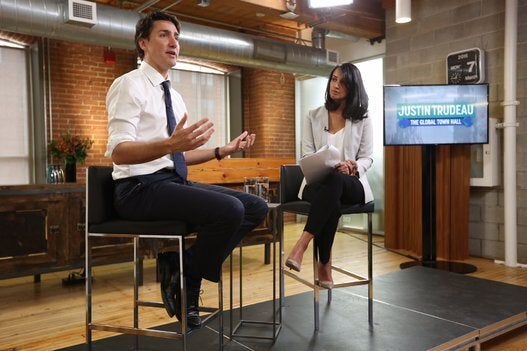 Justin Trudeau: The Global Town Hall
Popular in the Community