The prime minister of Canada met Lin-Manuel Miran(-a-)da.
The creator of the Pulitzer-winning Broadway hit "Hamilton" gushed about meeting Justin Trudeau and his wife after a show in New York City on Saturday.
(The answer to Miranda's question can be found in his cameo on an episode of "How I Met Your Mother," where he freestyles about how Canada is "unrhymable.")
There's no word on how Trudeau and his wife managed to snag tickets to the hottest Broadway show in town, with a years-long waiting list. The sold-out "Hamilton" is a hip-hop inspired rendition of Alexander Hamilton's life story from immigrant to U.S. founding father.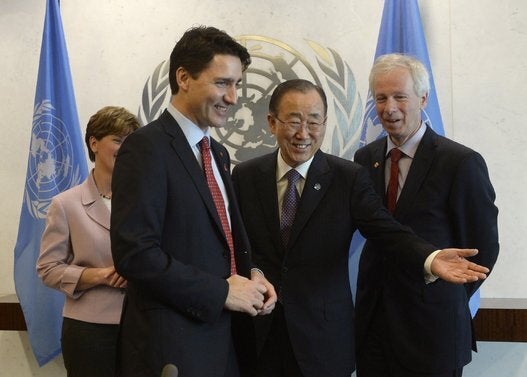 Trudeau At The United Nations