Liberal Leader Justin Trudeau says Stephen Harper has turned Canada's support for Israel into a "domestic political football."
At Monday's debate on foreign policy, hosted by the Munk Debates, the issues of the Middle East's refugee crisis and the havoc caused by the Islamic State were discussed among the three federal leaders.
The issue of Israel and Palestine, however, was virtually untouched.
Only Harper briefly brought up the country's support for Israel in the tail-end to a response on Canada's relationship with the U.S.
The Conservative leader was explaining how his government, though routinely supportive of its allies to the south, sometimes takes positions based on "what we believe are principles."
"This government has been perhaps the most unequivocal in the world on the fact that, when it comes to the Middle East, we are not going to single out Israel, it is the one Western, democratic ally," Harper said.
"Threats that are directed at that state [are] at the front line of the threats directed against us. We are not going to single out the Jewish state for attack and criticism. We recognize, unequivocally, the right of Israel to be a Jewish state and to defend itself."
The debate's moderator then asked Trudeau to close the segment.
"The issue of Israel where we most disagree as Liberals with Mr. Harper is that he has made support for Israel a domestic political football, when all three of us support Israel and any Canadian government will," he said.
With files from Ryan Maloney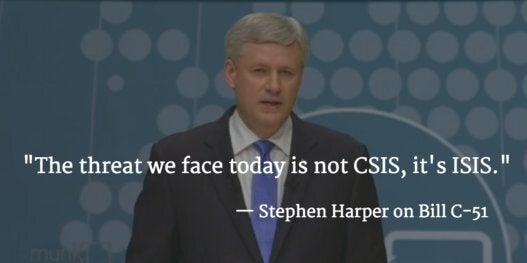 Best Quotes From Canada Election Munk Debate On Foreign Policy