 This is a critical time in the history of the Liberal Party of Canada.
As a candidate in this leadership race I believe we have a responsibility during this campaign to define where we stand; we must be clear in our convictions; and speak honestly to Liberals and to Canadians. They expect it from us. If ever there was a time for Liberals to be clear with Canadians, it is now.
As Liberals, we cannot wait until after the leadership race is over to find out what we signed up for.
And therein lies the difference between my friend, colleague and fellow candidate Justin Trudeau and myself.
Justin says now is not the time to tell Liberals, to tell Canadians, where he stands and what his plan is for the country. He says he will do that after the Liberal leadership race, sometime before the next election in 2015.
In my opinion, this is like asking Canadians to buy a new car without test-driving it first.
I cannot, nor should the Party accept this approach in choosing its new leader, there is simply too much at stake.
In the recent past, we put our faith as a party in one individual without asking the tough questions. The result was that we chose our leader through a coronation rather than a contest.
Without a message, without a clear vision of what we stood for, the Conservatives defined us and will define us once again.
I believe this to my very core. We have to know what we're voting for, not just who we're voting for.
That is why I have made it clear where I stand -- on the knowledge economy; trade; telecommunications; Western Canada and electoral reform.
Earlier this week I announced my position on post-secondary education and student loans.
And, I will continue to present my vision and positions, to be straight with Canadians on where I stand and where I want to lead.
But this is not the case with Justin. He has told Canadians that we need a "bold" plan and a "clear vision" without defining either.
On Justin's two clear priorities, the middle class and youth engagement, he has said nothing.
To be credible as a Party, we must go beyond generalities. We have to actually say what we intend to do. I have been doing that and Canadians can go after me if they want on any position I have taken, but at least they know where I stand.
There is little value in saying we care about the crunch facing middle class families if we don't say what we will do to help them.
I'm sure all nine leadership candidates support the middle-class and our youth, but leadership is only demonstrated when we make choices, when we decide what it is we will do to bring about change.
Now is the time for the party to hear different approaches in order to decide who is best able to lead the party.
My vision is to build a strong, diversified knowledge-based economy, an economy that will enable us to create jobs for middle-income families, to find more jobs for our youth, and an economy that will provide all Canadians with the opportunity to succeed. And I have proposed a plan to achieve it.
I am the first to recognize that Justin has given a tremendous amount of energy to the Liberal Party and to Canadians. He is drawing Canadians to the Party. The Liberal Party is richer for having him.
But before we can present ourselves to Canadians once again, we must debate the issues vigorously amongst ourselves. Each candidate must present their vision and the plan to get us there, and in that process, we will also discover who is best to lead us.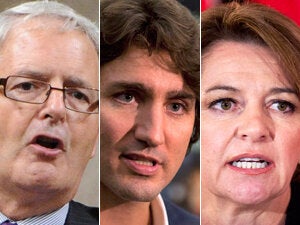 Liberal Leadership Fundraising Q4
Popular in the Community