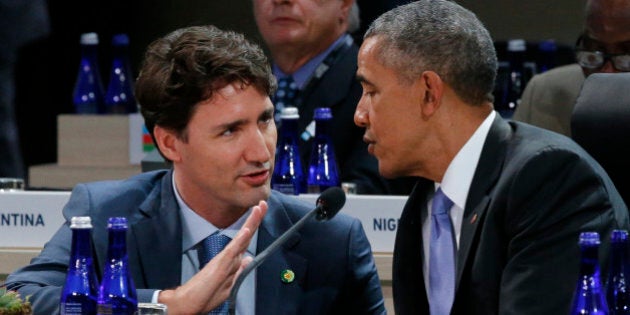 It is inarguable that people are talking about Canada since Prime Minister Justin Trudeau assumed office just a few months ago. In just over four months, the media-friendly, question-taking and selfies-giving Trudeau has managed to seemingly make Canada cool on the world stage, using the increased spotlight to highlight the merits of diplomacy and engagement, including on issues such as climate change, respect for diversity and human rights and international peace.
This outlook is now known as Canada's foreign policy principle of "responsible conviction" and has the potential to usher in a new era in Canadian foreign policy, one in which Ottawa is ready to lead by example. Indeed, on his first day as the new prime minister, Mr. Trudeau explicitly stated "we're back", a message intended to signal his desire to reverse what progressives viewed as Canada's international decline. To be sure, Trudeau has made a noticeable splash overseas by embracing the politics of hope, dialogue and multilateralism.
By leveraging the politics of hope, dispelling myths surrounding Syrian refugees and encouraging private citizens to partake in the process, the Trudeau government has been a global leader in welcoming asylum seekers from war torn Syria. In contrary to the politics of fear present in some parts of Europe, the United States and elsewhere, upon assuming office in November, the Trudeau government spared little time to begin fulfilling its campaign promise of welcoming 25,000 Syrian refugees within a few months and has gone further by committing to resettling 50,000 refugees by the end of 2016.
By contrast, the U.S., which has a population 10 times larger than Canada, has pledged to welcome 10,000 refugees within a year. Indeed, Canada has been widely hailed as an inspiration to others just as the United Nations refugee agency, the UNHCR, hosted a conference recently to rally international support to resettle Syrian refugees.
In this vein, Trudeau's politics of hope during Canada's federal election resonated with a like-minded world leader, U.S. President Barack Obama. In recognizing the shared values between the two leaders, Canada is reinvigorating its relationship with its most important bilateral partner, the United States, which has led to the first official state visit by a Canadian prime minister at the White House in nearly 20 years. The "bromance" between the two leaders will be short-lived given Obama's departure from the Oval Office next January, but much can be done between now and then.
Trudeau and Obama have already pledged to working jointly on priority files such as confronting climate change and protecting the Arctic, promoting innovation and alternative energy solutions, and harmonizing border regulations to reduce barriers to the movement of people and goods.
What is more, Canada's renewed image in Washington has the potential to advance Canadian interests by paving inroads in the capital of the world's sole superpower, which will be of particular importance as a new administration takes office next year. This reinvigorated relationship also has the potential to have a multiplying effect in other capitals as the world bears witness to the attention Trudeau has received on his multiple trips to the United States since becoming prime minister.
There has clearly been a change in Canada's foreign policy, one that the world is noticing.
The benefits of dialogue are also apparent to the Trudeau government as it looks to re-engage Iran, which Canada severed diplomatic ties with in 2012, and with Russia, which Canada engaged with on a very limited basis under the previous government. As Canadian Foreign Minister Stéphane Dion signaled this past week, Canada's disengagement with Iran and Russia did not have a positive impact for anyone nor for global security.
While Canada has a laundry list of disagreements with Iran and Russia, it is undeniable that these two actors are key and influential on the world stage. Canada's closest partners are engaging Tehran and Moscow on various issues, not the least the Syrian civil war. Canada is also home to large Iranian Canadian and Russian Canadian communities who maintain links to their motherland. In Russia's case, it is also a fellow Arctic state. It is high time that Canada finally reengages these two. After all, diplomacy is most useful when used to talk to those you disagree with than with your friends.
Commitment to multilateralism
In keeping with Canada's new foreign policy, Ottawa is also re-energizing its presence in multilateral fora as evidenced through its enthusiastic participation in reaching the Paris Agreement on climate change and most recently at the Nuclear Security Summit to combat the prospects of nuclear terrorism.
In reaffirming its commitment to multilateralism, Canada recently announced its candidacy for a non-permanent seat at the UN Security Council in the coming years. In echoing his remarks on disengaging Iran and Russia, Dion highlighted that "The minor role that Canada has played at the UN in recent years had no positive consequences for anyone... In the wake of our [Canada] sizeable contribution to the UNHCR, the Trudeau government will ensure that Canada resumes its position in the UN, from the Commission on the Status of Women to the Security Council."
There has clearly been a change in Canada's foreign policy, one that the world is noticing. What is certain is that the Trudeau government must leverage all facets of the soft power it is accumulating when pursuing its national interest and as it contributes to climate action, international peace and prosperity.
Follow HuffPost Canada Blogs on Facebook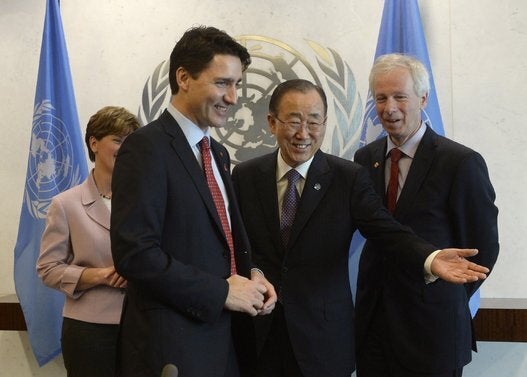 Trudeau At The United Nations
Popular in the Community