Flanked with Mounties around him, Prime Minister Justin Trudeau delivered a rousing Canada Day speech on Parliament Hill Saturday — and forgot the name of a Canadian province.
Trudeau addressed Canada's history as one that's "far from perfect," tinged with centuries of oppression against Indigenous Peoples.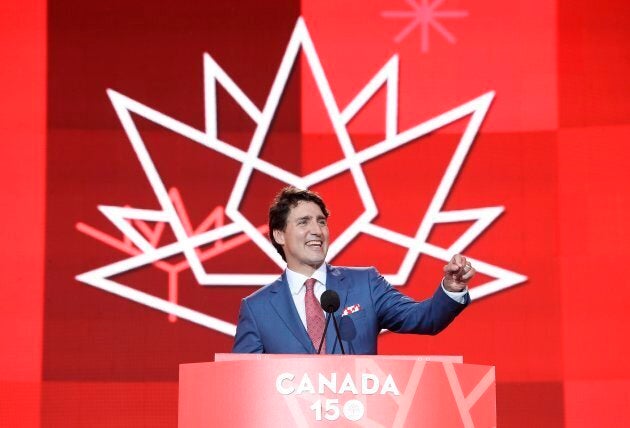 "We must educate ourselves and dedicate our efforts to progress," he told a large crowd huddled under umbrellas and maple leaf rain ponchos. "It is a choice we make not because of what we did, or who we were, but because of who we are."
Then he began listing the provinces and territories.
"British Columbia, Yukon, the Northwest Territories, Saskatchewan, Manitoba, Nunavut, Ontario, Quebec, New Brunswick, Prince Edward Island, Nova Scotia, or Newfoundland and Labrador," he said.
"But we embrace that diversity while knowing in our hearts that we are all Canadians."
Co-host Sandra Oh didn't let the mistake slide. The Canadian actress called out Trudeau's gaffe during the broadcast, prompting Trudeau to pop up to say, "I love you, Alberta" before giving his head a shake as he sat back down.
And true to that Canadian stereotype, Trudeau took to Twitter to apologize again.
With files from The Canadian Press