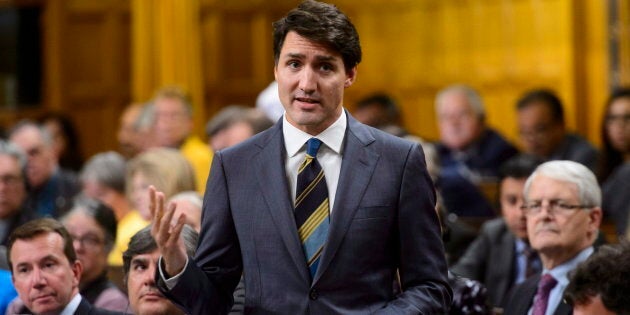 Prime Minister Justin Trudeau kept to a careful script Wednesday in the face of relentless questions from Conservatives on why he won't release documents that Vice-Admiral Mark Norman has deemed critical to his legal defence.
Trudeau repeatedly told Tories in question period that it would be "inappropriate" to comment on Norman's case, spurring accusations the PM was hiding something and, in the process, tainting a senior military member's shot at a fair trial.
Norman was charged in March with one count of breach of trust for allegedly leaking government secrets to Davie Shipbuilding in 2015 after Liberals paused a massive contract for an interim navy supply ship. The former navy commander and vice-chief of defence staff denies wrongdoing. If convicted, Norman could face up to five years in prison.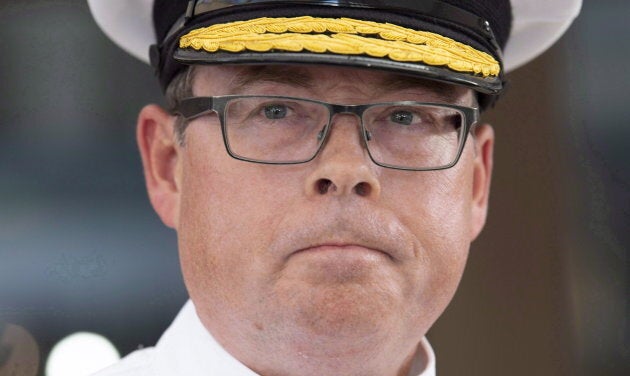 In a court filing this week, Norman's lawyers asked the Trudeau government to release dozens of documents that have been deemed cabinet secrets. The prime minister has the power to release the papers by changing their designation.
Conservative Leader Andrew Scheer kicked off question period by saying the Prime Minister's Office is now "before the courts" and that Trudeau is refusing a distinguished officer his right to a defence.
When the prime minister responded it was not proper to comment on the matter, Scheer noted how Trudeau publicly stated last February — before Norman had been charged — that the RCMP investigation would "inevitably" lead to "court processes."
Watch: Scheer questions PM on Norman
"He predicted that Vice-Admiral Norman would be charged and that this would be sorted out in the courts," Scheer said. "So he had no problem commenting on this outside the House (of Commons).
"All we're asking for is an explanation as to why he won't release documents that would give Vice-Admiral Norman a fair trial. Why?"
Trudeau again said that, as the Tory leader "should well know, it would be inappropriate for me to comment on this affair because it is before the courts."
The Tory leader shot back that his party isn't asking Trudeau to weigh in on the case, but rather to release documents that would let justice to be served.
Trudeau typically fields every query for roughly 45 minutes on Wednesdays, an informal "prime minister's question period" that affords backbench MPs the chance to directly hold him to account.
It would be inappropriate for me to comment on this ongoing court case.Prime Minister Justin Trudeau
Though Canada ushered in legal marijuana Wednesday, Tories zeroed in on the Norman issue.
Tory MP after Tory MP — including former Liberal backbencher Leona Alleslev — rose to hammer the prime minister on the matter. Trudeau said it was "interesting" his rivals didn't want to talk about other issues, such as climate change.
Tory House Leader Candice Bergen asked Trudeau how he knew Norman would one day end up before the courts before the investigation was even completed.
"As the member opposite well knows, it would be inappropriate for me to comment on this ongoing court case," Trudeau responded, a remark Bergen said sounded like it was prepared by a lawyer.
At one point, Trudeau flatly told the Tories that any questions on the issue would be met with basically the same response.
Tory MP to Trudeau: 'Stay down'
Conservative foreign affairs critic Erin O'Toole said Trudeau was making a mockery of question period and bluntly asked him to "stay down."
O'Toole directed his question to Attorney General Jody Wilson-Raybould, noting her mandate letter states she shouldn't take legal positions that are inconsistent with the Charter of Rights and Freedoms.
"How does denying Mark Norman the right to defend himself against scurrilous charges line up with the charter?" he asked, before calling on Wilson-Raybould to commit to releasing all documents.
Trudeau responded instead, an intervention O'Toole called "shameful." The prime minister shot back that Tories are "running out of things to ask the government about" because the Liberals are succeeding on growing the economy and have a real plan to fight climate change.
"We will not comment on this ongoing court case but we're happy to talk about everything else we're doing," Trudeau said, spurring cheers from his side.
"When a cabinet exercises their power to withhold documents from the court, the court has no power. And the only place left to hold a prime minister accountable is in this place," Deputy Tory Leader Lisa Raitt told the House.
Watch: Raitt says House is the right place to press Trudeau on issue
Tories are also seized with the issue because of accusations made by Norman's legal team. The lawyers claim that Treasury Board President Scott Brison, a senior minister from Nova Scotia, suspended the Davie project because of supposed ties to N.S.-based Irving Shipbuilding.
Brison has said his only "engagement" with Irving on the matter was a letter sent to him and other ministers asking the new government to consider their proposal for the supply ship.
The Treasury Board president said he halted the $668-million contract with Davie because it was his job to ensure the project, set in motion by the previous government, was a good use of public money.
"The previous government negotiated, on the eve of an election, a sole-sourced contract worth $668 million," Brison said in question period Monday.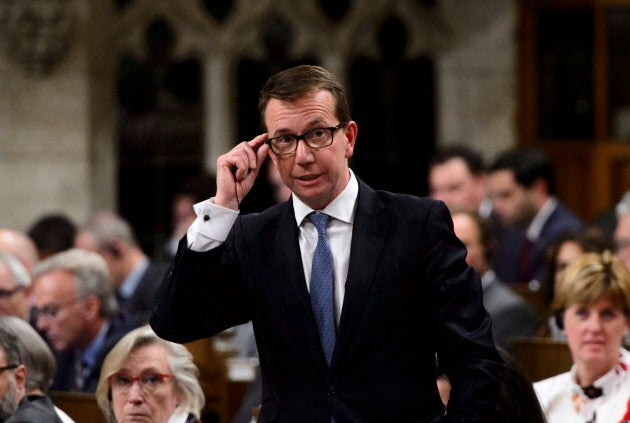 "I am sure the Conservatives understand the need to perform some level of due diligence for a new government, having formed government, to ensure the proper expenditure of taxpayer dollars. That is exactly what I did: my job."
The RCMP allege Norman was angry at the project's delay and released information to Davie to pressure the Trudeau government to move forward with the contract. The Liberals ended up doing exactly that.
Norman's seven-week trial is set for August 2019, which means it could dominate the leadup to the October federal vote.
In the early weeks of the 2015 election campaign, the headline-grabbing trial of Sen. Mike Duffy resulted in many unflattering questions for the then-Conservative government on the road to its eventual defeat.
With files from The Canadian Press