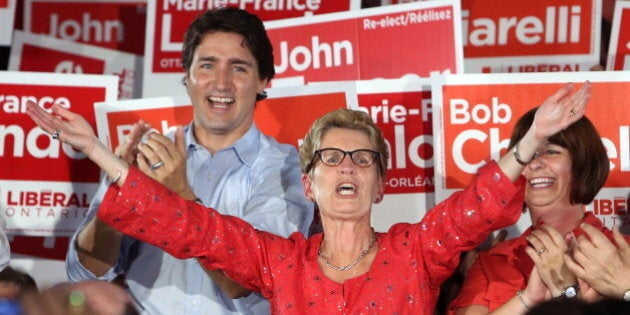 The federal Liberal leader and former teacher took a few shots at Hudak's jobs plan during a rally with his provincial counterpart Kathleen Wynne in Ottawa Wednesday night.
Some economists have said a huge mathematical miscalculation led Ontario Tories to erroneously multiply some projected job numbers in their platform by as much as eight.
"What is it with Conservatives and teachers? Why do they dislike us so much? Maybe it's because we're actually good at math."
Trudeau also told the crowd his kids don't need a premier who wants to make cuts to education and pick a fight with teachers.
"I'm here to support Kathleen because I'm a father who cares about his kids' public school," he said.
Hudak has vowed to slash 100,000 public sector jobs in his first term. He has been open about the fact teachers will be included in those cuts and that class sizes will increase.
But the PC leader insists the figures in his plan are sound and has vowed to resign from office if he can't create one million private sector jobs in eight years.
Story continues after slideshow
Trudeau also appeared with Wynne at a rally in Toronto on May 22, where he plugged her proposed Ontario pension plan. The federal Conservatives oppose the idea.
Trudeau said the federal Tories have showed a "terrible lack of leadership by not addressing people's fears about retirement," and lauded Wynne's strength for taking action.
"But I'm here to tell her that she won't have to go it alone for long, because she will have a partner in Ottawa come the next election," he said.
Some top federal Tories have also joined the Ontario election fray. Foreign Affairs Minister John Baird campaigned with Hudak in Ottawa and Treasury Board President Tony Clement has been vocal about his support for the PCs, telling reporters he hopes Wynne loses.
Clement told CBC's Power & Politics last month that Wynne's pension plan proposal was a "tax grab" meant to distract from Liberal scandals.
"She doesn't want to talk about the gas plants scandal, she doesn't want to talk about eHealth scandal. She wants to divert attention from her government's terrible record on these things as well as terrible economic record," he said.
Stephen Harper hasn't directly weighed in on the provincial campaign, as is customary for prime ministers.
And NDP Leader Thomas Mulcair has been less eager to help his provincial cousins than Trudeau.
An Ontario NDP staffer snapped this photo.
Ontario voters head to the polls on June 12.
With files from The Canadian Press