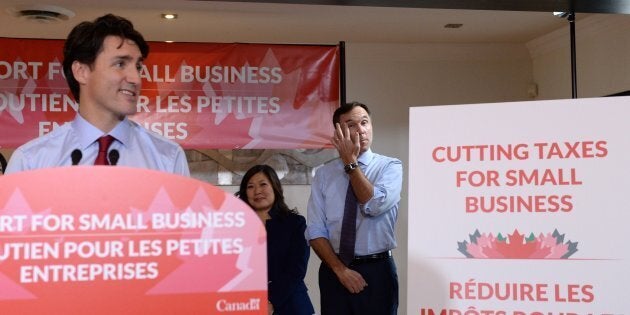 Prime Minister Justin Trudeau and Conservative Leader Andrew Scheer each had unusual exchanges with reporters Monday as they tried to keep separate press conferences on message.
In Stouffville, Ont., Trudeau thwarted a reporter's attempt to directly press Finance Minister Bill Morneau and, minutes later, told another journalist aiming to speak with Morneau that he had to ask him a question first.
Meanwhile, Scheer ended a news conference on Parliament Hill abruptly when he was asked about his former leadership campaign manager's connections to Rebel Media.
You've got an opportunity to chat with the prime minister.Prime Minister Justin Trudeau
Trudeau and Morneau were at an Italian restaurant to unveil the government's plan to lower the small business tax rate to 10 per cent in January and nine per cent in 2019, as promised in the last election campaign.
The announcement came after several rough weeks for Morneau, who has borne the brunt of opposition fury to proposed reforms to the small business tax system and insinuations that his family's company, human resources firm Morneau Shepell, could somehow benefit from the changes.
When the prime minister opened the floor to media on Monday, a Global News reporter said she had questions for Morneau, who was standing just behind Trudeau.
"I'll take them," Trudeau said, sparking some laughter. "You've got an opportunity to chat with the prime minister. I'm happy to be here."
"He's the boss," Morneau said, shrugging.
Watch more footage from CBC News:
Veronica Tang asked why Trudeau has his assets in a blind trust, while Morneau does not, and if he was concerned about the appearance of a conflict of interest involving his finance minister.
"The minister of finance worked extensively with the conflict of interest and ethics commissioner when he came into this job and followed all her recommendations as we expect everyone to," Trudeau replied.
A little later, Josh O'Kane from The Globe and Mail also asked if he could speak directly with Morneau.
"He is right there," the reporter said.
"Yes, but you have to ask a question of me first because you get a chance to talk to the prime minister," Trudeau said.
Again, the journalist wondered why Morneau didn't put his "substantial holdings" in a blind trust. Trudeau reiterated his position that the finance minister followed the recommendations of the ethics commissioner.
'The prime minister said it well': Morneau
Morneau was then called up to the microphone to answer the question for himself.
"Well, I think the prime minister said it well," Morneau said. "We've got a system that encourages people who have done other things in life to come into public life.
"And we've got an approach with the ethics commissioner that allows people to lay out their assets, to listen to the recommendations of the ethics commissioner, and then take those recommendations. And that's exactly what I did."
Morneau said he will continue to work with the watchdog to ensure he does not have a conflict of interest, including an annual review of his assets.
"Should the ethics commissioner recommend to me in the future that I would have a blind trust as an alternative, I would be happy to do that," Morneau said.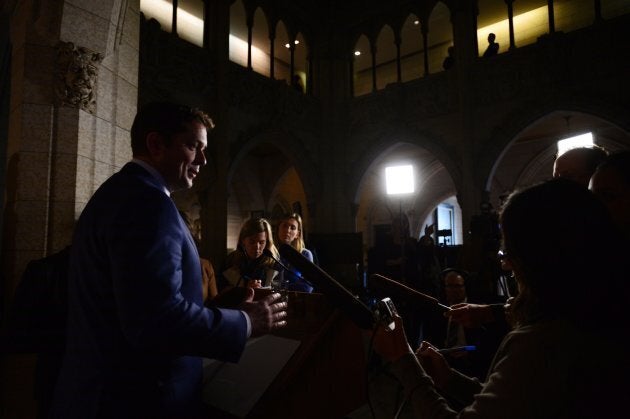 In Ottawa, Scheer invited reporters to a press conference in the foyer of the House of Commons, where he charged that Trudeau only made good on the small business tax rate cut because of the backlash he has faced for weeks.
"Were you aware that Hamish Marshall was working out of the Rebel office while he was working on your campaign and did you have a problem with that?" reporter Laura Stone asked Scheer.
The Tory leader said he hired Marshall to do a job and understands he is "moving towards no longer being involved with the company."
'We waited 20 minutes for six minutes'
When pressed again, Scheer said he did not ask his campaign manager about every client he had.
"I asked him to do a job and he helped me out on my campaign," Scheer said before walking away as reporters voiced their displeasure.
"We waited 20 minutes for six minutes," one journalist said.
Scheer granted interviews to The Rebel during the Tory leadership race, as did other top contenders. In August, the Tory leader was pressured to denounce the website over coverage of protests in Charlottesville, Vi. that was seen as sympathetic to white supremacists.
Scheer announced at the time that he would no longer do interviews with The Rebel until it changed its editorial direction.
He told HuffPost in a statement in August that there is a "fine line" between reporting the facts and giving hate groups a platform.
With a file from The Canadian Press