Prime Minister Justin Trudeau collected on his NBA Finals wager with U.S. House Speaker Nancy Pelosi Thursday — and rubbed some salt in the wounds by giving her Toronto Raptors championship swag.
Trudeau and Pelosi, a Golden State Warriors fan from San Francisco, placed a friendly bet on the best-of-seven series last week when the Raptors were already up three games to one. Trudeau put bagels and beer on the line, while Pelosi wagered products from California.
Pelosi gave Trudeau a gift basket filled with the spoils — chocolate, wine, pistachios, and almonds — before a meeting on Capitol Hill in Washington.
"Congratulations, Mr. Prime Minister, to the Raptors, they're a great team. So great that they were able to win over a great championship team, the Golden State Warriors," she said. "Now I'm here to settle the wager."
Watch the moment from CBC News:
Trudeau told the Speaker that "Canadians are gracious in defeat but even more gracious in victory." He then presented her with Raptors gear and treats from Peace By Chocolate, a booming Nova Scotia-based company founded by a family of former Syrian refugees who came to Canada in 2016.
"Peace By Chocolate… it sounds like an international agreement," Pelosi said.
Trudeau is in Washington to push for the ratification of the new North American Free Trade Agreement, which requires support from Democrats in the House of Representatives who want stronger enforcement of labour and environmental rules.
The prime minister told reporters he looked forward to discussing trade and "good jobs for Canadians and Americans" with Pelosi.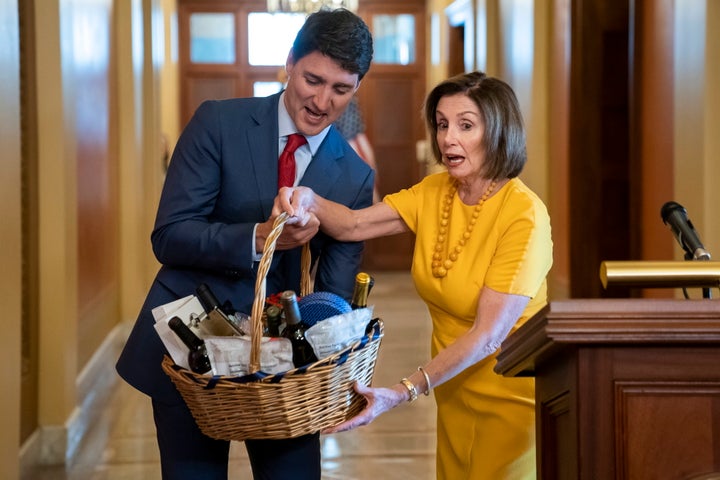 Trudeau met earlier in the day with U.S. President Donald Trump at the White House. Trump also weighed in on the Raptors' victory, the first NBA championship for a Canadian team.
"They played phenomenal basketball. I watched a little bit of it," Trump said.
Asked by a reporter if he planned to invite the Raptors to the White House, Trump said it was an "interesting question," but didn't say one way or another.
Watch: Trump signals willingness to help with Canadians detained in China
The Prime Minister's Office, meanwhile, says it's planning for a Raptors visit to Ottawa in the future — an idea Ottawa Mayor Jim Watson has been promoting.
"We are looking forward to welcoming them here," Trudeau spokeswoman Eleanore Catenaro told The Canadian Press.
However, Parliament rose for the summer Thursday. Though MPs are not expected back until after this fall's election, Trudeau has made rumblings about recalling Parliament this summer to pass legislation to ratify the trade pact.
With files from The Canadian Press
Popular in the Community