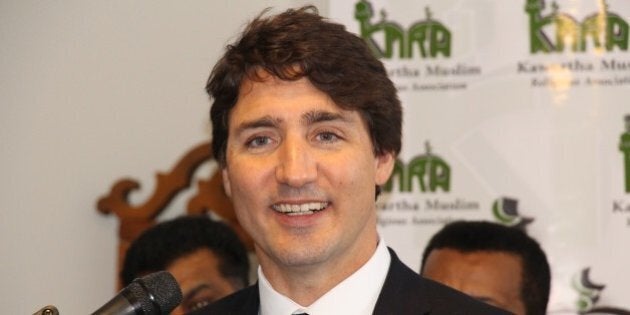 The Trudeau government seemingly called off the taxman from harassing Canada's charities on January 20. Well, not really, in fact.
The new government's actions amount to minor tweaking to the CRA harassment of certain charities, as orchestrated by the Harper government in 2012. The resulting audits have caused havoc in the sector and deprived our democracy of the full participation of charity experts in the major issues of our time. The Trudeau government's timidity so far in fixing this abuse of power by the previous government will probably result in some of Canada's most popular and important charities heading toward decertification and oblivion.
Sure, Revenue Minister Diane Lebouthillier ordered CRA to not initiate any more "political audits" under the controversial $13.4 million program to audit 60 charities between 2012 and 2017. That's good news for the final six charities who were at the starting gate for the time-consuming audits. My thesis research found the threat of the audits, and of course the reality of going through them, distracts charities from working on their missions (which their supporters expect them to focus on) and causes them to avoid speaking publicly about the vital issues on which they have specialized expertise.
A charity does not have to fail the political-activity audit in order to be sent into a spin that damages not only their mission, clients, and supporters but also all of society as we lose their expertise. Charities are allowed to devote 10 percent of their resources (20% for smaller charities) to "political activities," which essentially amount to suggestions that certain government law or policies should be adopted or changed. Seemingly benign, not least of all because most charities devote much closer to 1% than 10% to these activities, they nevertheless caught the attention of the Harper government as it sought a way to sidetrack opposition to its full-steam-ahead approach to oilsands expansion, pipeline construction, and cutting environmental assessment process.
So, six previously scheduled charities are off the hook because, as the minister says, the 30 already completed political activity audits discovered that those charities already audited "have been substantially compliant with the rules regarding their involvement in political activities."
Of those audits already completed, CRA is seeking revocation of charitable status for five organizations. These seemingly fall into those organizations that Lebouthillier characterizes as committing violations not related to their "political activities," but rather other aspects of their operations. Those issues might under different circumstances have been caught in the 800-900 more traditional and very necessary random charity audits conducted nation-wide yearly by CRA.
But let's not be too quick here. There are plenty of other quirky charity regulations, and historical inconsistencies in CRA interpretations of them, to warrant sober second-thought about whether to proceed with decertification. A charity could lose its tax-receipting status today because it was late filing its annual report to the CRA, say six years ago. Or because CRA rules that one of its seemingly reasonable activities was actually "non-charitable"--for example, to pick a couple of hypothetical but potentially problematic examples, building a strong network of supporters with social media, or maybe earning income through some sort of consumer labelling or standards program for a corporate sector.
Based on the research conducted for my thesis, which included interviews with charity leaders and sectoral experts of various kinds, it seems very possible that some of the five endangered charities are caught up in outdated regulations or overly restrictive interpretations of charity regulations. This, despite a brief pre-Harper start by CRA on modernizing and liberalizing their interpretations following an extensive coast-to-coast $12-million consultation with the charity and nonprofit sector under the Chretien government.
But it does not end there. Fully 24 charities are now in various stages of the "political activity" audits, including some very popular organizations known for first-rate expertise in issues related to their missions. It seems reasonable to expect that some of these vital contributors to the most important, and often contentious, issues of our time will also face decertification.
That's not good enough. You can appreciate Minister Lebouthillier's stated reluctance to repeat the previous government's interference in a taxation authority that, for reasons of proper democratic accountability, must be kept at arm's length from political machinations. However, the previous government corrupted that separation and thus used the taxman to fight its public-policy battles with civil society groups. The current government should stop all activity that falls out of this corruption, these "political activity" audits.
And so the Trudeau government should do the following:
•Stop the current 24 audits in their tracks.
•Grandfather the remaining members of the five charities that have lost their status but not yet been fully shut down. In the case of grievous violations, CRA should work with the charities to avoid status loss, including compromises by the regulator.
•Make it clear to CRA staff that a more liberal interpretations of the charity regulations should be the norm in the short term while the government works on overhauling regulations. CRA must recognize 21st century concepts of communication, public education, and involvement in society's conversations around issues that affect a charity's client and supporters.
•Make a public statement that acknowledges the hard work and commitment to fairness on the part of rank-and-file CRA staff, many of whom were unhappy to see the "political activities" audit program launched in the first place.
But that must not be the end of it. Trudeau's November 13, 2015 marching orders for newly appointed Revenue Minister Diane Lebouthillier directed her to:
Allow charities to do their work on behalf of Canadians free from political harassment, and modernize the rules governing the charitable and not-for-profit sectors. ... A new legislative framework to strengthen the sector will emerge from this process
Indeed, a new legislative framework is required. Great Britain, for example, separated their equivalent of our Charities Directorate from the national revenue service so that it could concentrate on what is best for charities and their supporters. As well, in Canada there are four "purposes" for which charities may work, whereas Britain expanded theirs to 13. Our purposes date from a decision of the British House of Lords in 1869 (yes, really) and from Queen Elizabeth the First more than 500 years ago. Charity legislation has since been modernized by Britain, Australia, New Zealand, and the United States--but not Canada. We are laggards.
A Canadian charity can have as a purpose "feeding the hungry" but may not have a purpose that includes "advocating for an end to hunger." This needs to change. Our laws should allow advocating for governmental and corporate policy change as a recognized purpose. Again, the British law makes room for charities to more directly advocate about policy, above the 10% allowed in Canada.
In researching my thesis, I found other examples of a backward-facing attitude concerning the role of expert charities in contributing to vital national conversations, or being able to fully work on behalf of their members and clients for a better life or improved Canada.
The 2012 and successive federal budgets moved money away from programs that chased tax-dodging wealthy Canadians and corporations even as it put money into the politicized auditing of charities. Perhaps a new recession is a perfect time to reach out and reclaim those ill-gotten gains from the real criminals abusing Canadians who pay their fair share.
Arguing that this politically motivated harassment of charities must never again occur, freelance writer Mitch Anderson argued that there must be a price paid for the Harper government's corruption of CRA. Anderson wants to pull back the curtain with a Commission of Inquiry with its power to require testimony under oath and to produce documents. He points south of the border, where the Obama administration's harassment of right-wing charities led to an FBI criminal investigation, examination by two Congressional committees, and an audit by the treasury inspector general.
A January 23 iPolitics editorial chimed in, demanding that the Liberals publicly investigate and publicly disclose details of the Harper government's "seemingly flagrant abuse of the tax audit process." By simply stopping at the point of abandoning the auditing process with six left to go:
The Liberals are allowing a shameful period in the CRA's history to vanish into history... That is no way to compensate civil society groups for the unjustified fear and slander they have undergone in recent years, especially if you consider the good works they so often do in keeping Canadians engaged in policy.
Putting a stop to further audits under the discredited "political activities" program was a good first step by the new government. But there's a long way to go to build a workable charity system and restore credibility to Canada's tax agency.
A former award-winning journalist and now communication professional, Gareth Kirkby testified before Parliament's Finance Committee about the findings of his Master's thesis regarding the impacts and meaning of the "political activities" audits on Canadian charities. His research blog and thesis is at garethkirkby.ca. Follow him on Twitter: @GarethKirkby.
Follow HuffPost Canada Blogs on Facebook