A non-profit advocacy group says the Liberal government has conjured up a "partisan façade" after the prime minister recommended seven new senators on Friday.
Duff Conacher, co-founder of Democracy Watch and visiting professor at the University of Ottawa, said that despite Prime Minister Justin Trudeau's pledge to only name independent senators, the "systemic" nature of the upper chamber curdles that ambition.
"Anyone who is appointed to the Senate by a Liberal prime minister — who also chose the advisory board that nominates them — is a Liberal appointee, not an independent senator," he told The Huffington Post Canada in an interview.
Conacher pointed to the example of Peter Harder, a longtime civil servant who led the Liberals' transition team and has now been named government representative in the Senate.
"I don't think he's very independent from the prime minister, which is probably why he's the government representative," he said.
"We live in a democracy."

— Duff Conacher, Democracy Watch co-founder
Trudeau confirmed in a statement that while he has tasked Harder to steer government legislation through the Senate, the senator will sit as an independent — something he said will help guide the institution towards being "less partisan."
But Conacher says Harder's appointment, among the six others, only underscores the need to abolish the red chamber all together.
"We live in a democracy and to have an unappointed part of Parliament as the Senate that can stop what the elected MPs in the House of Commons propose is just fundamentally undemocratic."
'Impressive' women recommended
Following the announcement of a gender-balanced cabinet in November, more than 80 prominent Canadian women urged Trudeau to seize an "historic opportunity" to appoint a Senate with gender parity.
"We are thrilled that a champion of women in politics has been appointed to the senate."

— Equal Voice statement
Though the Liberals did not recommend all women to the Senate, nonpartisan advocacy group Equal Voice is pleased with the prime minister's appointment of four "impressive" women.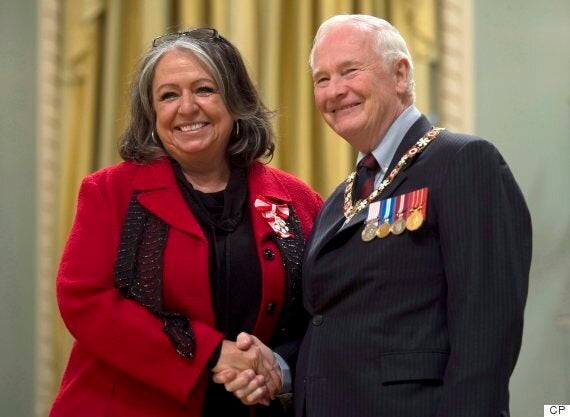 Governor General David Johnston invests Frances Lankin into the Order of Canada during a ceremony at Rideau Hall on Nov. 22, 2013 in Ottawa. (Photo: Adrian Wyld/The Canadian Press)
"They represent a diversity of Canadians and have multi-partisan backgrounds," the group said in an statement to The Huffington Post Canada, noting the appointment a founding member of the organization, Frances Lankin.
"We are thrilled that a champion of women in politics has been appointed to the Senate."
Tories: Trudeau's words 'flowery'
During the election, Trudeau campaigned on a pledge to make government more transparent to Canadians. The seven names forwarded Friday are steps being made toward that goal, he said.
"The government is today taking further concrete steps to follow through on its commitment to reform the Senate, restore public trust, and bring an end to partisanship in the appointments process."
The seven recommended names would fill current vacancies in Manitoba, Ontario, and Quebec.
Raymonde Gagné (Manitoba)
Justice Murray Sinclair (Manitoba)
Peter Harder (Ontario)
Frances Lankin (Ontario)
Ratna Omidvar (Ontario)
Chantal Petitclerc (Quebec)
André Pratte (Quebec)
The Conservatives were quick to criticize the new Senate appointments, charging the prime minister made them "on a whim" and used "flowery words" in his announcement.
Tory MPs Scott Reid and Blake Richards issued a joint statement condemning of a Senate process shrouded in secrecy, with names that they said may or may not have been pulled from a non-binding list of recommended appointees.
"The secrecy surrounding recommendations for appointment is unacceptable and undemocratic."

— Tory MPs Scott Reid and Blake Richards
"We remain concerned that these first Liberal appointments were required to be sponsored for consideration in secret, under a prohibitively short deadline, and that the identity of those sponsors will remain unknown," they said.
"The secrecy surrounding recommendations for appointment is unacceptable and undemocratic."
Reid and Richards' comments that the Liberals are not being transparent or democratic with who they recommend for Senate seats mirror criticisms the Tories faced when the party was in government.
Harper said at the time that leaving vacant seats will save taxpayer money. By not appointing anyone to the Senate since 2013, the former prime minister said his decision saved $6 million.
Currently, there are 42 Conservative senators.
Two years ago, Trudeau made headlines for his decision to eject Liberal senators from caucus in an effort to curb partisanship. But under Senate roles, technically there are 26 Liberal senators and 13 sit as Independents.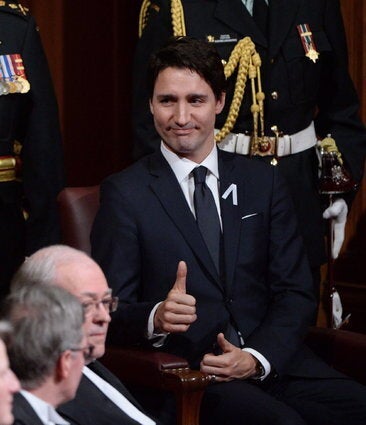 Trudeau's 7 New Senate Appointments