As Prime Minister Justin Trudeau basks in the afterglow of an historic visit to Washington, his Conservative rivals back home have made it clear they aren't impressed.
But a top Liberal said Friday that opposition Tories are looking at things from a place of bitterness.
In question period, Conservative MP and natural resources critic Candice Bergen said the prime minister, select cabinet ministers, lobbyists, and Liberal donors were "partying it up" in Washington, D.C. in the midst of job crisis in Western Canada.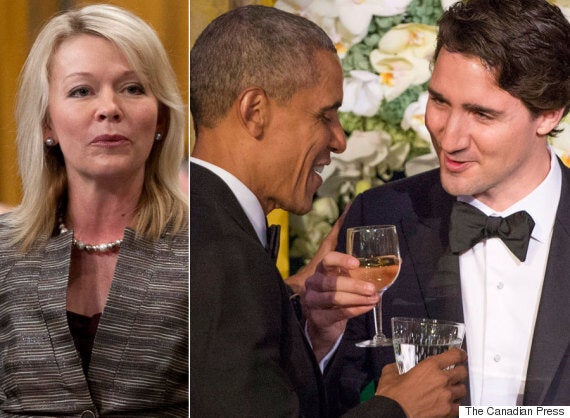 Candice Bergen is shown in the House of Commons, President Barack Obama and PM Justin Trudeau toast during the state dinner. (Photo: The Canadian Press)
"The prime minister seems too busy trying to get a pat on the head from President Obama and his anti-oil activists to bother standing up for Canadian jobs," she charged.
Bergen wondered why Trudeau was "using the state visit as an opportunity to shine in the limelight" and give special access to friends instead of standing up for Canadian interests.
Predictably, Treasury Board President Scott Brison disagreed.
Brison quoted former Tory prime minister Brian Mulroney's assessment that there is no more important foreign policy priority for a PM than to have a strong "personal relationship" with whoever is in the White House.
"This is a great week for Canada-U.S. relations, Brison said. "The previous prime minister didn't understand the importance of building those types of relationships and he failed to defend Canada's interests in Washington. That was bad for jobs. That was bad for growth."
Leaning on comments interim Tory Leader Rona Ambrose made in the House Thursday, Bergen accused the Liberals of erecting barriers in how Canadian oil is exported at a time when the U.S. is lifting restrictions for itself.
Trudeau and Obama announced a climate deal Thursday that seeks to cut methane emissions from the oil and gas sector by as much as 45 per cent below 2012 levels by 2025.
"The Conservatives, in their bitterness, are playing politics this week."

— Scott Brison
Brison said the Tories failed to get market access to energy and build pipelines for 10 years. The past government not only strained relations with Obama, he suggested, but couldn't work with indigenous communities and meet with premiers.
Bergen shot back, saying the Liberals are "abandoning" oil exports and putting up roadblocks as the U.S. does the exact opposite.
"Why is the Liberal government doing everything they can to make Canadian oil uncompetitive and destroying the Canadian oil industry?" she wondered.
Brison seemed confounded Tories did not agree it was an "exceptional" week.
"The Conservatives, in their bitterness, are playing politics this week when in fact Canadians are proud to have a government, a prime minister, and ministers who are defending their interests in Washington," he said.
He urged Tories to "unite with Canadians" who he said are proud of Trudeau's performance in D.C.
Trudeau more interested in 'dining tables than negotiating tables'
Bergen wasn't the only Tory to cast a critical eye on Trudeau's three-day official trip.
Todd Doherty, who represents the British Columbia riding of Cariboo-Prince George, expressed frustration that a softwood lumber agreement wasn't struck.
The announcement from Obama and Trudeau that the long-standing trade "irritant" would be resolved "in some fashion" wasn't good enough, he suggested.
David Lametti, the parliamentary secretary to the minister of international trade, said the softwood lumber issue is a priority. He added that both Trudeau and Obama have committed to tabling a joint report within 100 days.
"The prime minister is more interested in dining tables than negotiating tables," Doherty concluded.
Tory MP Alex Nuttall also took a shot at the fact that Liberal party bigwigs and donors made the guest list for the state dinner.
"When will Liberals start helping all Canadians rather than just those who fatten their coffers and fill their trough?" he wondered.
Again, Brison suggested Tories just don't get it.
"All Canadians benefit from what happened in Washington this week, from having a prime minister and a government stand face-to-face and shoulder-to-shoulder with the president of the United States to move our nations forward," he said.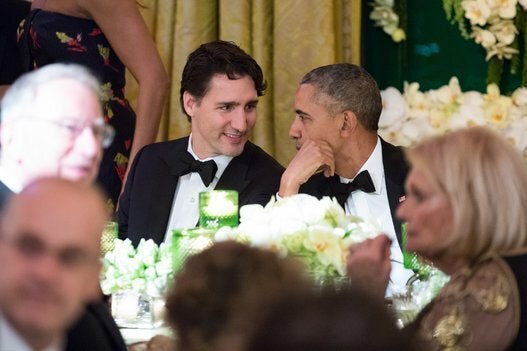 Trudeau's Historic Washington Visit