OTTAWA — Prime Minister Justin Trudeau says he is going to Washington to sell a message that economic development and environmental stewardship go hand in hand.
Trudeau was asked in the Commons Tuesday why he had agreed to be feted by the Centre for American Progress when it campaigned actively against the Keystone XL pipeline — a pipeline the Liberal leader supports.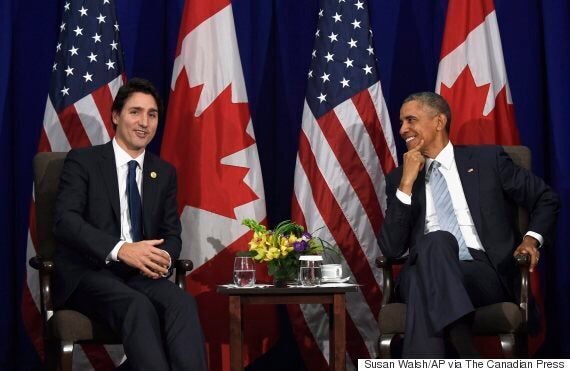 U.S. President Barack Obama listens as Prime Minister Justin Trudeau speaks during a bilateral meeting in Manila, Philippines in November. (Photo: Susan Walsh/AP via The Canadian Press)
"Instead of toasting champagne with anti-Canadian American lobbyists who want to kill Canadian jobs," interim Conservative Leader Rona Ambrose asked, "will the prime minister finally stand up for Canada's energy sector?"
Canada had a "black mark" for years because it had a prime minister that refused to talk about exporting Canada's resources in a sustainable and responsible way, Trudeau responded. "That's the message I'm going to give to our friends down south."
Obama thinking about his legacy: Trudeau
In a town hall with The Huffington Post Canada on Monday, Trudeau noted that while there are only eight months left in U.S. President Barack Obama's term, there is a nice alignment between "a Canadian prime minister who wants to get all sorts of things done right off the bat and an American president who's thinking about the legacy he's going leave in his last year in office."
Climate change is an important issue "to him and to me," Trudeau said. Trade talks and border issues — "making sure there is a smooth flow of goods across our shared border that isn't putting our security at risk" — will also feature heavily on the agenda, the prime minister said.
Trudeau's trip to the White House is his first official state visit as prime minister. It will be the second time the two men have met face to face — the first being in Manila during the APEC summit — although they've talked on the phone several times. The last time they spoke, Trudeau briefed Obama on the Liberal government's new mission to combat the so-called Islamic State, before it was announced to the Canadian public.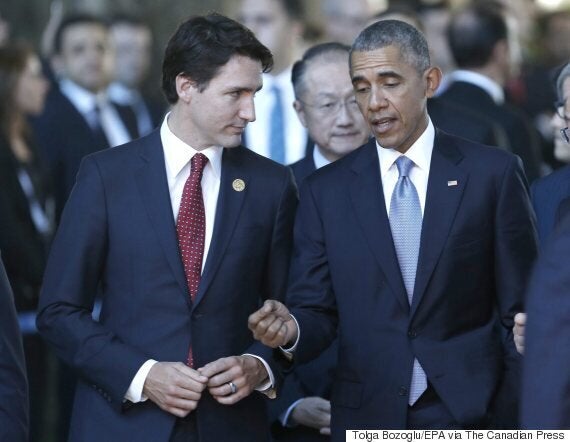 Prime Minister Justin Trudeau speaks with U.S. President Barack Obama at the G20 summit in Antalya, Turkey, last November. (Photo: Tolga Bozoglu/EPA via The Canadian Press)
Trudeau will depart Ottawa Wednesday afternoon to attend a glitzy reception at the Smithsonian Institution's Renwick Gallery co-hosted in his honour by the Center for American Progress — a liberal think-tank founded by Hillary Clinton's campaign chairman John Podesta — and Canada 2020 — a Canadian think-tank headed by Tom Pitfield, the Grits' former chief digital strategist and husband of party president Anna Gainey.
On Thursday, Trudeau and Obama will officially greet each other and then sit down with their staff for a meeting in the Oval Office. They will hold a joint press conference before Trudeau attends a luncheon hosted by Secretary of State John Kerry. Then the prime minister, his wife, Sophie Grégoire Trudeau, his official delegation, and a handful of Canadian invitees, will toast, eat, and dance the night away with White House invitees at the state dinner — the first for a Canadian prime minister since Bill Clinton extended an invitation to his golfing buddy, Jean Chrétien, in 1997.
On Friday, Trudeau will participate in additional events, including a "Global Progress luncheon," where he will give a speech and answer questions from like-minded progressives.
There is a "real buzz" in Washington about Trudeau's visit, said Matt Browne, a senior fellow at the Center for American Progress and executive director of the Global Progress program.
"You now have two leaders who share a very similar set of values, and a similar vision of how to respond to the big global challenges, whether it is trade or climate change," he told HuffPost.
"[Trudeau] certainly provides a breath of fresh air or respite from some of the … politics of fear, division and hatred that we are hearing around the presidential campaign," he added.
"I think progressives everywhere are sort of being inspired by his economic vision and his willingness to make a very clear, confident and coherent case for using the state to help incentivize and grow [the economy].... His approach to diversity and tolerance and seeing diversity as a strength in society and as a driver of economic growth is something that people feel it is wonderful to hear," Browne said. "All of these things have raised his profile not just in Washington, D.C., but around the globe."
"You now have two leaders who share a very similar set of values, and a similar vision of how to respond to the big global challenges, whether it is trade or climate change."
"I'm not going to pick a fight with Donald Trump right now; I'm not going to support him either, obviously," Trudeau said Monday during HuffPost's town hall.
The White House was reluctant to comment Tuesday on whether the president would be encouraging Trudeau to make more pronouncements as the campaign wears on.
Mark Feierstein, the National Security Council senior director for Western hemisphere affairs, said Obama's administration believes it is "unwise to try to pit any group against each other and try to divide people by race or religion or what have you" and said he would "leave it to others to comment."
An 'ambitious partner' on climate change
What the White House will say is that the fight against climate change will take centre stage when the two leaders meet.
Trudeau spokeswoman Andrée-Lyne Hallé said efforts to combat climate change, promote sustainable growth, and transition to a low-carbon economy would all be discussed.
"The prime minister looks forward to making progress on key trade policy and commercial issues that will foster clean economic growth and create good jobs for middle class Canadians," she wrote in an email.
Todd Stern, Obama's special envoy for climate change, told reporters Tuesday during a call organized by the White House that they were pleased to be working with the new Canadian government and that Trudeau's team had already shown itself to be an "ambitious and committed partner."
"The commitment of both leaders to addressing this global challenge is clear, and I expect under their leadership, North America will make significant progress."
"The commitment of both leaders to addressing this global challenge is clear, and I expect under their leadership, North America will make significant progress."
Stern said the two countries can further co-operate to reduce emissions, hinting there would likely be a commitment to reduce methane emissions by 40 to 45 per cent below 2012 levels by 2025 in the oil and gas sector and new standards for heavy-duty vehicles.
The United States is also pushing to decrease the use of hydrofluorocarbons (HFCs), which are used for refrigeration and air conditioning, and the two countries are co-operating on establishing a global market-based measure to keep international aviation emissions neutral starting in 2020, Sten said.
"The climate relationship with Canada really just ramped up dramatically quickly," Stern said.
Trudeau and Obama are also expected to announce on Thursday big changes related to the Arctic, such as, a plan to:
reduce emissions of the serious pollutants black carbon and methane, with a potential announcement on ending oil and gas leasing in the Arctic — Obama, last fall, cancelled two leases in the Beaufort and Chukchi Seas;
enhance access to adaptation and resilience tools to help communities prepare for and respond to the impact of climate change;
build on the scientific foundation for decision-making by promoting the development of climate change indicators and what's called high-resolution elevation mapping;
protect targeted areas in the Arctic and use what's happening there as a communications tool to highlight the impact of climate change.
"There's a kind of canary-in-the-coalmine quality to the Arctic, and it's important to let people around the world know what's going on there and the impacts there, which will, in turn, have impacts around the world," Stern said.
Don't forget about the TPP
Among the more controversial issues to be discussed is the Trans-Pacific Partnership agreement — the TPP.
"It's obviously very, very high on the agenda. Among all the trade issues, it's probably the top," Feierstein told reporters.
The Obama administration wants Canada to come out in support but Trudeau has promised open consultations before ratifying the trade deal.
Feierstein suggested that the Obama administration expects to announce a new arrangement to deal with the expired softwood lumber agreement. They are also looking for Canada to "close out" its concerns over country-of-origin labelling for beef and pork, on which an agreement was reached in December, he said.
The two leaders will also make several announcements related to the border, Feierstein said. Canada is expected to announce it is finally moving on introducing exit controls at the border.
Trudeau accused Harper of bungling 'most important foreign relationship'
During last fall's election campaign, Trudeau called the relationship between Canada and the United States "the most important foreign relationship that Canada has.
"How the prime minister can work with the president is at the top of the list of what a prime minister needs to get right," he said during the Munk Debate in September.
With $2 billion in goods and services and 400,000 people crossing the border daily, Canada's trade relationship with the United States is invaluable.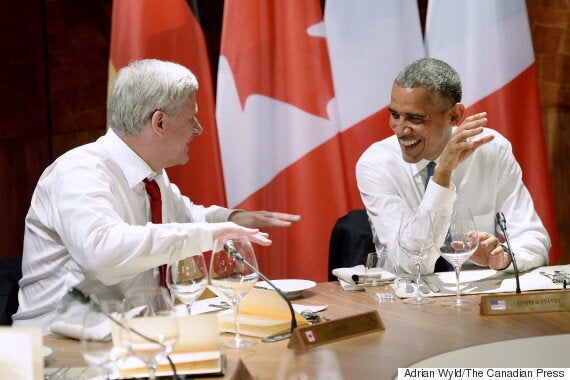 Former Prime Minister Stephen Harper jokes around as he talks with United States President Barack Obama during dinner at the G7 meeting at Schloss Elmau near Garmisch, Germany on Sunday, June 7, 2015. (Photo: Adrian Wyld/CP)
"How we engage to ensure that there are jobs for Canadians, and economic growth, is deeply wrapped in how we're getting along," Trudeau said during the debate. "The fact is that Canadians are sitting around worried about their jobs because we have a prime minister that doesn't like Barack Obama."
Trudeau pledged to do "much better" to build a "personal relationship that Mr. Harper has had difficulty creating" with the U.S. president and other political leaders who did not share his ideology.
Now, the new Liberal prime minister gets to point at a state dinner invitation that hadn't been extended to a Canadian in 19 years as a testament that he is rebuilding that broken relationship.
"I think there is a developing special relationship between this president and the prime minister," Feierstein told reporters Tuesday. "Both are young leaders with similar visions. Both have a progressive vision of governing. Both are very much committed to the appropriate use of multilateral tools. Both are committed to diversity.
"And I think there is a coincidence very much in terms of the agendas that both administrations have…. So this will be a good opportunity for the president and prime minister to expand that relationship and build on that."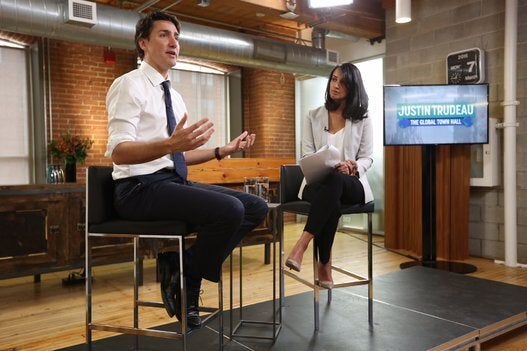 Justin Trudeau: The Global Town Hall