WASHINGTON — The White House says a special relationship is developing with Canada's new prime minister — a bond that will be reinforced this week with a series of bilateral agreements, champagne toasts, and a rare black-tie dinner.
Justin Trudeau arrives Wednesday for a three-day visit to the U.S. capital — a place he's already unusually well-known for a Canadian politician — with the first prime ministerial state dinner in 19 years as its centrepiece.
An administration official described a unique alignment of priorities between President Barack Obama and the prime minister, who will be hosted by the White House, the State Department, American University and a gathering of think-tanks.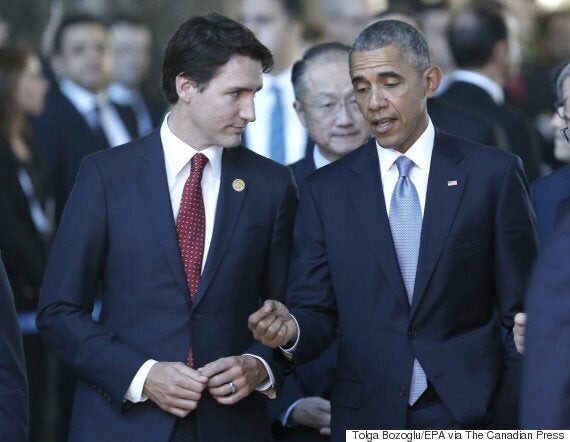 Prime Minister Justin Trudeau speaks with U.S. President Barack Obama at the G20 summit in Antalya, Turkey, last November. (Photo: Tolga Bozoglu/EPA via The Canadian Press)
"I think there is a developing special relationship between this president and prime minister," Mark Feierstein said during Tuesday's briefing.
"They're both young leaders with similar visions, both have a progressive vision of governing, both very much committed to appropriate use of multilateral tools, both committed to diversity.
"I think there's a coincidence, very much, in terms of the agendas that both administrations have. I think we're seeing that reflected for example on the issues of climate change and refugees."
Officials have hinted at the prospects of a wide-ranging agreement on climate change, new border-security measures and an effort to avoid an impasse in the softwood-lumber dispute.
'My hopes are very low': Clement
Trudeau's political opponents back home question whether this might be more marketing plump than meat.
Conservative MP Tony Clement pointed out that several issues were already in the works under the previous government, and wondered how anything substantive could happen with a last-year president blocked by a hostile Congress.
"My hopes are very low," said Clement.
But the prime minister arrives with an advantage rarely available to his recent predecessors: The ability to influence a conversation in the United States.
He's riding a wave of glam-mag coverage and glowing profiles, the latest on "60 Minutes." His status as a progressive celebrity was illustrated at a White House briefing this week. An Obama spokesman was asked whether the president would also participate in a gay-pride parade — and follow the example of the leader next door.
Canadians made 'splash' in Paris: White House
White House officials said they've noticed a tangible difference in another area: climate change. One described an instant spike in Canadian effort on the file after Trudeau's election, something that was apparent at the recent Paris summit.
"The climate relationship with Canada really just ramped up dramatically, quickly," said White House climate envoy Todd Stern.
"Canadians in Paris were extraordinarily effective... They made a very positive splash."
He said the shift began with Environment Minister Catherine McKenna's appearance at a pre-summit meeting. Then he said Canada joined a new agreement of high-ambition countries that had eluded parties for years, and he credited her with helping facilitate it.
The White House hints at an impending deal to cut methane emissions up to 45 per cent in the oil and gas sector. A co-operation agreement on clean technology is also said to be imminent. So is a deal to track travellers who leave Canada or the U.S. by land, as already exists for air travel.
"They're both young leaders with similar visions, both have a progressive vision of governing, both very much committed to appropriate use of multilateral tools, both committed to diversity."
McKenna described the possibility of agreement on multiple fronts.
"There's a lot of discussions going on," she said. "I think there's joint actions that we can be taking together to tackle climate change."
She'll be one of several ministers joining Trudeau, who flies Wednesday into Andrews Air Force Base. During his visit, he'll stop to lay a wreath at Arlington National Cemetery.
Officials from both countries describe a fair bit of jostling for tickets to the main event, with people pleading for invites to Thursday's state dinner: "I never realized how popular I am," one Canadian official said.
Maple Leaf flags are already dotting the public spaces around the White House, down Pennsylvania Avenue which leads past the Canadian embassy to the U.S. Capitol.
In an ironic twist of political cinematography, the backdrop includes a large billboard that says: "Coming 2016: TRUMP."
The real-estate-developing-reality-TV-star happens to be opening a large hotel on the stretch of Pennsylvania Avenue now lined with Canadian flags.
Trudeau has made it clear he'd rather avoid discussing the Republican front-runner and his proposals — like suspending Muslim travel to the U.S.
The prime minister was pressed this week with a line of questioning he'll likely hear in Washington and replied: "I'm not going to pick a fight with Donald Trump right now."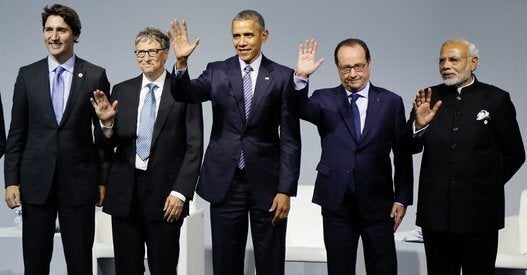 Trudeau's International Debut