Prime Minister Justin Trudeau will have three parliamentary secretaries working with him when action in the House of Commons resumes this week.
On Wednesday, Trudeau named 35 parliamentary secretaries who will assist his cabinet and answer questions on behalf of ministers absent from the House of Commons. The job comes with a pay bump of $16,600 on top of the base MP salary of $167,400.
Considered junior ministers, high-performing parliamentary secretaries often get promoted to the front bench. It's also a pretty decent consolation prize for those passed over for cabinet.
Celina Caesar-Chavannes, a rookie MP from the Ontario riding of Whitby, has been named parliamentary secretary to the prime minister. The appointment means Caesar-Chavannes will likely have to answer for Trudeau when he is outside of the Commons — and possibly even when he is.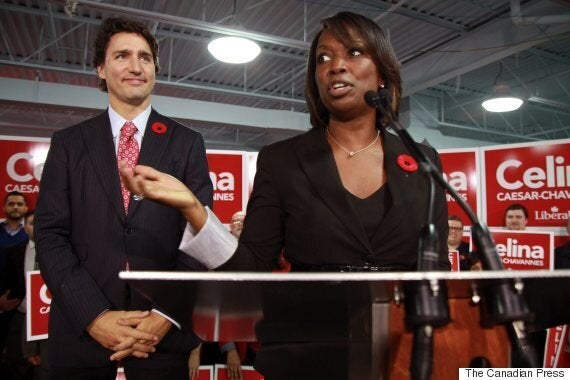 Justin Trudeau looks on as Celina Caesar-Chavannes speaks at a campaign event during the 2014 byelection in Whitby. (Photo: The Canadian Press)
Former Conservative MP Paul Calandra last held the job and was repeatedly accused of obfuscating in question period. Liberals are promising a new tone in Parliament and Caesar-Chavannes will expected to help deliver.
Toronto MP Adam Vaughan has been named parliamentary secretary to the prime minister (intergovernmental affairs). A former journalist and Toronto city councillor, Vaughan was first elected federally in a 2014 byelection and handily defeated former NDP MP Oliva Chow in October.
Vaughan was considered a contender to crack Trudeau's first cabinet, but Toronto colleagues Bill Morneau, Chrystia Freeland, and Carolyn Bennett were chosen instead.
Peter Schiefke, a new MP from the Quebec riding of Vaudreuil–Soulanges, has been named parliamentary secretary to the prime minister (youth). Schiefke, who is in his 30s, co-founded Youth Action Canada, an organization that encourages young people to fight climate change.
Cabinet omissions get positions
While three parliamentary secretaries may seem like a lot, Trudeau appears to be following in the footsteps of former PM Paul Martin who also used three and assigned some specific areas of focus.
Current Innovation Minister Navdeep Bains served as Martin's secretary in 2005 and 2006, and Treasury Board President Scott Brison was his parliamentary secretary with an emphasis on Canada-U.S. relations from 2003 to 2004.
Some key names passed over for Trudeau's first cabinet have also been named parliamentary secretaries.
Former Toronto police chief Bill Blair, elected in the Toronto riding of Scarborough Southwest, will serve as one of two parliamentary secretaries to the minister of justice and Attorney General of Canada. Blair will help Justice Minister Jody Wilson-Raybould tackle a number of big files, including the promised legalization of marijuana and right-to-die legislation.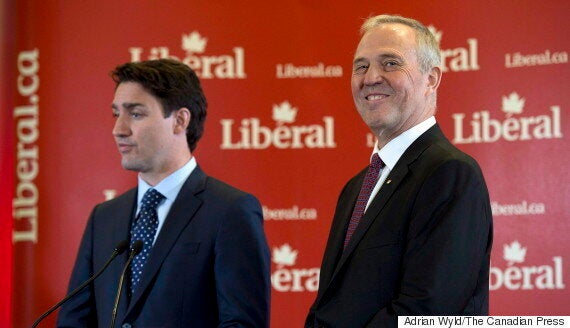 Former Toronto police chief Bill Blair smiles during a news conference with Liberal Leader Justin Trudeau in April (Photo: Adrian Wyld/CP)
Vancouver MP Joyce Murray, a former British Columbia environment minister who ran against Trudeau for the Liberal leadership in 2013, will be parliamentary secretary to Scott Brison, the president of the Treasury Board.
First-time MP Karen McCrimmon, who represents the Ottawa riding of Kanata-Carleton, will be parliamentary secretary to Kent Hehr, the minister of veterans affairs and associate minister of national defence. A former lieutenant colonel in the Royal Canadian Air Force, she also ran for the Liberal leadership.
Some key names were nowhere to be found in the list of secretaries Trudeau tweeted Wednesday, including former Liberal cabinet ministers Judy Sgro, Wayne Easter, and Hedy Fry. Veteran MP David McGuinty, brother of former Ontario premier Dalton McGuinty, was also not appointed.
Celina Caesar-Chavannes (Whitby), Parliamentary Secretary to the Prime Minister
Adam Vaughan (Spadina-Fort York) Parliamentary Secretary to the Prime Minister (Intergovernmental Affairs)
Peter Schiefke (Vaudreuil–Soulanges), Parliamentary Secretary to the Prime Minister (Youth)
Michel Picard (Montarville), Parliamentary Secretary to the Minister of Public Safety and Emergency Preparedness
Jean-Claude Poissant (La Prairie), Parliamentary Secretary to the Minister of Agriculture and Agri-Food
Pamela Goldsmith-Jones (West Vancouver–Sunshine Coast–Sea to Sky Country), Parliamentary Secretary to the Minister of Foreign Affairs
Omar Alghabra (Mississauga Centre, Parliamentary Secretary to the Minister of Foreign Affairs (Consular Affairs)
Arif Virani (Parkdale–High Park), Parliamentary Secretary to the Minister of Immigration, Refugees and Citizenship
Yvonne Jones (Labrador), Parliamentary Secretary to the Minister of Indigenous and Northern Affairs
Joyce Murray (Vancouver Quadra), Parliamentary Secretary to the President of the Treasury Board
Kevin Lamoureux (Winnipeg North), Parliamentary Secretary to the Leader of the Government in the House of Commons
Greg Fergus (Hull-Aylmer), Parliamentary Secretary to the Minister of Innovation, Science and Economic Development
Terry Beech (Burnaby North–Seymour), Parliamentary Secretary for Science
Gudie Hutchings (Long Range Mountains), Parliamentary Secretary for Small Business and Tourism
François-Philippe Champagne (Saint-Maurice–Champlain), Parliamentary Secretary to the Minister of Finance
Sean Casey (Charlottetown), Parliamentary Secretary to the Minister of Justice and Attorney General of Canada
Bill Blair (Scarborough-Southwest), Parliamentary Secretary to the Minister of Justice and Attorney General of Canada
Leona Alleslev (Aurora-Oak Ridges-Richmond Hill), Parliamentary Secretary to the Minister of Public Services and Procurement
David Lametti (LaSalle-Émard-Verdun), Parliamentary Secretary to the Minister of International Trade
Kamal Khera (Brampton West), Parliamentary Secretary to the Minister of Health
Terry Duguid (Winnipeg South), Parliamentary Secretary to the Minister of Families, Children and Social Development
Kate Young (London West), Parliamentary Secretary to the Minister of Transport
Karina Gould (Burlington), Parliamentary Secretary to the Minister of International Development
Kim Rudd (Northumberland-Peterborough South), Parliamentary Secretary to the Minister of Natural Resources
Randy Boissonnault (Edmonton Centre), Parliamentary Secretary to the Minister of Canadian Heritage
Stéphane Lauzon (Argenteuil–La Petite-Nation), Parliamentary Secretary for Sport and Persons with Disabilities
Anju Dhillon (Dorval–Lachine–LaSalle), Parliamentary Secretary for Status of Women
Emmanuel Dubourg (Bourassa), Parliamentary Secretary to the Minister of National Revenue
Karen McCrimmon (Kanata–Carleton), Parliamentary Secretary to the Minister of Veterans Affairs and Associate Minister of National Defence
Jonathan Wilkinson (North Vancouver), Parliamentary Secretary to the Minister of Environment and Climate Change
The Honourable John McKay (Scarborough–Guildwood), Parliamentary Secretary to the Minister of National Defence
Rodger Cuzner (Cape Breton–Canso), Parliamentary Secretary to the Minister of Employment, Workforce Development and Labour
Pablo Rodriguez (Honoré-Mercier), Parliamentary Secretary to the Minister of Infrastructure and Communities
Mark Holland (Ajax), Parliamentary Secretary to the Minister of Democratic Institutions
Serge Cormier (Acadie-Bathurst), Parliamentary Secretary to the Minister of Fisheries, Oceans and the Canadian Coast Guard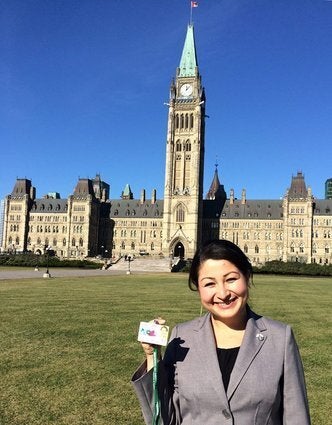 Rookie MPs To Keep Your Eye On