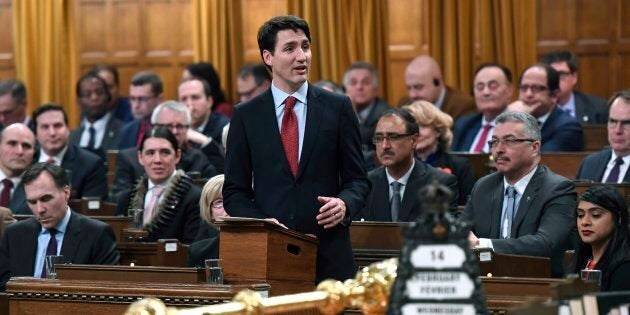 Prime Minister Justin Trudeau has pledged that his government will reform how juries are selected in Canada so that Indigenous peoples can "once again" have confidence in the criminal justice system.
Trudeau made the commitment in the House of Commons Wednesday after addressing the family of Colten Boushie, the 22-year-old Indigenous man who was shot to death in 2016 by white Saskatchewan farmer Gerald Stanley.
"We've seen those questions grow in number and intensity in just these past few days as more and more Canadians come to grips with the fact that we have so much more work to do," Trudeau said.
"More work to push back against the systemic racism that is the lived reality for so many Indigenous peoples. More work to deal with the fact that too many feel and fear that our country and its institutions will never deliver the fairness, justice, and real reconciliation that Indigenous peoples deserve."
"Through all their grief and anger and frustration, their focus was not on themselves and the tragedy they just endured, but on how we must work together to make the system and our institutions better," he said. "Better for Indigenous youth, for Indigenous families, and for all Canadians.
"We have a responsibility to do better, to be better. To do our best to make sure that no family has to endure what they went through."
As he did when pressed on the issue in question period this week, Trudeau said Liberals will unveil broad reforms to the criminal justice system.
But it was the last line that sparked applause.
"Including changes to how juries are selected," he said.
NDP pushed issue in wake of Stanley verdict
New Democrats have pressed the Trudeau government this week to provide concrete steps to address Indigenous underrepresentation on juries in the wake of the Stanley verdict.
Justice Minister Jody Wilson-Raybould said the government would be "looking at peremptory challenges" as part of reforms to the criminal justice system she aims to reveal soon.
But at a press conference Tuesday, NDP Leader Jagmeet Singh said he hadn't settled on a position on abolishing peremptory challenges. As a former criminal defence lawyer, Singh said he used the challenges to ensure more people of colour were selected to serve on juries.
Singh said that the Boushie case, however, highlights that, "a challenge without any sort of basis has resulted in a jury that didn't reflect the entire community."
In a 2013 report for the province of Ontario, former Supreme Court justice Frank Iacobucci said peremptory challenges are used to "discriminate against First Nations people."