Prime Minister Justin Trudeau is signaling that Canadians shouldn't expect him to tell off Russian President Vladimir Putin at next month's NATO summit.
Trudeau spoke to reporters in Ottawa Wednesday and was twice asked about the Russian president who now says he wants strained relations with Canada to improve.
The prime minister ducked a question on whether or not Russia is becoming more of a threat to world peace, and didn't take the bait when asked to share his personal thoughts about Putin.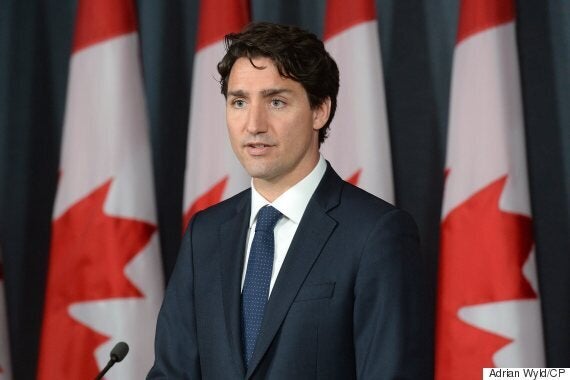 Prime Minister Justin Trudeau addresses an end-of-session news conference on Parliament Hill in Ottawa on June 22, 2016. (Photo: Adrian Wyld/The Canadian Press)
Liberals committed in the last campaign, he said, to "re-engage Canada with the world." And that means "cautious re-engaging with people (with whom) we disagree."
The prime minister noted that he told the Ukrainian Business Council this week that his government remains concerned about Russia's actions. Trudeau will make his first visit to Ukraine in July after the summit, which will be held in Poland.
"We will be thoughtful and firm as I have always been on how we re-engage with Russia," he said.
A journalist noted how former prime minister Stephen Harper made headlines in 2014 when he reportedly confronted Putin at a G20 meeting and told him that he needed to "get out of Ukraine."
When asked what his "first words" to Putin might be, Trudeau reminded the group that he already met the Russian president at the G20 summit in Turkey last November.
"As many of you know, I had a fairly direct exchange with him where I pointed out that his actions in Ukraine were illegitimate and irresponsible," he said.
Putin evidently remembers things a little differently. He told The Canadian Press last week that Trudeau told him that Canada and Russia "should re-establish the relations in full" — something the Prime Minister's Office denies was said.
The PM told reporters last November he made it clear to Putin that although Canada's approach has shifted with a change in government, "we remain committed to the fact that Russia's interference in Ukraine must cease."
Called Putin a 'bully' during the campaign
Just days before Liberals won the fall election, Trudeau pledged to confront Putin – a man he called "dangerous" in Europe, "harmful" in the Middle East, and "unduly provocative" in the Arctic — if given the chance.
"Canada needs to continue to stand strongly with the international community pushing back against the bully that is Vladimir Putin," he said during a stop in Toronto.
"If I have the opportunity in the coming months to meet with Vladimir Putin, I will tell him all this directly to his face because we need to ensure that Canada continues to stand strongly for peace and justice in the world."
'Deeply concerning': Tories
Meanwhile, Conservatives continue to paint the Trudeau government as soft on Russia's aggression. Foreign affairs critic Tony Clement and deputy critic Peter Kent released a statement Wednesday urging Liberals to take more "principled" stands internationally.
"It is… deeply concerning the government continues to cozy up to Russia," the statement reads. "Vladimir Putin has indicated that he and Prime Minister Trudeau have discussed re-establishing 'full relations.'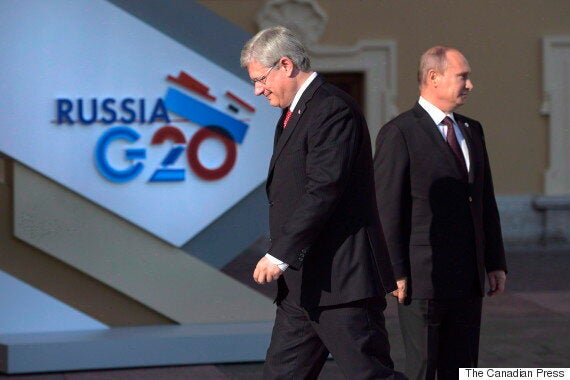 Former prime minister Stephen Harper walks past Russian President Vladimir Putin at the G20 Summit Sept. 5, 2013 in St.Petersburg, Russia. (Photo: The Canadian Press)
"We must stand firm against the Russian invasion of Ukraine and annexation of Crimea. We must protect our Arctic sovereignty against Russian imperialism."
Foreign Affairs Minister Stephane Dion has already signaled that Liberals won't support the legislation.
With files from The Canadian Press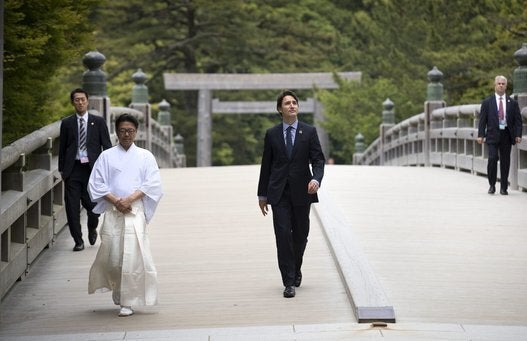 Trudeaus In Japan, G7 Summit