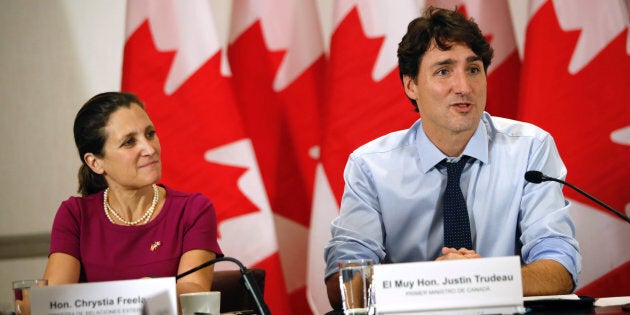 Prime Minister Justin Trudeau suggested the efforts of "Russian propagandists" to smear Foreign Affairs Minister Chrystia Freeland factored into the decision to expel four of the country's diplomats from Ottawa late last month.
Trudeau referenced the expulsions at a press conference in Ottawa Tuesday with NATO Secretary General Jens Stoltenberg as an example of how Canada and other NATO allies responded strongly to Russia's alleged poisoning of an ex-Russian agent and his daughter in the British city of Salisbury.
A statement released by Global Affairs at the time said the four Russian diplomats were "intelligence officers or individuals who have used their diplomatic status to undermine Canada's security or interfere in our democracy." The reference to interference in Canada's democracy raised questions about whether Russia meddled in the 2015 federal election.
A reporter asked Trudeau Tuesday what, precisely, the diplomats had done to tamper with Canada's democracy.
"I think we all can remember the efforts by Russian propagandists to discredit our minister of foreign affairs in various ways through social media and by sharing scurrilous stories about her," the prime minister said.
Trudeau said Canadian troops in Latvia are likewise experiencing how Russia uses cyber and social media propaganda to sway public opinion.
'This is a pattern that we have seen regularly'
"This is a pattern that we have seen regularly. And our desire to stand firm with our allies in the U.K. and all around the world at yet another illegal and illegitimate act by Russia, this time in Salisbury, means that this was an important symbol of the kind of strength and response in unity that Canada has consistently shown," Trudeau said.
Freeland, who lived and worked in Moscow as a journalist, has long been a vocal critic of Russian President Vladimir Putin. She was among a dozen Canadians put on a Russian travel ban in 2014 as part of Putin's retaliation for Western sanctions after his annexation of Crimea.
Shortly after her appointment as Canada's chief diplomat last year, pro-Putin websites alleged Freeland's maternal Ukrainian grandfather was a Nazi sympathizer.
At a presser last March, at which she announced Canada was extending its training mission in Ukraine, Freeland was asked if she saw such articles as a campaign to smear and discredit her.
"I think that it is also public knowledge that there have been efforts, as U.S. intelligence forces have said, by Russia to destabilize the U.S. political system," she said. "I think that Canadians and indeed other Western countries should be prepared for similar efforts to be directed at us."
Journalist Justin Ling, then at VICE News, reported the same allegations about Freeland's grandfather were sent his way by someone in the Russian embassy the day after she was sworn into her post in January of 2017.
The Globe and Mail's Robert Fife — who shed light on how Freeland's grandfather edited a Nazi newspaper in occupied Poland — wrote at the time that her family history had "become a target for Russian forces seeking to discredit one of Canada's highly placed defenders of Ukraine."
With files from The Canadian Press