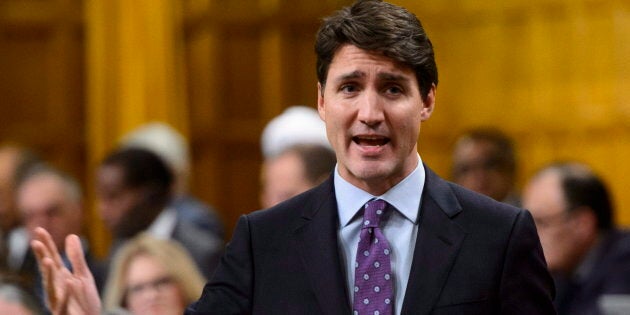 Prime Minister Justin Trudeau has opened the door to freezing arms export permits to Saudi Arabia but has not said if Canada will cancel a $15-billion contract to provide the country with light armoured vehicles (LAVs).
"We have frozen export permits before when we had concerns about their potential misuse and we will not hesitate to do so again," Trudeau told House of Commons Monday, reading from a prepared statement.
The prime minister was responding to pressure from NDP foreign affairs critic Helene Laverdiere, who rose in question period to say that Saudi explanations for the death of Washington Post journalist Jamal Khashoggi defy credulity.
Khashoggi, a vocal critic of the kingdom's leadership, disappeared earlier this month after entering the Saudi consulate in Istanbul. Turkish officials say he was murdered and dismembered.
The Saudi government denied involvement in his death, but conceded over the weekend that Khashoggi died at the outpost. The kingdom claimed, however, he was killed in a "fistfight" — an explanation that Foreign Affairs Minister Chrystia Freeland said in a statement lacked "consistency and credibility."
Laverdiere noted that Germany has frozen arms deals with Saudi Arabia in response to the matter and has called on allies to do the same. But the Liberal government, she said, just wants to keep talking.
"Are they not ashamed?" she asked the House.
Trudeau said Canada condemns Khashoggi's "horrible murder." His government is calling for an in-depth investigation into the matter, including reports on the "participation of Saudi forces."
'
We condemn the murder of journalist Jamal Khashoggi'
Laverdiere accused the Liberals of double-speak for touting human rights globally while at the same time arming a "rogue" nation, noting Saudi Arabia's war with Yemen.
"The government claims to defend human rights on one hand, and on the other hand they arm one of the world's worst human rights offenders," she said.
"We condemn the murder of journalist Jamal Khashoggi," Trudeau said again, adding that Freeland is speaking with allies on a joint response.
"We strongly demand and expect that Canadian exports are used in a way that fully respects human rights."
Earlier Monday, Trudeau called a meeting of the government's new Incident Response Group, comprised of ministers and senior government officials, to discuss the issue.
Watch: Tories want sanctions over Khashoggi's death
Freeland later told reporters in Ottawa that she is working with her counterparts in Turkey and Germany to press for a "transparent and credible" investigation into Khashoggi's death.
"Canada is very mindful of the fact that this murder occurred in Turkey and it's very important for Turkey to be a part of the conversation,'' she said.
Meanwhile, Conservative justice critic Tony Clement is urging Liberals to use the Magnitsky Act to freeze the Canadian assets of those found to be behind Khashoggi's death.
The incident has raised more questions about Canada's controversial arms deal with Saudi Arabia. The contract, negotiated by the previous Conservative government in 2014 and honoured by Trudeau's Liberals, taps General Dynamics Land Systems in London, Ont. to manufacture LAVs for Saudi Arabia.
Federal NDP Leader Jagmeet Singh is calling on the Trudeau government to scrap the deal, telling CTV News Saturday there is "no way" Canada should be selling arms to Saudi Arabia in light of its "implication and involvement" in the death of a journalist.
"There was already enough evidence to have made us stop the arms deal before," Singh told CTV.
With files from The Canadian Press