Prime Minister Justin Trudeau is evidently not worried that his government's assisted dying legislation could be unconstitutional, despite warnings from the Senate Liberal leader, a renowned legal expert, and a family behind last year's landmark Supreme Court ruling.
Trudeau faced a grilling from New Democrats in question period Monday after the federal government failed to meet the Supreme Court's June 6 deadline to have a new law in place.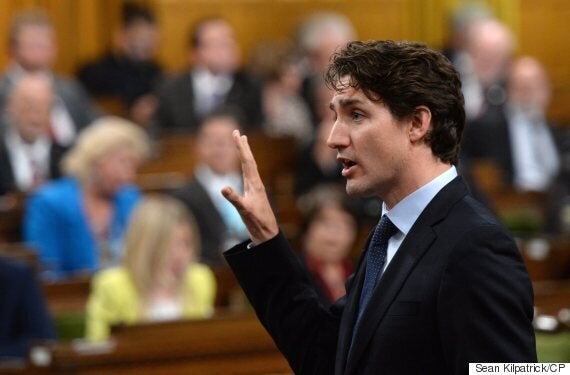 Prime Minister Justin Trudeau speaks in the House of Commons on Parliament Hill in Ottawa on June 6, 2016. (Photo: Sean Kilpatrick/The Canadian Press)
Senate Liberal Leader James Cowan told The Huffington Post Canada last week the bill fails to meet the standard of the top court's Carter decision — which stated consenting adults have the right to assisted death if they suffer from "grievous and irremediable" medical conditions that cause them unbearable suffering.
Cowan told HuffPost he believes the bill is unconstitutional.
NDP MP Marjolaine Boutin-Sweet was quick to relay the Senate Liberal leader's concerns in the House of Commons, and urged Trudeau to "listen to James Cowan and work on getting (C-14) right the first time."
PM lauds Senate reform efforts
The prime minister replied that Boutin-Sweet's remarks show his government's efforts to reform the Senate and make it a less partisan place have worked.
"There is no better example than the NDP highlighting the great work the Senate is doing weighing in on important pieces of legislation," Trudeau said.
The prime minister added that he looked forward to hearing what "independent voices" have to say about the bill. Boutin-Sweet called on the Liberal government to amend the legislation, saying warnings about its constitutionality have already come in from "all quarters."
Trudeau tries to deflect expert criticism
NDP justice critic Murray Rankin focused his remarks on Peter Hogg, a renowned constitutional scholar who told a Senate committee Monday that C-14 is simply "not consistent" with the top court's decision. He added that it will "undoubtedly" be struck down.
Hogg told the Senate the government cannot exclude a group of people confirmed by the country's highest court to have these Charter rights, Rankin said
"Will Liberals finally respect the Charter and announce they're willing to fix this bill?" Rankin asked.
Trudeau said that Liberals took a "big step" in the history of Canada, and were able to strike a balance between protecting the vulnerable and upholding rights and freedoms.
"We allowed and encouraged a free vote in the House of Commons," Trudeau said. He said it was "disappointing" the NDP didn't allow themselves to vote freely on the issue.
"The Liberals' stubborn refusal to listen to experts and work with the opposition will mean, Mr. Speaker, suffering Canadians spending years in court defending rights they've already won."

— Murray Rankin
That quip rankled New Democrats, who maintain their votes weren't whipped even though all the party's MPs voted against C-14. NDP House leader Peter Julian tried unsuccessfully to have Trudeau correct the record after question period.
"The Liberals' stubborn refusal to listen to experts and work with the opposition will mean, Mr. Speaker, suffering Canadians spending years in court defending rights they've already won," Rankin said.
Kay Carter's family 'betrayed'
The NDP critic then turned to comments from the family of Kay Carter, the 89-year-old woman who travelled to Switzerland in 2010 to end a life that was debilitated by spinal stenosis.
"We are ensuring that this big step that Canada is taking — despite people who think it goes too far, others who think it's not going far enough — is done the right way," Trudeau said.
Rankin said if Liberals really disagree with "Canada's foremost constitutional scholar" and the Alberta Court of Appeal that just last month ruled that feds weren't complying with the Supreme Court's ruling, they ought to table the government's legal opinion.
"So Canadians can judge for themselves," Rankin said.
With a file from Althia Raj, The Canadian Press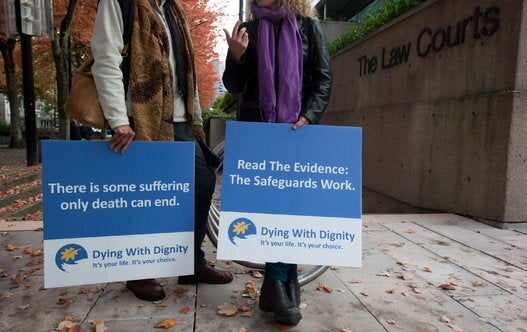 Right-To-Die Laws Around The World