Prime Minister Justin Trudeau says Canada will be a frank voice in the Middle East, even if that means criticizing a friend and ally in Israel.
Trudeau made the remarks Monday at a global town hall hosted by The Huffington Post Canada, dedicated entirely to foreign policy. Paul Darlaston, a HuffPost reader, asked the prime minister why he appeared unwilling to differentiate his government from the past Conservative leadership by calling out Israeli actions that "block the peace process."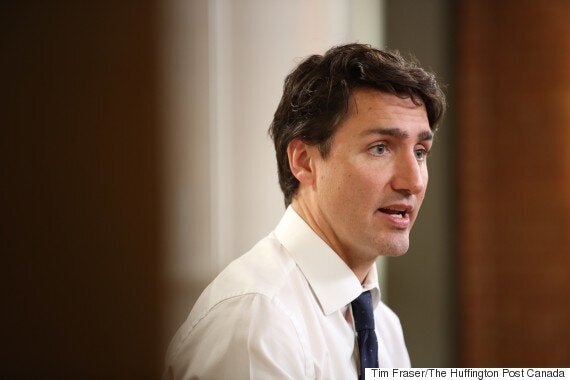 Prime Minister Justin Trudeau speaks at a global town hall Monday, hosted by The Huffington Post Canada.(Photo: Tim Fraser/HuffPost Canada)
Trudeau said one need only tune into question period to see how opposition Tories are already accusing the new government of not being as supportive to the Jewish state.
He said the position of his government is more in line with Canada's "traditional approach" to Israel and the Palestinians.
"Israel is a friend, Israel is an ally, Israel is a country that has values and an approach on many, many issues that are very much aligned with Canadians values," Trudeau said.
"But, at the same time… we won't hesitate from talking about unhelpful steps like the continued illegal settlements. We will point that out. We will continue to engage in a forthright and open way because that's what people expect of Canada."
"There are times we disagree with our friends and we will not hesitate from pointing that out."
Trudeau suggested that true friendship does not mean unequivocal support — something that could provide a glimpse of his wider approach to global affairs.
"There are times we disagree with our friends and we will not hesitate from pointing that out. There are times we agree with our friends and will stand with them," he said. "And there are times we will disagree with our friends, but we will stand by our friends. We've all had that friend we've had to do that for."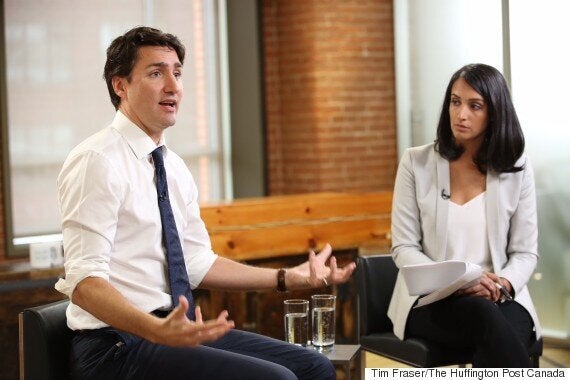 The prime minister speaks during a global town hall as moderator Althia Raj looks on. (Photo: Tim Fraser/HuffPost Canada)
Althia Raj, HuffPost Canada's Ottawa bureau chief who moderated the town hall, asked if Canada's staunch support of Israel at the United Nations — something the Trudeau government has continued from its predecessors — might hurt a future bid to win a Security Council seat.
Trudeau said that UN votes singling out Israel aren't an effective or helpful part of international discourse. That position isn't going to change now that Liberals are in charge, he said.
"The demonization, the de-legitimization or the double standard that's often applied to Israel is not helping reach the two-state solution of a peaceful, democratic Palestinian state alongside a peaceful, democratic Israel," Trudeau said.
UN member states will judge Canada on how consistently and responsibly this country engages with the world, he said.
Canada sending 'the right signal' on Iran
Trudeau was also asked about his government's decision to lift some sanctions against Iran and start the process of restoring diplomatic relations that were severed by the past government of Stephen Harper. Conservatives have blasted the move as irresponsible, and have suggested it sends the wrong signal to a dangerous country.
"I think Canada is sending exactly the right signal," Trudeau answered, adding that Canada still needs to engage with nations that represent a threat to global or regional security.
"You need to have opportunities to put pressure, to tell them where they're going wrong, to tell them how to start going right," he said.
"You don't get to do that by crossing your arms and shouting indiscriminately and hoping they hear."
The prime minister called the nuclear deal hammered out by P5+1 countries — China, France, Russia, the United Kingdom, the United States and Germany — an "excellent step" to curb Iran's nuclear ambition. But there's more work to be done to address the country's state sponsorship of terrorism and oppression of human rights.
"You don't get to do that by crossing your arms and shouting indiscriminately and hoping they hear," he said.
Trudeau also reiterated his desire to see to see Canada's embassy reopen in Tehran, but said that re-establishing relations with Iran is a long process that is just beginning.
Liberals' ISIS mission 'probably riskier,' PM says
On ISIS, Trudeau offered that the Liberal plan to end the bombing campaign and triple the number of Canadian troops on the ground training Kurdish forces was the best possible contribution to the fight.
"What if everybody else decided to stop bombing and focus on training?" Raj asked. "What makes us so different that we get to opt out and they don't?"

Canada halted its bombing mission against ISIS in Iraq and Syria in February. (Photo: Canadian Press)
Trudeau said Canadians have always been "extremely courageous" about stepping up in the face of conflict.
"And when you actually look at the risk profile, it's probably riskier to have someone on the ground, even far from the front lines in the Middle East, then over flying at 5,000 feet in a multi-million dollar aircraft," he said.
When asked if he would be open to engaging in airstrikes against ISIS in Libya, Trudeau said such decisions are made on a case-by-case basis.
Saudi arms deal signed under Tories
HuffPost reader Sandra Currie noted in a question to the prime minister that Canada is selling military vehicles to "one of the worst countries in the world for human rights." She sought a commitment from Trudeau that he would prevent such deals in the future.
Trudeau repeated that that the Saudi arms deal was signed under the previous government, and said that Liberals would set a "terrible precedent" by ripping it up now that they are in power.
He said his government would be transparent going forward and live up to Canada's responsibility not to sell arms to countries that have a high risk of using them against their own people.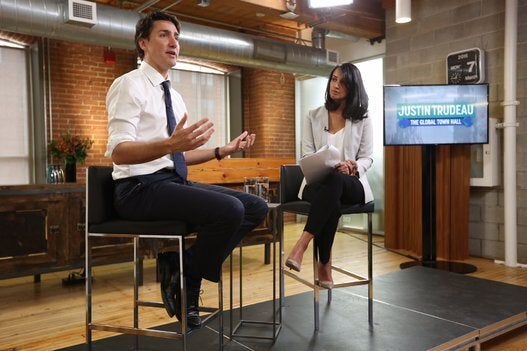 Justin Trudeau: The Global Town Hall
Popular in the Community