TORONTO — The teflon was layered on thick as Liberal Leader Justin Trudeau and Conservative Leader Andrew Scheer avoided direct answers to most reporters' questions Saturday, two days before Canadians head to the polls.
Trudeau faced repeated questions about a hypothetical minority government situation. While Scheer refused to deny a Globe and Mail report that the Conservative Party hired a Toronto-based consulting firm, lead by Lisa Kinsella and Liberal adviser-turned vocal Trudeau critic Warren Kinsella, to make People's Party Leader Maxime Bernier ineligible for the national leaders' debates.
Here are four examples of the Liberal and Conservative leaders avoiding reporters' questions during separate campaign stops in the Toronto-area.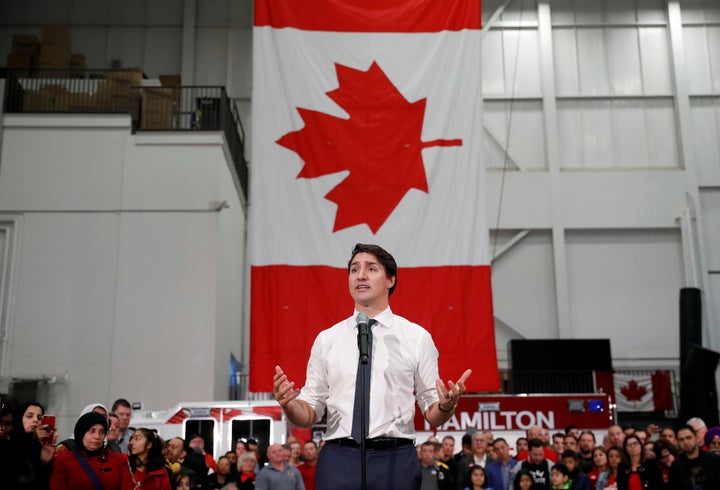 Topic: Trudeau's opinion of minority governments.
The question: "Just wondering what your personal view is about minority governments. Do you see them as workable, productive or unstable and unproductive?" - Bruce Campion-Smith, The Toronto Star
Why it matters: If the outcome of the election gives Canadians a minority government, it's the incumbent prime minister that gets the first crack at testing the confidence of the House of Commons, with the intent of forming a government.
There are political stakes to consider here: Trudeau's optimistic or pessimistic answer, as the incumbent prime minister, could affect how strategic voters decide to cast their ballots. It's in his best interest only to talk about a majority government, because talk of a minority could send soft supporters to other parties.
Trudeau's answer: "Right now, Canadians are looking right across the country at the choice they're going to make on Monday. They're going to look at their kids in the eye, they're going to think about their future they're building together and they're going to make a choice about what the coming years hold for Canada, for their communities, for their family and for the world. And I know Canadians want a strong, progressive government that will stop Conservative cuts, that will invest in the fight against climate change, that will get guns off our streets, that will make life more affordable for families right across the country."
The question: "Are you willing to revisit your stance on electoral reform and specifically enact proportional representation should you be in a minority situation?" - Althia Raj, HuffPost Canada
Trudeau campaigned four years ago that 2015 would be the last federal election under the first-past-the-post system. The government launched national consultations that resulted in a report that recommended Canadians choose the type of proportional system in a national referendum.
Liberals broke their promise by abandoning efforts to reform the electoral system, citing no public will.
Trudeau's answer: "Canadians across the country this weekend are focused on their vote on Monday, are looking forward to the opportunity to make a choice about how our country's going to move forward and what we're going to do for future generations. And that's why our plan is focused on stopping Conservative cuts, on investing in affordability, on fighting climate change and on getting guns off our streets. And that's what Canadians get to decide on on Monday."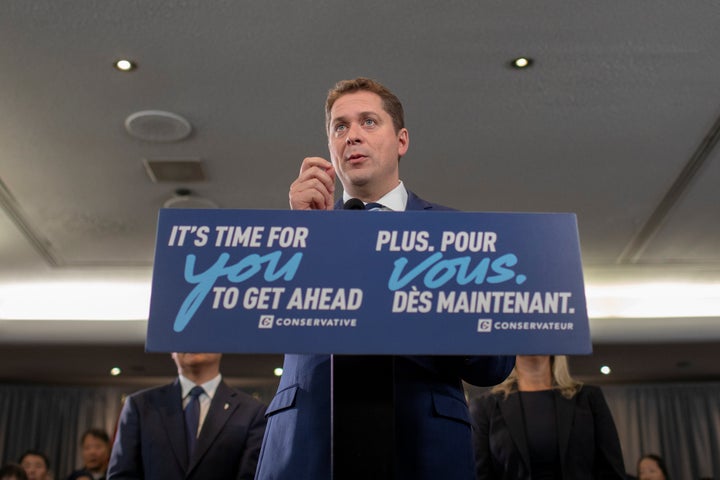 Topic: The Globe and Mail's story about former Liberal insider Warren Kinsellla and his consulting firm being hired by the Conservative Party to "seek and destroy" Bernier's People's Party of Canada
The question: "Warren Kinsella was apparently hired to do your party's dirty work in attacking Maxime Bernier with the condition the contract wouldn't be traced back to the Conservatives. How do you think the public will perceive this?" - Kristy Kirkup, The Globe and Mail
Why it matters: Kinsella, president of Daisy Group consulting, has written scathing columns critical about Trudeau during the campaign. As the Globe reports, it's legal for parties to hire outside firms for political campaign work. However, many would say it's a conflict of interest when a columnist fails to disclose if they've been paid by a political party to damage an opponent's credibility.
The Conservative leader's non-answers about Kinsella call into question his own commitment to restore ethics to government.
Scheer announced this week that a Conservative government would introduce $20,000 fines for politicians who violate ethics laws. These fines would increase transparency and help to hold public officials to account, he said.
Scheer's answer: "We don't make comments on vendors that we may or may not have engaged with," Scheer said. In a follow-up question, he was asked, if in general, the party hired Kinsella to attack the Liberals.
"As I said, we don't make comments on vendors that our party may or may not have engaged with," Scheer repeated. He was pressed to answer "yes or no" if the Conservatives hired Kinsella on contract to do political dirty work.
"As a rule, we never make comments on vendors that we may or may not have engaged with."
The question: "Warren Kinsella, if it's true your party hired him, was also responsible for spreading misinformation and encouraging misinformation around Justin Trudeau's time at West Point Grey academy. Your party put out a press release basically encouraging those rumours. Should people infer that it's possible that your party helped spread misinformation and worked with him to do so?" - Justin Ling, freelance journalist
Why it matters: After the French-language leaders' debate in Gatineau, Que., the Conservative leader was asked why his campaign is "peddling in rumour and innuendo" to curry voter support. Scheer referred to "mainstream Canadian media sources" for putting questions about the rumour on the record.
On Oct. 4, The Globe and Mail asked Trudeau to comment on "unfounded rumours" related to why Trudeau left his teaching job at a private school in Vancouver in 2001.
Conspiracy theories and disinformation campaigns found their way into the election. On the day of the English-language leaders' debate, the Conservatives issued a press release to draw attention to a debunked rumour, asking for the "real reason" why Trudeau left his teaching job.
Scheer's answer: "We have been very open and clear with Canadians about exactly what we are going to offer as a government. We will lower their taxes. We will put more money in their pocket. We will get back to balanced budgets over a responsible period of time. On the contrary, they don't have from Justin Trudeau is a clear explanation what an NDP-Liberal coalition would look like, which taxes he would raise to pay for the NDP's promises. That's what Canadians have a right to know in the next few days before election day."